It is that time of the year again where the majority of Christian population are in a Holy week-long religious observance of Lenten season. Being one of the few Asian countries with a predominantly Christian population, the Philippines has been practicing this religious tradition of solemnity and penance since colonial times when the Spaniards colonized the country and introduced to us with Christian faith.
Systemically oppressed and enslaved by Spain for more than 300 years, Christianity may very well be one of the last, and also one of the most significant vestiges of colonialism in the country. Making up more than 90% of the total population (80%+ of which adhere to Roman Catholicism), the Philippines remains to be the bastion of Christianity in Asia. Embedded in our thoughts, and in our bloodstreams, and also in our politics, the Catholic Church still stands as one the most powerful and influential institutions in the country.
Taking all of that into account, it is unsurprising how this long, often painful history, and religious practice of Holy Week (Filipino: Mahal na Araw; Spanish: Semana Santa) is annually observed by Filipino Christians.
7 + 1 Holy Days
Holy Week begins usually by Palm Sunday (Filipino: Linggo ng Palaspás, Spanish: Domingo de Ramos), a commemoration of Jesus' triumphal entry into Jerusalem. Palm Sunday is often associated with believers bringing ornately and often elaborately woven palm branches/fronds/leaves, which are believed to repel and ward off demons and evil spirits, and avert both fires and lightning.
Palm Sunday is followed by Holy Monday, Holy Tuesday, Holy Wednesday, Holy Thursday, and so on where cities and towns all across the country often hold processions that depict the Journey to Cavalry. Some areas and municipalities even feature life-sized images and statues of the Fallen Christ, along with that of saints and other religious figures present. Holy Wednesday (Miyérkules Santo) also happens to be the last working day of the (holy) week wherein believers working/studying in the cities/urban areas commute in droves and return to their home provinces for the Triduum, making it one of the busiest travel seasons of the year.
After Holy Wednesday is Maundy Thursday (Huwebes Santo) marks the first/official statutory public holiday of the holy week where believers usually attend mass especially in large dioceses and archdioceses. Also throughout the day, worshippers pray the Stations of the Cross inside or outside the church. Some observe theirs in mountains and some by the rivers, meters apart from each station. Maundy Thursday is succeeded by Good Friday (Biyernes Santo) which is often considered the most solemn day of the holy week. Christians commemorate the day by fasting, and devout ones even go to extreme lengths as some practice self-flagellation, while others even have themselves being nailed to the cross (although the Catholic Church discourages this particular practice), paralleling that of the passion of Christ prior to his crucifixion. Although extremely bizarre and taboo to some people, especially to foreign eyes, Filipinos still carry with them up to this day this old tradition of penance and atonement. Following that of Good Friday is Black Saturday (Sábado de Gloria), labelled "Black" in reference to mourning, and commemorates the day wherein Jesus Christ's body was laid in the tomb. Just like Good Friday, Filipinos observe this day in solemnity and penance albeit with less "intensity" than that of the day prior. Finally, Easter Sunday (Linggó ng Pagkabuhay) caps off this week long observance of Holy Week, and is marked by jubilant and blissful celebrations to commemorate the resurrection of Jesus Christ. Filipinos often hold and prepare large banquets and feast on the day with families and relatives.
The Filipino Experience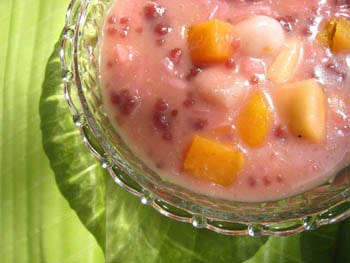 Food
Along with fasting or this non-consumption of meat during holy week comes a gastronomic innovation invented by Filipinos called Binignit. This Visayan dessert is traditionally made from scraps like but not limited to glutinous rice, sweet potatoes, sweet yams, taro, saba bananas, jackfruit, sago pearls, and coconut milk. Often served hot or sometimes even chilled, this rich, sweet, creamy, and filling dessert is easy to make and a staple in every Christian family's table as part if the greatest feast during the holy week (particularly on Good Friday).
Media
Majority of the national and local television networks often shorten broadcast hours while some even temporarily go off the air, and broadcast limited series and movies known as Lenten drama specials. These features are usually religious or inspirational melodramas typically telling the story of Christ's life and Christ's death. Radio stations also interrupt their regular programming with holy songs and hymns and prayers during the holy week.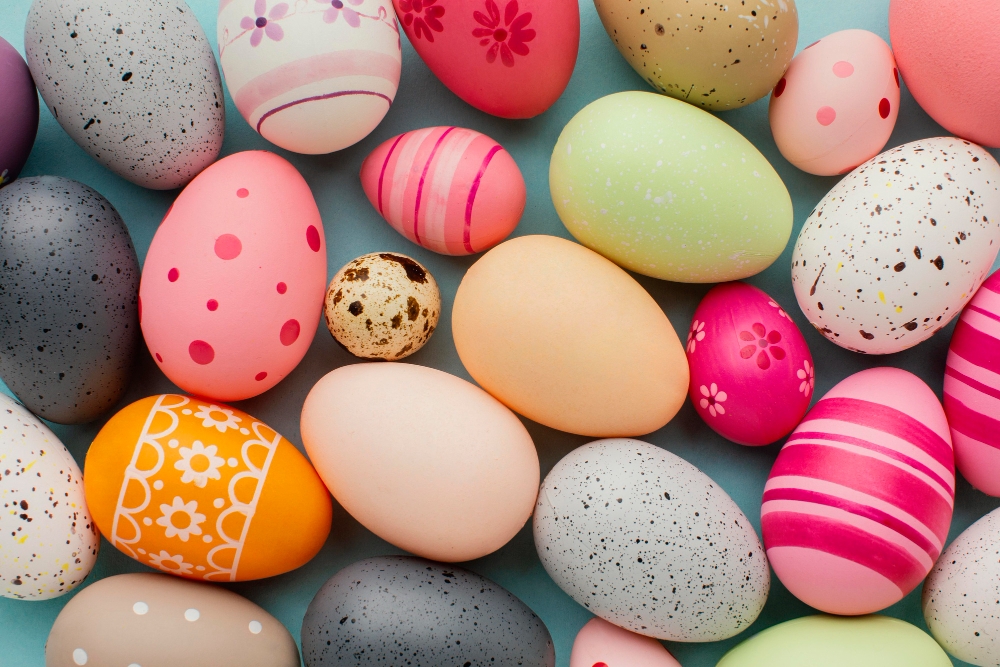 Unlike western ideas and activities that dominate pop culture surrounding our understanding and view of Easter, like that of the Easter bunny, Easter eggs hunting, and Easter eggs chocolates, Filipinos celebrate Easter in a much different, and often more exciting ways. Coming off from a week of fasting and deep penance, during Easter proclamation Filipinos look forward to Easter morning like they do during Christmas or New Year, as there sure would be family, food, and parties. Many Filipinos celebrate Easter Sunday by going to the beach or waters with their family to swim and bathe amidst the hot and scalding summer sun, and enjoy the day before work comes knocking the next day.
The New Normal
Adjusting to the new normal brought about by the pandemic, the government and the catholic church have to re-strategize and rethink how they would go about the holy days to curb and stop the alarming rise of COVID cases in the country. Recently placed under enhanced community quarantine, Metro Manila and its surrounding provinces have halted religious gatherings and many churches have instead resorted to virtual Holy Week services for the second year in a row.
Filipino Christians across different regions speaking different languages unite during this holy week. This season of lent, of solemnity and atonement, and the realization of what's really important and what really matters most in a person's life. And to be grateful for family and friends and community that love and value you back.
BRIA Homes is a subsidiary of GOLDEN MV Holdings, Inc., .one of the largest real estate companies in the country. BRIA Homes is primed to bring quality and affordable house and lot packages and condominium units closer to ordinary Filipino families. This is the goal that drives every single employee in the company, for which the ultimate fulfillment is seeing a client happily moving into BRIA's homes.
To know more, visit their website at www.bria.com.ph, like and follow "Bria Homes, Inc." on Facebook, Twitter, Instagram, YouTube, Pinterest, Spotify, ViberCommunity, Telegram Channel, Kakao Talk, LINE and WhatsApp, or call (0939) 887-9637.
Written By Keith Abellanosa