By Analyn Cormanes
According to a recent study by the US-based Pew Research Center, The Philippines remains to be the bastion of Christianity in Asia with 86.8 million Filipinos—or 93 percent of a total population of 93.3 million—adhering to the teachings of Jesus Christ. Apart from being number one in Asia, the Philippines ranks fifth in the world, hosting four percent of those 2.18-billion Christians. No wonder why Filipino Faith and religiosity are so profound. This has been the Filipino's armor against the tests of time.
Filipino Faith has been expressed through various ways such as religious festivals and other creative forms of paying homage to Jesus Christ. One of with is the Holy week, also known as Mahal na Araw or Semana Santa which has been a solemn tradition in the Philippines. The Holy week starts from Palm Sunday to Black Saturday, then Easter Sunday. Over the week, many people perform holy rites and traditions like Waving of Palaspas, Fasting and Abstinence, Pabasa ng Pasyon, Washing of the Feet, church attendance (Visita Iglesia), station of the cross, Staging of Senakulo, and salubong during Easter Sunday.

1. Waving of Palaspas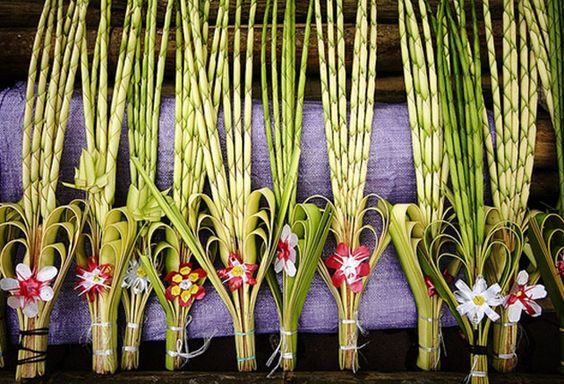 Waving of Palaspas is done during Palm Sunday (Passion Sunday) when the entry of Jesus Christ into Jerusalem is commemorated. Filipino's adopted the Spanish Tradition of bringing Palaspas (palm fronds) to church for it to be blessed by the priests and bring it back to their home and usually place it on their altar or in their doors which is believed to protect the home from danger, or bad luck. The blessing of Palaspas is thus followed by a procession or solemn entrance into the church, with the participants holding the blessed branches in their hands. The Mass or liturgy of worship itself includes a reading of the Passion, the narrative of Jesus' capture, sufferings, and death.
2. Fasting and Abstinence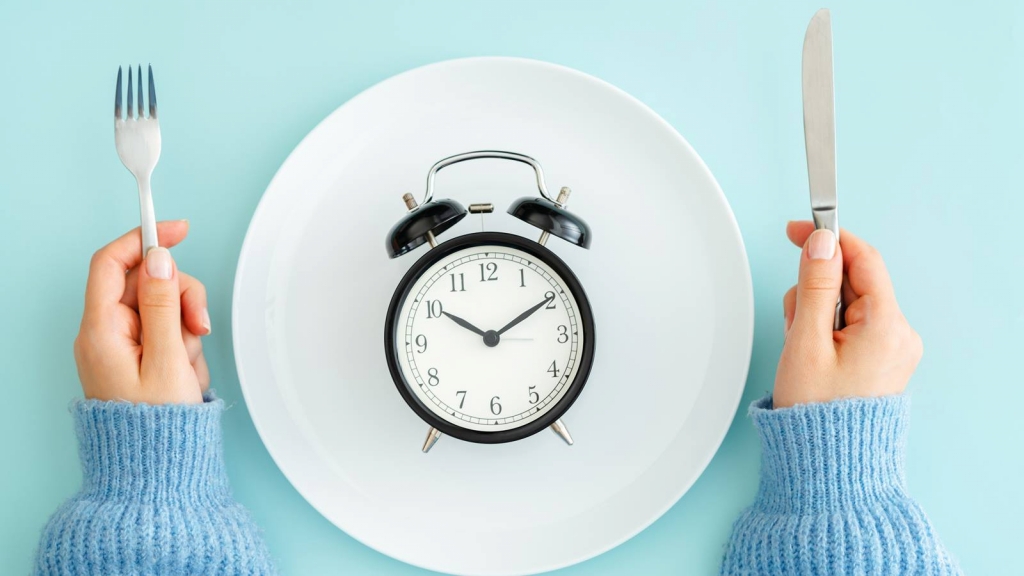 Fasting is done to understand the suffering and the sacrifices Jesus did for mankind. As a sign of penitence, on Ash Wednesday and every Friday throughout the Lenten Season, Catholics avoid meat and, if possible, reduce mealtime to once a day. Some also volunteer to give up some of their "guilty pleasures" as a sign of penance.
3. Pabasa ng Pasyon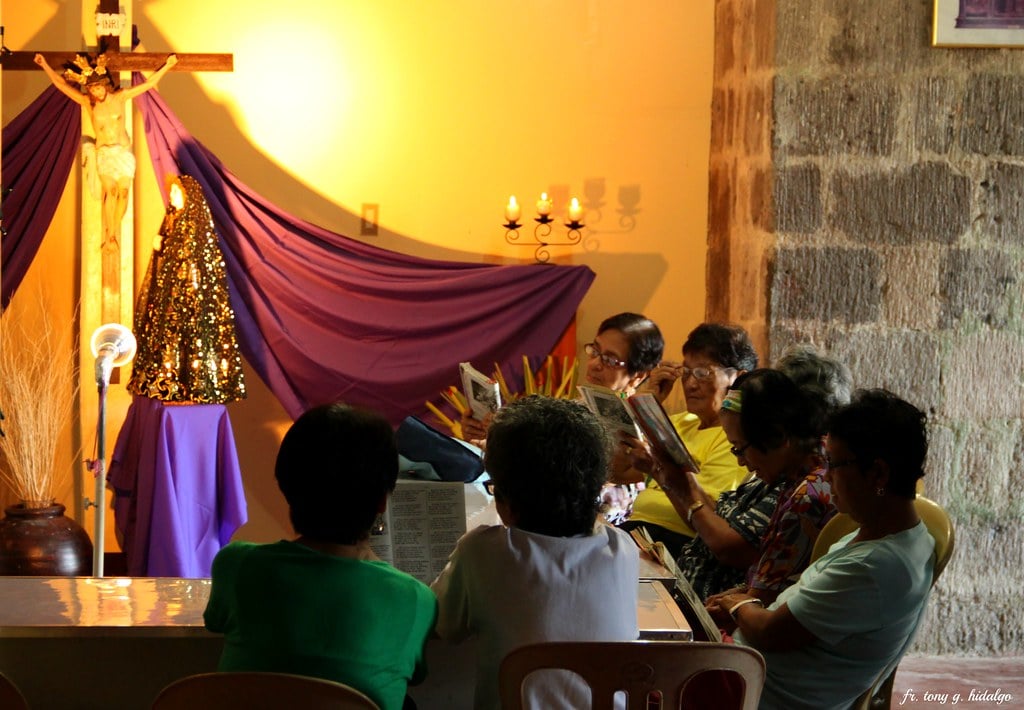 Pabasa is the reading and chanting of verses about the suffering of Christ or the words of Pasyon, a book that recounts the life of Jesus , from birth until His death and resurrection. Participants of the ritual are grouped into two. Each group sings the lines or verse by turn, sometimes in a cappella, but lately, it is accompanied by guitars to make the ritual lively and appealing to the younger generation. This tradition is done from Palm Sunday to Maundy Thursday.
4. Washing of Feet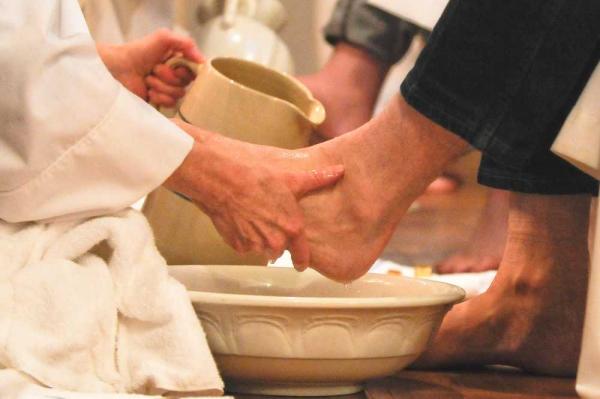 The religious ritual of Washing of Feet is being celebrated during Mauny Thursday, during the Holy Thursday mass wherein the Priest wash the feet of twelve persons to commemorate the washing of feet of the apostles by Jesus during the last supper as a "sign of humility and being of service to others."
5. Church Attendance (Visita Iglesia)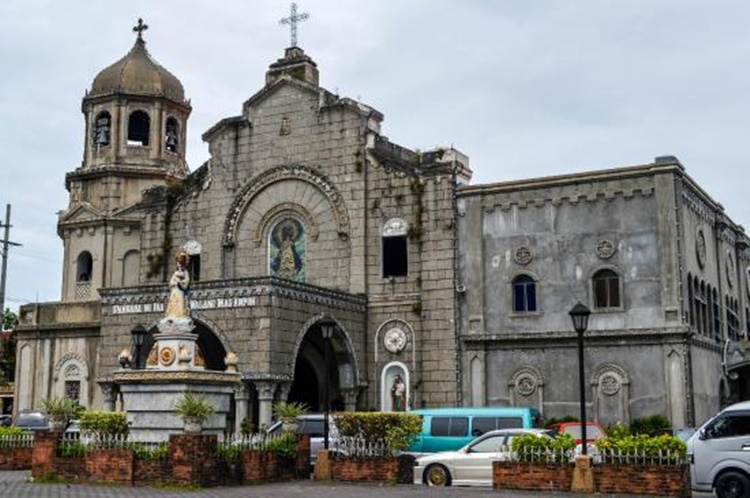 Visita Iglesia is a tradition wherein Catholics visit at least seven churches. They usually come in groups and some recite the station of the Cross while some churchgoers prefers to pay silently on their own. Visita Iglesia is being practiced from Holy Thursday to Good Friday.
6. Station of the Cross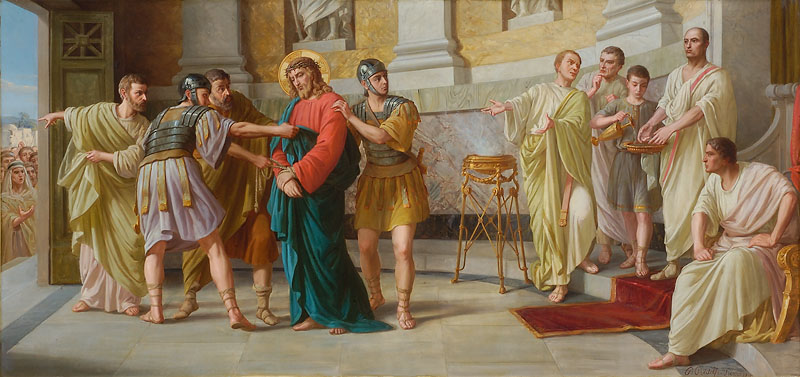 During Station of the Cross or also called as Way for the Cross or Via Crucis, Catholics pray and meditate in front of each of Jesus Christ's fourteen images depicting the events of His crucifixion until His resurrection. In the Philippines, this has been done along the road, usually per barangay, wherein each station has been assigned to a household that would prepare and beautify the station.
7. Staging of Senakulo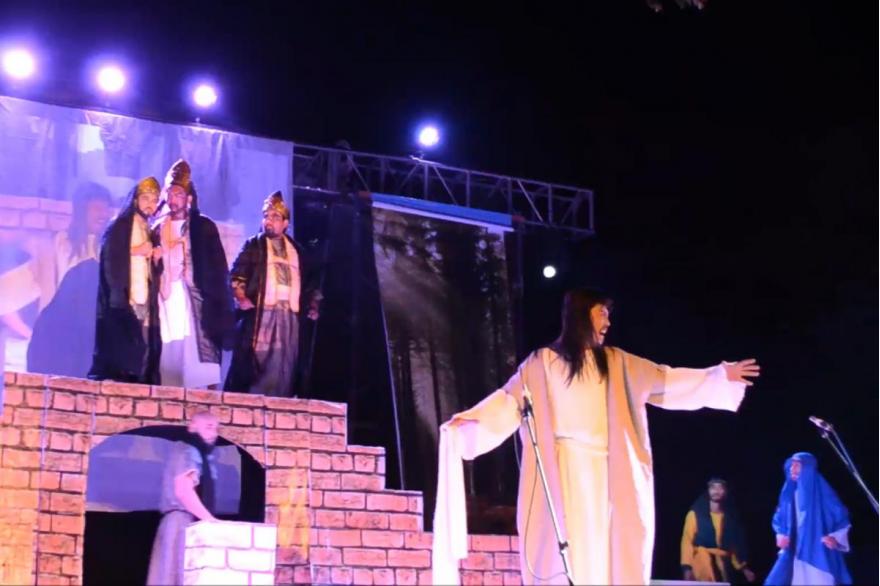 Senakulo is a play that tells the story of life, passion, and resurrection of Jesus Christ. Some devout Catholics walk in streets under the heat of the sun nd hit themselves to bleed with lashes as an act of repentance. Staging of Senakulo ends on Easter Sunday with the reenactment of Jesus's resurrection.
8. Salubong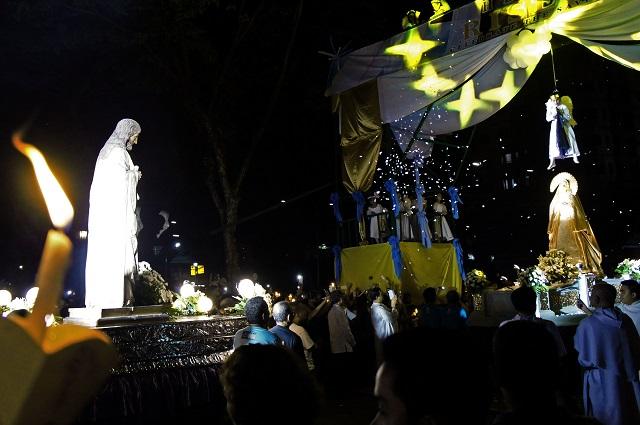 Salubong is a reenactment of the first meeting of Christ and Mary after His resurrection. This is done at 4 o'clock in the morning during Easter Sunday. The ritual starts with two processions: one side is the group carrying the statue of Mary covered with a black veil as a sign of mourning, and on the opposite side is the group carrying the image of Christ. The two groups will eventually merge in the middle and then an angel, usually played by a young girl (sometimes an image of an angel with a hook in its hands is used), will remove the veil to end Mary's grieving. The merged group will then proceed to the church to celebrate the resurrection of Jesus Christ, ending the Holy Week and the fasting.
In point of fact, Philippines is a really a religious country. How Filipinos express their faith may vary but one thing is for sure, they treat each other as brothers and sisters of Christ which unites the country, making us able to withstand all the challenges, such as the one we are facing right now – the pandemic.
This 2021, some of these Holy Week Traditions and Practices in the Philippines might be done in a different way due to the Pandemic. Most of these practices would probably be done at home. Mass would probably be aired online; same as last year, Priest would roam around to bless Palaspas on each of our front yard; and rosaries would probably be done at home with our families or loved ones. No matter how we will celebrate the coming Holy Week, what matters most is that our Faith is firm and we are all safe at home with our families.
In observance of the Lenten Season, April 1 (Maundy Thursday) to April 3 (Black Saturday) has been declared as Holidays, thus, families are expected to be reunited in their hometown. As we celebrate Holy Week, we welcome our Bria Homeowners and we wish everyone a solemn and blessed Holy Week.
BRIA Homes is a subsidiary of GOLDEN MV Holdings, Inc., .one of the largest real estate companies in the country. BRIA Homes is primed to bring quality and affordable house and lot packages and condominium units closer to ordinary Filipino families. This is the goal that drives every single employee in the company, for which the ultimate fulfillment is seeing a client happily moving into BRIA's homes.​
To know more, visit their website at www.bria.com.ph, like and follow "Bria Homes, Inc." on Facebook, Twitter, Instagram, YouTube, Pinterest, Spotify, Viber Community, Telegram Channel, Kakao Talk, LINE and WhatsApp, or call 0939-887-9637.​