If you are part of the coffee lover community who always seek to get a sip of the heavenly caffeine drink, then you might have thought of having your own coffee bar at home. Have you considered putting up a café business? Or just simply making it and enjoying it with friends? In this article, we've listed 7 of the best and most affordable coffee machine that suits every coffee lover!
Coffee is one of the most popular non-alcoholic beverages globally due to its aroma and caffeine content. Though the Philippines is not part of the Top 25 coffee-consuming countries as of February 2022, without a doubt, this nation craves coffee anytime anywhere. The most typical reason why we Filipinos love coffee so much is the energy-boosting effects that it gives our body. During early mornings to late-night work shifts, or just simply hanging out with friends can be this good when coffee is involved. Coffee can boost our physical performance, can also help us lose weight, be focused and alert, and reduce health risks such as stroke and cancer.
Read Also: Must-try Cafes in Rizal
Buying coffee at famous and mainstream coffee shops or cafes gives you that satisfied and aesthetic vibes. Whether your coffee is hot or iced, it's that feeling of having that caffeine energy that your body craves, however it can also be very expensive sometimes. So why not try doing the brewing at home where you can enjoy your coffee in your humble abode and share the caffeine with your loved ones.
Aside from the coffee beans, coffee pods, or coffee powders which are the main ingredient for brewing, of course, you must have your own coffee machine. At first, you may think that it's better to just buy yourself a cup of coffee outside to save you the effort but making it at home can save you less. Would it be expensive to buy those coffee machines?
Here are some affordable coffee machines that you can order online for under ₱5,000.00 that can get you through your everyday brewing.
1. SHANBEN Fresh Brew Coffee Machine
This simple yet elegant coffee machine has a built-in grinder that can brew about 2-4 cups of coffee. There is also a section for warming your coffee too. Great for beginners who wish to try brewing at home. Very versatile and easy to use. Great for small counter spaces.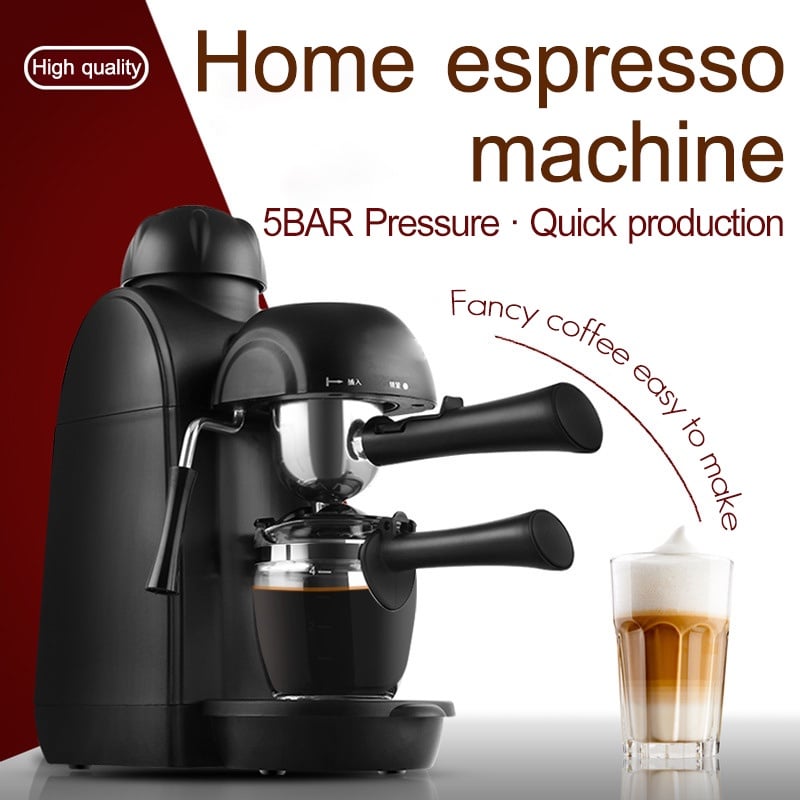 Price: ₱2,199.00
Product color: black
Rated voltage: 220V
Rated frequency: 50HZ
Boiler pressure: 50 Pa
Rated power: 800W
Rated capacity: 240ML
2. Donlim Coffee Maker Machine Espresso With Milk Frother Wand for Espresso Cappuccino 20 Bar Italian
This affordable coffee machine has advanced technology that combines water storage and heating the water that quickly extracts coffee essence after being heated. It also has a double cup channel, double temperature control, and milk foam system. It has that café vibe to it as well.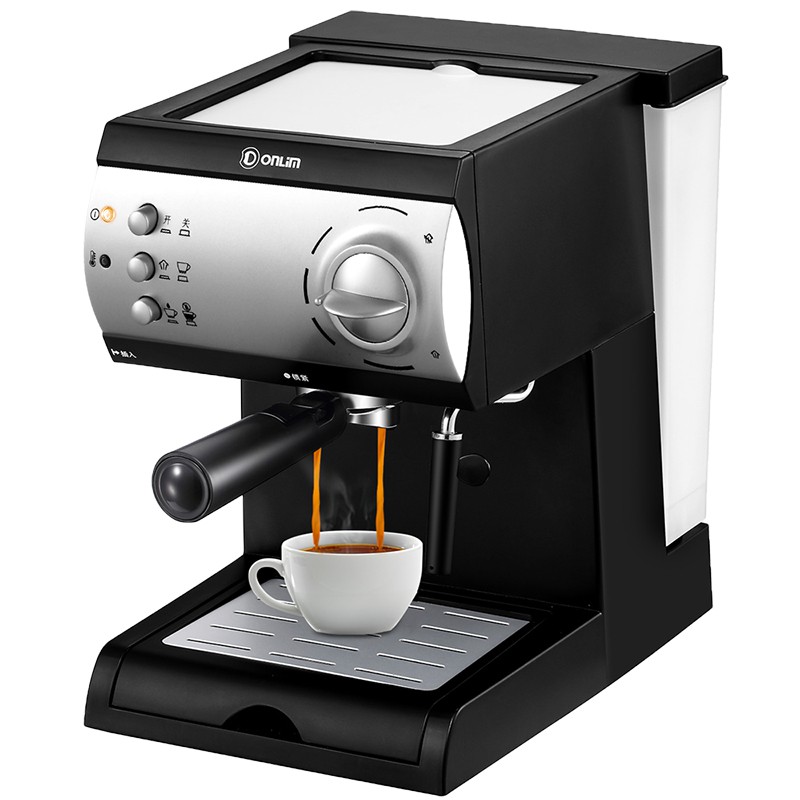 Price: ₱2,648.00
Product Name: KF6001 Italian Coffee Maker
Product Color: Silver and Black
Rated Capacity Scale Line: 220V-50Hz
Rated Power: 850W
Rated Capacity: 1.5L
Extraction Power: 20 Bar
3. B Coffee Co.
They take pride in curating 100% roast and ground coffee beans, delivering accessible and high-quality coffee capsules and machines to make the ideal cup. They also take a more personalized approach to everyday coffee. It has a very simple design that looks a lot like a capsule. It also comes in a variety of colors that you can choose from.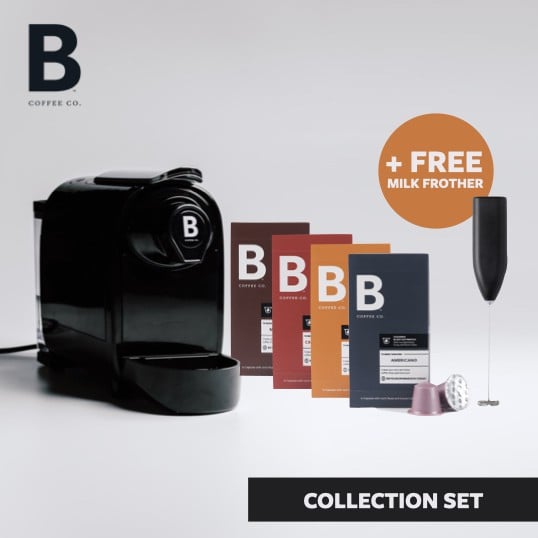 Price: ₱3,199.00
Product color: Red, Yellow, Black
Rated voltage: 220-240V
Rated frequency: 60HZ
Boiler pressure: 50 Pa
Rated power: 1,400W
Rated capacity: 700ML
Extraction Power: 20 Bar
4. BioloMix Italian Type Espresso Coffee Maker Machine (20 Bar)
Semi-automatic 2-in-1 espresso coffee maker with milk wand. This coffee machine can fill 2 cups at the same time. Biolomix coffee makers are produced under the license of Italy and have a higher quality. Since it has a capacity of 1.6 L, it can fill about 20 cups of coffee. It also has that café vibe to it and looks very classy. Perfect for people who love to drink coffee multiple times a day.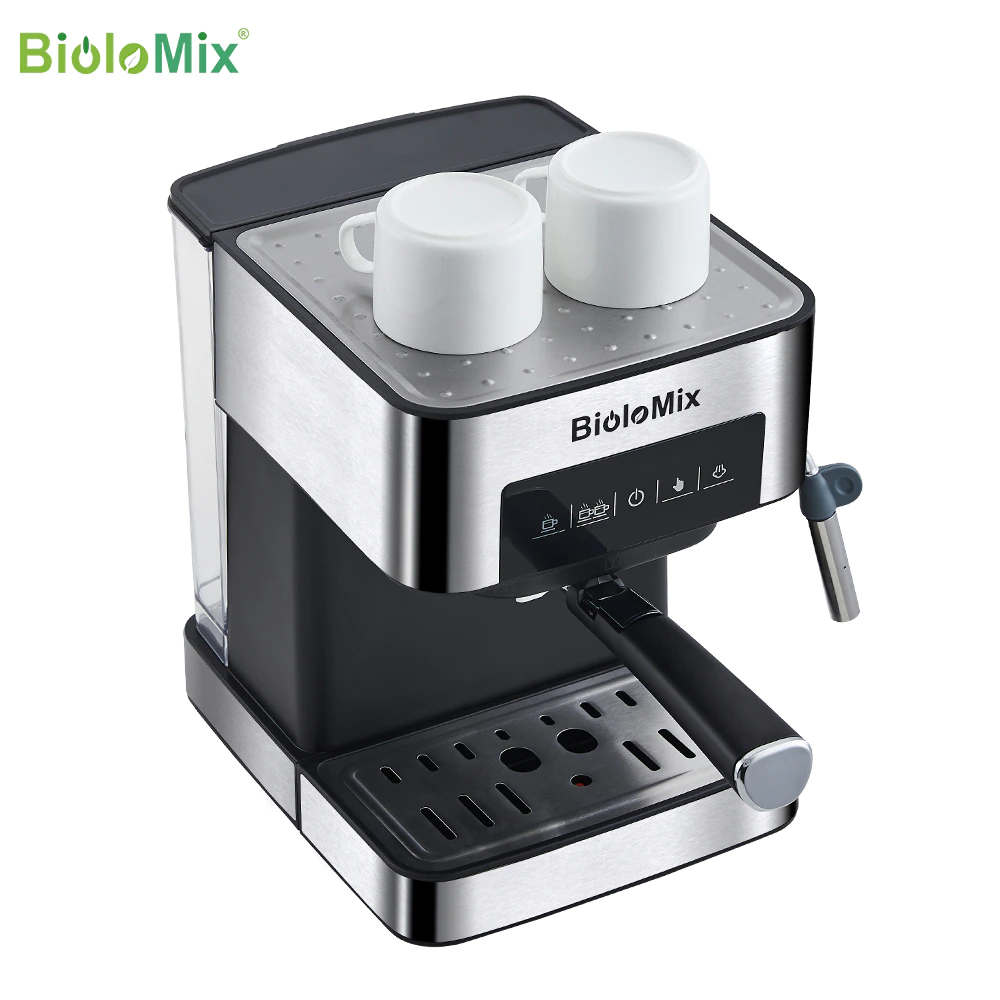 Price: ₱3,999.00
Product color: Black and Silver
Rated voltage: 220V
Rated frequency: 50-60HZ
Rated power: 850W
Rated capacity: 1.6L
Extraction Power: 20 Bar
5. Hibrew 3-in-1 & 4-in-1 Capsule Coffee Maker
The universal capsule machine is compatible with multiple capsules such as Nespresso, Dolce Gusto, and ground coffee which is very convenient for people who tries different types of brands for coffee pods. The machine will also get into the energy-saving mode in 15 minutes, power consumption is less than 0.5w in compliance with EuP regulation. The design is very simple. Perfect for small countertops.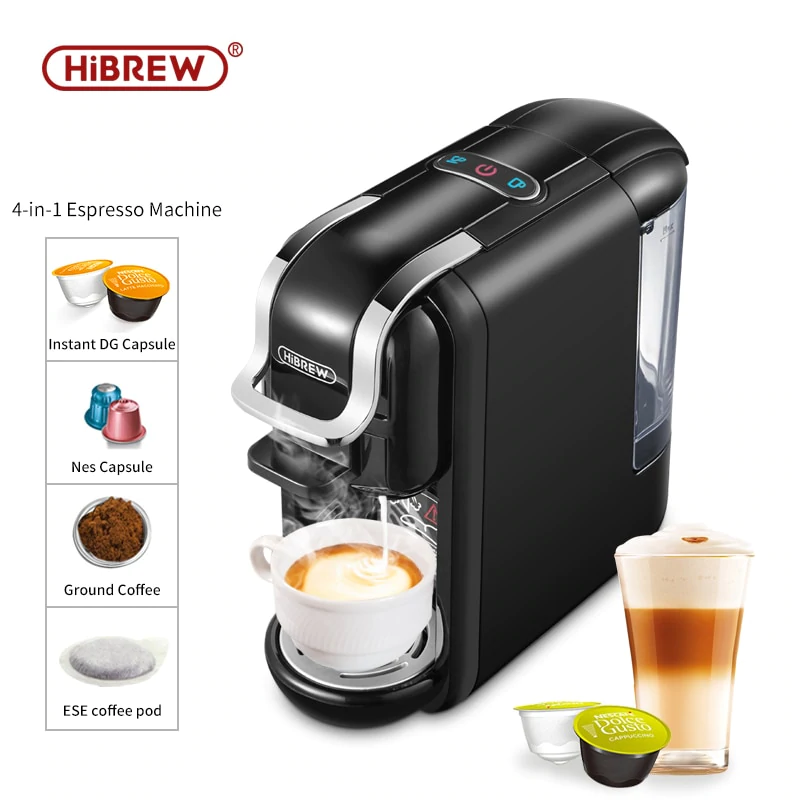 Price: ₱1,999.00
Product color: Black, Red, White
Rated voltage: 220V-240V
Rated frequency: 50-60HZ
Rated power: 1450W
Rated Capacity: 600ml
Extraction Power: 19 Bar
6. Konka Capsule Coffee Maker
For this coffee maker, both coffee powder and capsules are compatible with capsules such as Nestle, Starbucks, and Lavasa. It has a slim and compact retro style with a temperature dial. It also has a water storage boiler heating system with steam and hot water nozzles for quick milk foaming. It has a matte shell, top warming cup area, and an NTC temperature system, and has a removable coaster and water tank. The design is very retro ad old-fashioned but can still be compared to elegant designs.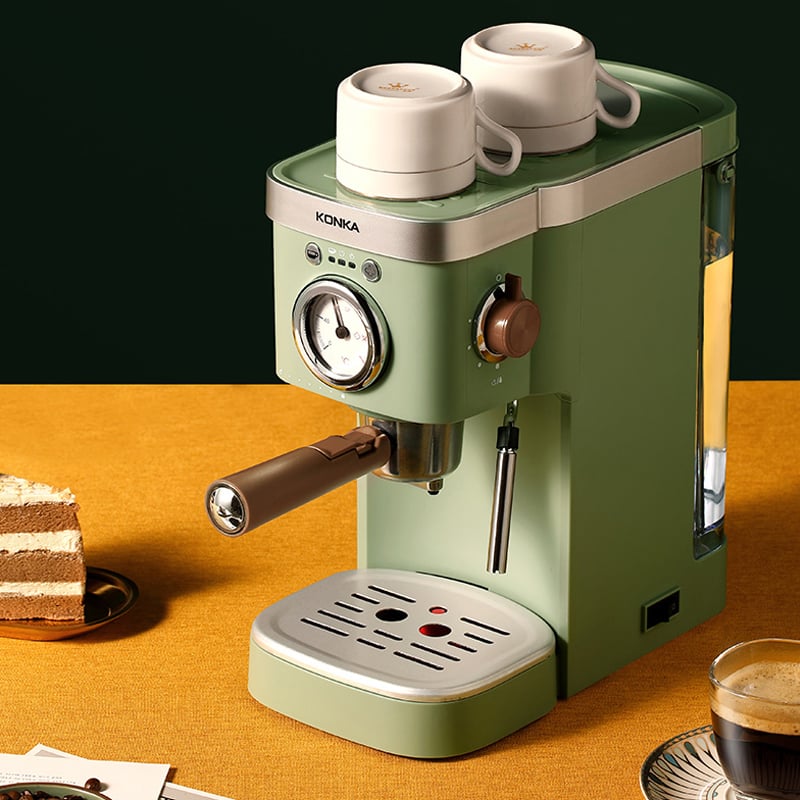 Price: ₱4,799.00
Product color: Green
Model: KCF-CS1
Rated voltage: 220V
Rated frequency: 50-60HZ
Rated power: 1230W
Rated Capacity: 1.2 L
Extraction Power: 20 Bar
Read Also: NAPA at Crosswinds: Must-Visit Cafe in Tagaytay
7. Petrus PE3320 Semi-Automatic Italian Espresso Coffee Machine
This retro style espresso coffee machine has both milk frothing and espresso brewing function despite its affordable price. It has an adjustable steam knob and a cup warming function as well. Very aesthetic find for a coffee machine. It is also compact and not too big. Great for small spaces.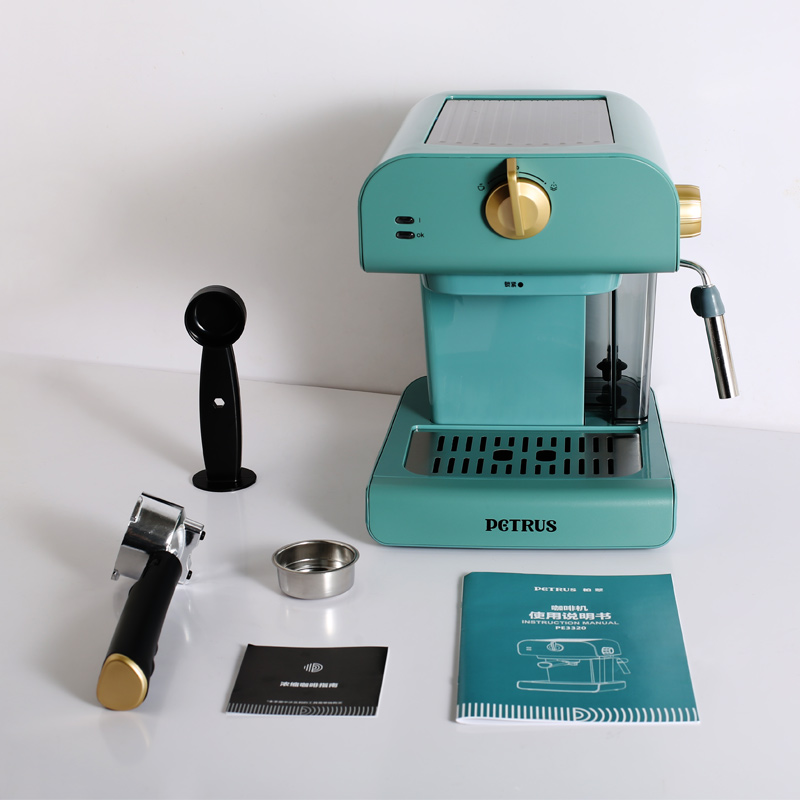 Price: ₱3,749.00
Product color: Green
Model: PE3320
Rated voltage: 220V
Rated frequency: 50HZ
Rated power: 850W
Rated Capacity: 800 L
Extraction Power: 20 Bar
Read Also: Instagrammable Cafés Worth a Visit in Pampanga
Considering the amount of coffee that we consume per day, having your own coffee machine at home can still be very convenient and less of an expense for you. It can surely satisfy your coffee cravings plus it can also be an investment. So if you are thinking about owning a coffee machine, do not think twice. A bad day with coffee is better than a good day without it. You can brew it!