Our Overseas Filipino Workers (OFWs) are considered as modern-day heroes that continue to prop up the Philippine Economy, in spite of the downturns brought about by the COVID-19 pandemic. They leave for faraway places to work incredibly taxing jobs so that they can put food on the table and provide a better life for their loved ones. As they hustle overseas, OFWs miss out on the joy of witnessing their children develop and go through crushing sadness most of the time.
Their monthly remittances to their loved ones back home fuel daily Philippine economic activity and consumption. As OFWs forward their hard-earned dollar remittances to their loved ones, they immensely assist in keeping the Philippine economy afloat. These industrious Filipinos—ranging from doctors to housemaids—have continually remitted billions of pesos to the Philippines. According to a report, they were able to remit 30 billion dollars, engendering economic growth in their respective hometowns in the process. It is very apparent that OFWs have noticeable disposable income and spending power, and most of them are now looking for great investment opportunities that can potentially give them huge payoffs down the road. In effect, huge chunks of these cash inflows are directed to investment avenues such as real estate properties, money markets, and businesses.
These money-making opportunities offer varying degrees of profitability, and each offers its own set of pros and cons. Some are more advantageous than others in certain contexts, and OFWs may prefer one vehicle over another. For instance, in a survey among OFWs conducted by the New Perspective Media Group last 2019, 80% of OFWs are considering buying property in the Philippines next twelve months. Of those OFWs who have already heavily invested in the country, 55% would like to invest more in real estate property.
According to Dr. Karen Remo, the Managing Director of New Perspective Media Group, more Filipinos are venturing into the property market. She added that acquiring property has rapidly become more acceptable in the Filipino culture, due to its perceived security and safety when it comes to wealth accumulation.
In this light, one of the best investment opportunities for OFWs is real estate.
On account of the continuing coronavirus pandemic, property prices have gone down for a while now. Hence, now is arguably the best time for OFWs to invest in real estate, as it offers significant payoffs in the near future, especially once the housing market bounces back to its pre-pandemic state.
As for profitable property investments, one of the greatest options available for OFWs is BRIA Homes. As one of the country's leading real estate developers, BRIA Homes offers more than fifty housing projects all over the country to choose from, all having an affordable house and lot units in safe and secure environments. They achieve this by adhering to the Bria Homes formula that has stood the test of time: Affordability (Mura) + Quality (Dekalidad) = A beautiful BRIA Home for Every Filipino.
Here are other reasons why Bria Homes is the best OFW investment available when it comes to real estate: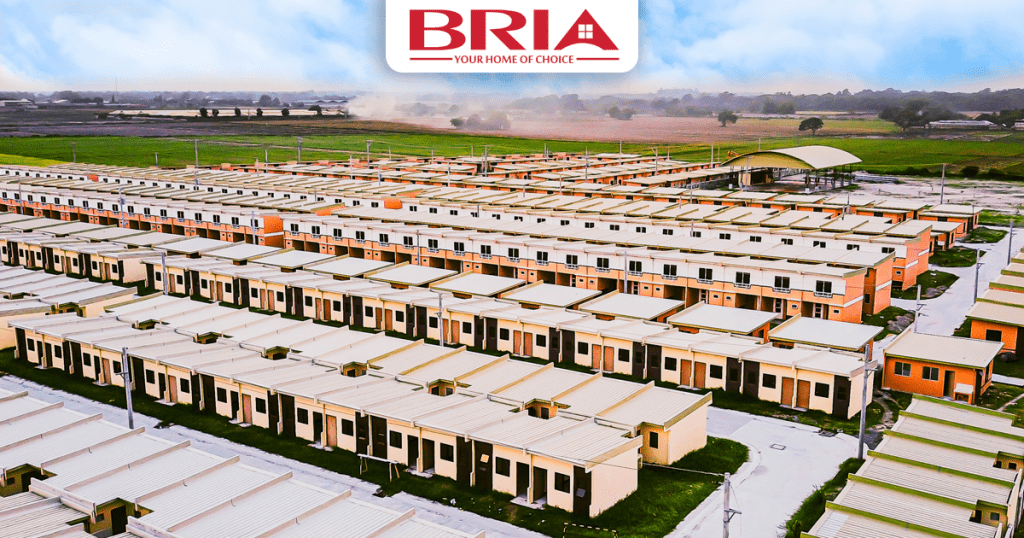 1. Multiple locations nationwide
As previously mentioned, Bria Homes offer housing projects all over the country, so that OFWs can have their pick as to where to reside and/or invest their disposable income. For starters, here are some of the locations of Bria Homes and Communities nationwide:
Bria Homes Alaminos, Pangasinan
Bria Homes Urdaneta, Pangasinan
Bria Homes Paniqui, Tarlac
Bria Homes Mariveles, Bataan
Bria Homes Hermosa, Bataan
Bria Homes Norzagaray, Bulacan
Bria Homes Plaridel, Bulacan
Bria Homes San Jose Del Monte, Bulacan
Bria Homes Sta. Maria, Bulacan
Bria Homes San Fernando, Pampanga
Bria Homes Magalang, Pampanga
Bria Homes Calauan, Laguna
Bria Homes Calamba, Laguna
Bria Homes Trece Martires, Cavite
Bria Homes Indang, Cavite
Bria Homes General Trias, Cavite
Bria Homes Lipa, Batangas
Bria Homes Naga, Camarines Sur
Bria Homes Pili, Camarines Sur
Bria Homes Iriga, Camarines Sur
Bria Homes Danao, Cebu
Bria Homes Ormoc, Leyte
Bria Homes Condo, Cagayan De Oro
Bria Homes Davao City
Bria Homes General Santos City
The abovementioned list is far from being exhaustive. Across Luzon, Visayas, and Mindanao, OFWs have a cornucopia of best investment options.
Bria communities are intentionally located in places that will provide convenience to the OFW's way of living. All Bria communities in the country are near or adjacent to places of interest such as churches, hospitals, educational institutions, and retail centers. They are also accessible through major roads and thoroughfares.
The options are not only limited to locations, but also to different housing models such as the following: Thalia, Elyana, Elena, Bettina, and Alecza. Each brings to the table different sets of specifications and features.
Price-wise, Bria Homes offers a wide range of affordable homes. For as low as P 1, 897 per month, anyone can purchase his dream Bria house.
Bria's house and lot packages can range from Php 460,000 to Php 1.5M while its condo units range from Php 1.5M to Php 3M. Buyers will be hard-pressed to find cheaper deals than those offered by Bria Homes.
Also, for additional assistance, prospective buyers can avail of financial funding (PAG-IBIG Funding or Bank Financing) that should make their monthly payments easier and lighter.
2. A wide array of recreational facilities perfect for retiring OFWs
BRIA's wholesome and thriving communities feature a wide array of recreational facilities such as multi-purpose halls, covered basketball courts, open spaces, and children's playgrounds. 
These recreational facilities are perfect for retiring OFWs who seek to be physically active. In place of their previous daily employment routine, they can substitute sports and daily exercises to keep their bodies and mind in tip-top shape, aside from delaying and slowing down the signs of aging.
In numerous studies, many retirees die within a few years of their retirement. This can be attributed to the abrupt change of lifestyle that comes with retirement. Retirees tend to eat more, drink more, and watch more television. They become more sedentary than their counterparts who are still working. They also have fewer social interactions and smoke more. All of these have a profound impact on health.
Having multipurpose halls in Bria communities encourages retired OFWs to socialize more, which can positively impact their health and emotional well-being. Basketball courts and open spaces in Bria communities can promote daily physical exercise, which can help the retirees to stay active and maintain a healthy weight. Having children's playgrounds can also foster the retirees' relationship with their grand kids, as they join and guide their grandchildren during playtime.
3. Fully secured communities (perimeter fences, guarded 'entrances and exits', 24/7 CCTV coverage, and eco-friendly solar lights that keep the streets illuminated at night.)
Bria communities are fully secured by perimeter fences, guarded entrances and exits, 24/7 CCTV coverage, and eco-friendly solar lights that keep the streets illuminated at night. Bria Homes take great pains to provide an environment that is safe and secure for all of its residents. OFWs who invest in Bria Properties need not fret about dangerous neighborhoods, which is a common occurrence in affordable housing projects since expenses regarding maintaining safety and security are usually not prioritized in the name of cost-cutting.  
In Bria Homes, affordable housing does not come at the expense of poor safety and security. Perimeter fences and guarded entrances and exits keep outsiders and intruders at bay. Eco-friendly solar lights that keep the streets illuminated at night promote continuous visibility, which is a deterrent for criminals who seek to operate in the dark.
Having 24/7 CCTV Coverage ensures that potential nefarious acts are recorded on tape and in real-time, which can alert faster response for security officers and law enforcement agents. In most cases, the cameras function in deterring crime from occurrence and minimizing the levels in places where it cannot stop completely. According to research, in many parts of America, Europe, and Asia, CCTV surveillance proved one of the best ways of crime prevention as the criminal cases decreased proportionately as more cameras came into existence.
4. Can be a source of passive income.
If an OFW has money to spare, he's best investment is Bria real estate properties.
He can either purchase a house and lot, or a condominium unit in cash. If he opts not to finance all in cash, there are a plethora of bank loans and other PAG-IBIG housing loans available specifically for Bria Homes.
While toiling overseas, stacking cash, and waiting for the right time to return to the Philippines for good, an OFW best investment is a Bria property that would provide him with passive income. Passive income is generated when you are not actively involved in the operation of the real estate property that you purchased. It results in regular cash flow, with your money working for you instead of you working for money. You can go about certain ways of earning passive real estate income.
An OFW can purchase a Bria house and lot or condo unit and rent it out. With the advent of apps such as Airbnb, one good option nowadays is to turn your Bria Condominium unit into an Airbnb home for tourists searching for a place to stay. You may charge your Airbnb occupants on a per-stay basis. For safety, you may offer up your Bria unit for rent only to your loved ones and friends who you can trust to treat and care for your unit as though it is their own home.
Investing in real estate property drives wealth acquisition faster since the value of real estate property increases over time. For example, if one OFW buys a house and lot such as one in Bria Homes Executive Calamba, its market value could potentially be twice more when he returns to the Philippines three years from now. Unlike other big-ticket purchases such as cars and luxury cars that depreciate in the long run, Bria real estate properties are more likely to go up in value. Also, one can already monetize his property as soon as he buys it, by having it rented or leased.
Real estate properties are also more resilient to economic volatility brought about by uncertainties and unforeseen events such as the COVID-19. This pandemic has already caused the stock market to go down, causing great losses to many stockholders. Having Bria Homes properties can counter the adverse effects of money market fluctuations since property values remain the same, shielding its owners from heavy financial ruin.
5. A reputable Property developer
Bria Homes have been one of the most trustworthy companies in the Philippine real estate industry. Since its formation, Bria Homes Inc. puts a premium on the establishment and development of affordable, reasonably priced houses and lots and affordable condominium units that provide opportunities for ordinary Filipino families whose main dream is to have a home they can call their own. Bria Homes is the most suitable choice for normal Filipino workers and OFWs who desire to invest in a home of high, reputable quality that is also relatively inexpensive.
With the topnotch quality and affordability of the homes that it offers, Bria Homes seek to be a part of the solution in the Philippine government's quest to mitigate and alleviate the housing problem that has existed for decades. Bria Home employees are motivated by this lofty and noble goal. They derive ultimate joy from the happy and fulfilled faces of clients moving into their new Bria Homes.
In sum, owning a real estate property offers a myriad of benefits, which is why it remains the best investment vehicle of choice by OFWs. Most OFWs dream to ultimately stop working in a foreign land and stay home for good, and real estate offers the most stable path to the realization of this vision. 
With opportunities provided and opened up by Bria Homes to overseas Filipinos, many OFWs are in a better position to face the future—a future of financial health, wealth, and happiness.
BRIA Homes is a subsidiary of GOLDEN MV Holdings, Inc., one of the largest real estate companies in the country. BRIA Homes is primed to bring quality and affordable house and lot packages and condominium units closer to ordinary Filipino families. This is the goal that drives every single employee in the company, for which the ultimate fulfillment is seeing a client happily moving into BRIA's homes.
To know more, visit their website at www.bria.com.ph, like and follow "Bria Homes, Inc." on Facebook, Twitter, Instagram, YouTube, Pinterest, Spotify, Viber Community, Telegram Channel, Kakao Talk, LINE and WhatsApp, or call 0939-887-9637.