With the advancement of technologies, the world moves rapidly towards digital transformation.
As stated in the Salesforce.com, Digital transformation is the process of using digital technologies to create new or modify existing business processes, and customer experiences to meet changing business and market requirements. It is moving from paper to spreadsheets to smart applications in managing businesses and engaging customers using the digital technology.
Social connectivity is the first digital technology benefit. It connects us with the world in an instant at our own convenience with better communication means.
Given the current crisis, people can easily adapt in many changes especially in switching to digital approach of transactions in the most effective and efficient ways. It saves time, provides ease of mobility, access to information and data, greater source of information, work versatility and many more.
Providing the many reasons and benefits of digital transformation, in the aspect of business, Real Estate industry is still on track despite the pandemic. The said industry showcases the modern aspect of transactions to the comforts of clients.
Bria Homes became flexible in its transition to the "New Normal" as it opened new cost-effective ways for their clients as it offers the widest payment options to its customers.
Bria Homes accept payments for reservation fee during reservation process, downpayment for their monthly equity, and monthly amortizations through online payments. As it offers the widest payment options to its online customers, the following online payment platforms are ready to serve every Filipino better: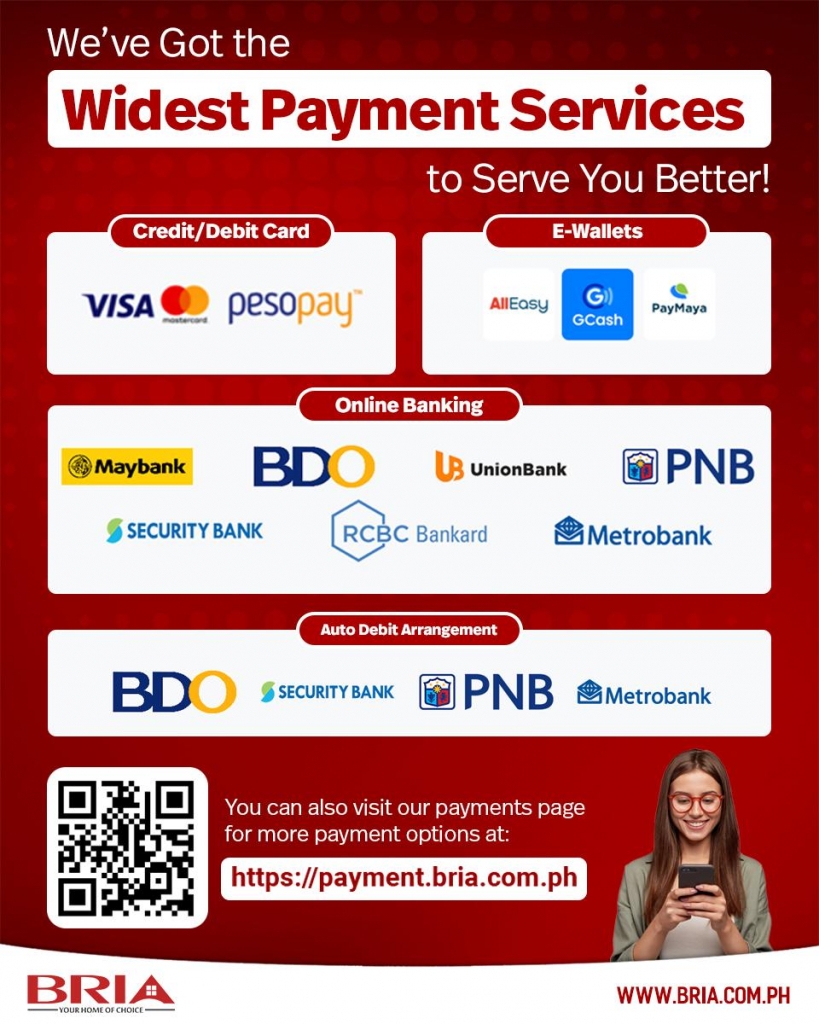 1. Over-the-Counter Payment Centers
Over-the-Counter Payments for your monthly bills are made possible without visiting Bria Homes office. It can also be accepted to the following Payment Centers powered by the EPrime Business Solutions, Inc.:
LBC
7/11
Cebuana Lhullier
Sinag Pawnshop
Waltermart
Pinoy Pera Padala
CVM Pawnshop
Pera Hub
ExpressPay
True Money
Raquel Pawnshop
Netopia
Bayad Center
Touchpay
Palawan Pawnshop / Palawan Express Padala
ECPay
Villarica
PhlPost
The Landmark
USSC Service Store
Robinsons Department Store
As it offers the widest payment options, Bria Homes Payment Centers are now available in:
RuralNet Inc.
SM Department Store
SM Savemore Markets
RD Pawnshop and Jewelry
You can now pay through the above-named payment center by using EPrime Business Solutions Inc. as the Biller Name. Reference Number and the Biller Number will be sent via text message.
2. Over-the-Counter Banking
Over-the-Counter Payments through Banks are also available as a payment method in paying your monthly bills in Bria Homes with these accredited banks below:
Project i2i of UnionBank
Philippine Saving Bank (PSBank)
United Coconut Planters Bank (UCPB)
Landbank
EastWest
AllBank
3. E-Wallets Payment Options
Digital wallets or famously known as e-Wallets are best use to make electronic transactions through a computer or smartphones. This mode of payment method is now open to make payments in Bria Homes with these Digital wallets:
And also the newest Financial Technology (Fin-Tech) Solutions software application:
With new e-Wallet partners:
The said software applications can be installed or download on Google Play Store, Huawei AppGallery, and Apple App Store for Apple Users.
You can also use these e-Wallets by scanning a QR Code. Payments made easy and less hassle to every Bria Homes Customers.
4. Online Banking Payment Options
If you have Personal Online Banking App with your to your smartphones or access to your computers, this particular payment channel is more likely an easy ticket to pay your monthly bills in Bria Homes. Pay through these selected banks:
Maybank
Banco De Oro (BDO)
UnionBank (UBP)
Philippine National Bank (PNB)
Security Bank
Rizal Commercial Banking Corporation (RCBC) Bankard
Metrobank
Online banking and e-Wallets are the quickest way to transact especially in payments. As a payment channel, the speed and efficiency of this became the most prominent benefits.
With its 24/7 access, payments made easier as you will never have to deal with long lines.
5. Auto Debit Arrangement
This Payment channel is a bit new. Customers pay their monthly bills by setting all your bills to be paid automatically through their bank account. Customers just need to authorize the bank to debit from their bank account yosing POS ur monthly payments.
The following banks offer the Auto Debit Arrangement:
Banco De Oro (BDO)
Security Bank
Philippine National Bank (PNB)
Metrobank
Convenience is the right word to describe ADA or Auto Debit Arrangement, it can save you time, money and energy as it can definitely outweigh the risks.
6. ATM through POS
The traditional approach has always been the easiest for some. You went to the Site Locations or Office and pay via cash or cheques. Cash is the most acceptable but you can now pay cashless using Point of Sale (POS) Terminal.
POS terminal is an electronic device used to process payments with Debit or Credit Card payments. This is best known as Cashless Payment in a traditional approach.
7. Credit/Debit Card Payment Options
Another Cashless Payment process is using your Credit or Debit Card to pay monthly bills in Bria Homes very own payment Site – payment.bria.com.ph.
May it be Visa, Mastercard or Pesopay, Local or International, in this payment gateway of Bria Homes, wherever you are, your payments are secured.
In this huge step of transformation to digitalization, Bria Homes has been steady to its goal in providing best services to the customers since its establishment.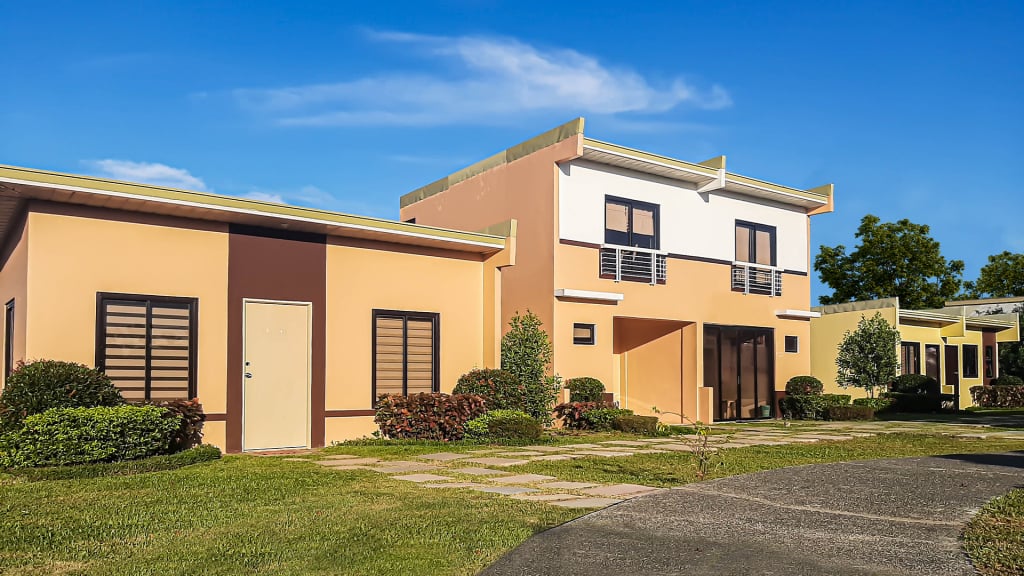 As the fastest growing housing developer in the Philippines, Bria Homes offers affordable house and lot, with Four (4) House Model Units that are fit for any everyday Filipino:
The 22-24 square meter Elena / Elyana Rowhouse;
The 2-Storey Complete Package Townhouse – Bettina Select;
The 2-bedroom Ready Bungalow – Alecza Single Firewall or Duplex: and
The newest House Model unit, Thalia Single Firewall with three (3) Bedrooms.
These affordable house units are available across nine (9) Regions with more than fifty (50) projects nationwide in many strategic locations.
Bria Homes in general, guarantees the safety and welfare of every home owners with 24/7 CCTV cameras. It is also surrounded with perimeter fence with one Entrance and Exit point and Guard House.
As it provides affordable housing, it aims to and alleviate homelessness to many aspiring Filipino home owners and create township-like communities to every Bria subdivision, where Bria Homes launched the newest feature – Sentro. Sentro is an Amenity hub with community facilities, recreational court, parks and playground, and open spaces.
Since 2020, Bria Homes has a wider portfolio of brand offerings in the property market and now it proffers its widest payment options to its customers.
This proves that no matter the challenges, Real Estate, Bria Homes in particular remains to adhere its tried-and-true services to its customers.
BRIA Homes is a subsidiary of GOLDEN MV Holdings, Inc., .one of the largest real estate companies in the country. BRIA Homes is primed to bring quality and affordable house and lot packages and condominium units closer to ordinary Filipino families. This is the goal that drives every single employee in the company, for which the ultimate fulfillment is seeing a client happily moving into BRIA's homes.
To know more, visit their website at www.bria.com.ph, like and follow "Bria Homes, Inc." on Facebook, Twitter, Instagram, YouTube, Pinterest, Spotify, Viber Community, Telegram Channel, Kakao Talk, LINE and WhatsApp, or call 0939-887-9637.
Written by Jubee Veras