With the year 2020 coming to a close, one question seems to be in everyone's mind: Did the pandemic truly change the way we live? Much as we wish it didn't, reality compels us to accept—and endure—how the Coronavirus has indeed upended our lives, depriving us of the things we used to take for granted.
But having decided that life must go on, Filipinos, just like the rest of the planet's human inhabitants, migrated a great number of their activities to the digital space. Shopping for essential goods is now done with apps. Work is conducted through video conferences and online messaging. Entertainment and other recreational activities are viewed or joined in via online platforms or streaming services or YouTube.  
Clearly, the need to protect one's health and contain the virus has accelerated the shift to digitalization, a process that did not seem compelling just a year ago.
BRIA Homes was able to recognize and adapt to these drastic changes. After all, BRIA has always prided itself in its philosophies of service and the quality of life they offer ordinary Filipinos by building affordable houses and lots in all their housing developments.
To further ensure the comfort and convenience of all its residents, BRIA encourages them to do their property-related transactions—such as bills payments—through a variety of online portals. Using e-wallets, for instance, is one of the most efficient and convenient ways to do this. Residents don't need to physically go to the office to scan QR codes. They can pay their bills at the convenience of their own homes. Choose one from those listed below.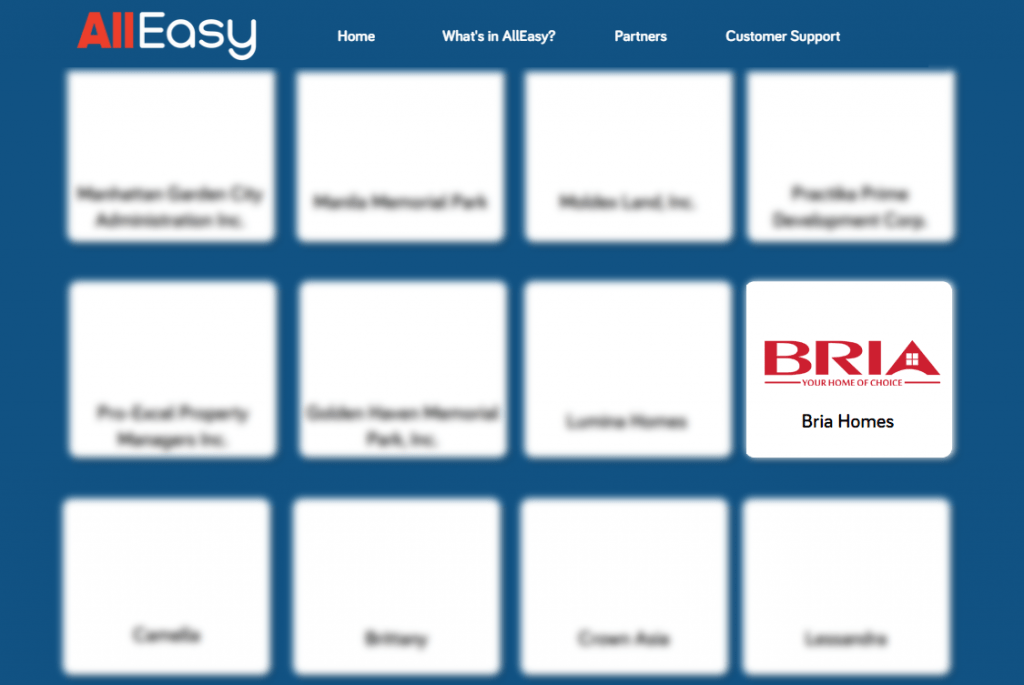 AllEasy
AllEasy is a financial technology solutions provider dedicated to making online payments simple and easy.
Even before the pandemic, AllEasy had been at the forefront of this country's rapid shift towards online financial transactions. The AllEasy e-wallet app offers a seamless digital payment experience. The AllEasy app can be downloaded for free from the App Store, Google Play, and the Huawei AppGallery.
In addition, since AllEasy is under the Villar group of companies, users can use the app for financial transactions across its other businesses. These include AllDay Supermarket, AllHome, Coffee Project, and Vista Cinema among others. By using AllEasy, users will now have a faster and consolidated payment transactions.

GCash
GCash is one of the most popular e-wallets in the Philippines today. It has over 20 million registered users and counting, with over 63,000 partner-merchants including BRIA Homes.
An award-winning service, GCash was recognized in 2019 by the Bangko Sentral ng Pilipinas as an Outstanding Partner for Digital Transformation as well as an Outstanding Partner for Innovative Financial Services. GCash ensures fast and secure mobile payments with an array of services that are easily accessible through their app. The GCash App can be downloaded for free from the App Store, Google Play, and the Huawei AppGallery.

PayMaya is a mobile wallet app that promises safe, convenient and seamless financial transactions.
As the most rewarding e-wallet in the country, the PayMaya app allows you to transact to more than 100,000 PayMaya merchants and get cashbacks and rewards. You also get a virtual prepaid card that can be used to pay your monthly amortization fees, shop online, and book flights. Users of PayMaya can also get a physical PayMaya card that can be used in stores that accept credit and debit cards. The physical PayMaya card can even be used to withdraw funds from ATMs locally and abroad. The PayMaya app can be downloaded for free from the App Store, Google Play, and the Huawei AppGallery.
"The unprecedented events of this past year taught BRIA Homes to readily adapt to changes. With everything in a state of flux, it is the only way we can offer stability to our clients and homeowners," says Red Rosales, President of BRIA Homes. "As long as a solution to the health crisis remains uncertain, we believe that providing reliable digital services is an absolute necessity in all BRIA communities. It is our hope that this brings peace of mind and comfort to our residents in these difficult times."
BRIA Homes is a subsidiary of GOLDEN MV Holdings, Inc., one of the largest real estate companies in the country. BRIA Homes is primed to bring quality and affordable house and lot packages and condominium units closer to ordinary Filipino families. This is the goal that drives every single employee in the company, for which the ultimate fulfillment is seeing a client happily moving into BRIA's homes.
To know more, visit their website at www.bria.com.ph, like and follow "Bria Homes, Inc." on Facebook, Twitter, Instagram, YouTube, Pinterest, Spotify, Viber Community, Telegram Channel, Kakao Talk, LINE and WhatsApp, or call 0939-887-9637.