With today's fast-paced and always-connected lives of people, completing simple tasks that used to be part of a family's routine can now be considered a burden that drains valuable time. With a lot of things that keep families busy – work, school, or business, routinary tasks such as cooking, cleaning, or walking the dog seem to add up to the families' daily hectic schedule. On the other hand, there is one essential task that seems to become more convenient and hassle-free these days – online shopping. This growing trend has influenced a number of online grocery stores to make their products available online.
MetroMart
LazMart
Marketa.Ph
Mayani Ph
The Green Grocer Manila
Zagana
Gerald Ph
Bukid Fresh
People can now buy almost everything they need online, from clothes, school supplies, home furniture and electronics, to groceries. Additionally, these items can easily be ordered online and have them delivered right to their doorsteps, making it very helpful to many shoppers.
With the boom of e-commerce in the country, businesses are also shifting online and making sure they have presence on e-commerce sites. In fact, many grocery stores are now offering online grocery shopping options and virtual shopper services. Aside from shopping for groceries online, people can also select a pick up time, and have the grocery items loaded into their car. There are also some stores that even offer delivery services.
Grocery shopping is a chore that some people are now enjoying. If you find yourself unable and unwilling to go to the grocery store frequently to stock up on your food and toiletries, consider buying groceries online and having them delivered to your home.
How does online grocery shopping work?
When online grocery shopping, the basics are the same – you place your order online, pick a time in a one-hour window for your pickup, pull into a slot at the store and call the number right there on the slot's sign. Someone brings your groceries, loads them up, and off you go.
But before you can even shop, you will have to find an online grocery store that will deliver or ship to your area. Do an internet search or check an online listing for specialty grocery stores that allow you to do your shopping online. Compare these sites and look for lower prices on the things that you buy the most.
You can go to the website of the store you want to use to buy online and start shopping in. You have to add the items that you want to buy into your digital shopping cart. When grocery shopping online, you can also track your spending by glancing at the total that adds up every time you put an item into your cart.
When you finished shopping and you are ready to pay for your items, you have to create an account, provide your delivery address and payment details. When everything has been completed, you shall confirm the transaction and wait for the confirmation screen to show up. In most cases, you will receive the receipt of purchase via email.
What are the options for online grocery shopping?
For some people, the convenience of shopping anytime, anywhere can really make a big difference while others are more skeptical about giving it a try. If you are unsure about getting into online grocery shopping, here's a list of the most popular options available to you.
Online delivery
Supermarkets usually offer options for online grocery shopping with same day or next day delivery.
Local grocery stores
Many local or chain grocery stores offer curbside pick-up service for online shoppers. Some of these stores offer pre-bagged pick up which allows customers to order online and pick up the bagged groceries at the store, while others offer bagged and delivered options wherein the order is gathered, bagged, and then delivered to your home during a pre-selected timeframe.
There are some e-commerce sites that allow you to choose from a variety of stores and offer delivery right to your doorsteps.
What are the advantages and disadvantages of online grocery shopping?
Grocery shopping comes with its own challenges such as parking, carting groceries, pushing trolleys, and facing crowds at the billing counter, among others. All these issues are the reason why online grocery shopping is becoming a popular option for so many consumers. Here are some advantages to online grocery shopping.
Advantages of Online Grocery Shopping
Convenience
The biggest advantage of online grocery shopping is the ability to shop whenever you want 24/7 without having to spend time walking around the grocery store. You can do it any time you want – send your order during your lunch break, while the kids are on virtual classes, or even while lying in bed. This saves you a lot of time and can ease the stress of having to go to the store after a long day.
Savings
Many online grocery shopping platforms allow you to compare brands with a few clicks which means you can choose the most cost-effective option every time. When you do online grocery shopping, you can also monitor your cart total. You can see the changes in the total amount in real time as you add items to your cart. This will help you stay on budget especially if you have a list of items that are needed and you stick to that list.
Additionally, less money is spent on gas. If you are able to have your items delivered to your front door, there is no need to even go to the grocery store, saving you gas money.
Avoid impulsive buys
Have you noticed those cute items near the checkout counter – magazines, gum, candies, batteries, hair grips, etc? More often than not, they end up in your basket. Before you know it, you have moved far away from your original list.
Marketing professionals know how to catch your attention and convince you to buy items you probably do not need. Everything from the placement of products in the store to the packaging and shelf height can have an impact on the likelihood of a consumer buying it. Shopping online means that you won't fall victim to these marketing tricks.
Delivery choices
Depending on the platform that you are using for your online grocery shopping, you can decide whether you want your groceries delivered ASAP or if you can wait a day or two. Many of these platforms offer delivery in as little as two hours, but you can also choose to wait for a few more days.
Healthy meals for your family
If you are trying to plan healthy meals for your family, online grocery shopping can help you find the items you need for your menus. Since you have full control of your time and you can easily check the available items on the e-commerce platform, you have the ability to build your meals according to recipes while picking the healthiest, most cost-effective options for your family.
Stay organized
Many online grocery shopping platforms help you save time by creating shopping lists that you can return to again and again. In fact, most grocery sites store your last shopping list, making it easier for you to reorder items and make the necessary adjustments.
You can also automate purchases so the things you buy regularly are delivered to your door when you need them without you having to think about it. What a relief!
Disadvantages of Online Grocery Shopping
Price
While the comparison features of grocery sites can help you save money, savings are not a guarantee. You may find that you pay a little more overall than you would shopping on your own, due to either mark ups or delivery fees.
Product unavailability
Sometimes stores run out of items you need. Most online delivery options allow for substitutions which can allow you to still get the same or similar product, but that's not always the case. Similarly, certain perishable items may not be available due to shipping constraints with some of these services.
Be sure you understand the missing item policy of the service you use before placing your order.
Experience
While grocery shopping gives us the luxury of comfort and convenience, some people just like going to the grocery store. If you enjoy the experience of walking around the store, planning meals on the fly, and hunting for the best bargains, online grocery shopping may not be for you.
Quality of produce
With online grocery shopping, you are not actively picking your own items, and for some people, personally seeing and touching the items, especially produce, is a must. In short, you cannot handpick each item.
While online grocery services have dedicated staff picking out your food, the bottom line is that they may not pick the produce you would have. If you are particular about ripeness, color, or other aspects of your fruits and vegetables, you may not want to order them online.
If you are a shopper who writes out a grocery list and sticks to it, online shopping may be more expensive for you. If you are an impulse buyer and have trouble sticking to your grocery list, or if you struggle to get to the store because of your busy schedule or mobility, online grocery shopping may be the best option for you.
If you are looking to try online grocery shopping this week, we have rounded up 8 popular online grocery sites you may want to check.
1. MetroMart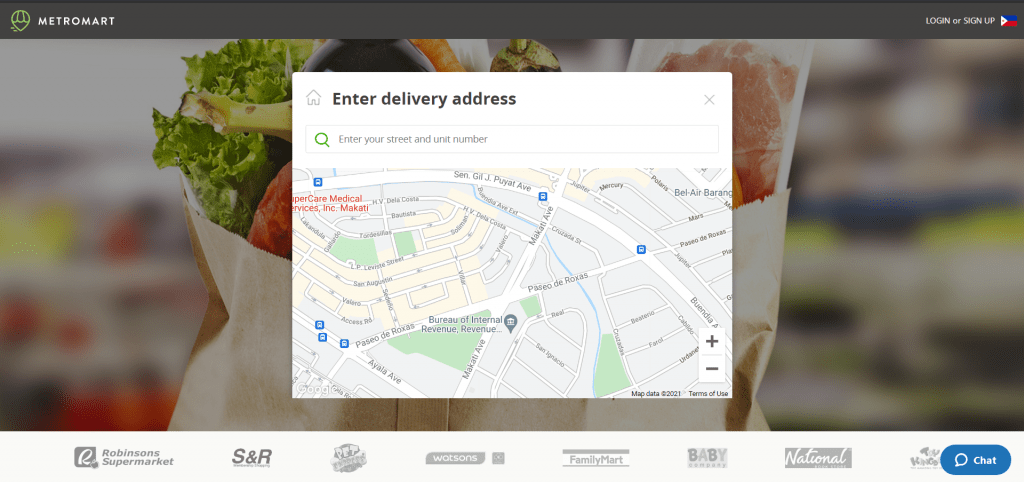 MetroMart is the #1 online grocery delivery service in the Philippines.
Apart from groceries, Metromart also delivers pet supplies, gadgets, pastries, wine, spirits, flowers, and even cosmetics. The company has various partner stores, including Robinsons Supermarket, Robinsons Selections, S&R Supermarket, Landmark Supermarket, Rustans Supermarket, Shopwise, Pet Express, Watsons, True Value, Handyman, Daiso, Generika Drug Store, Southstar Drug, Toy Kingdom, Baby Company FamilyMart, National Book Store, R.L. Lapids, GNC, Cubao Farmers Market, and 40+ of the leading retailers in the Philippines.
MetroMart allows customers to purchase stuff from multiple stores in one checkout and have those items delivered altogether to their doorstep.
2. LazMart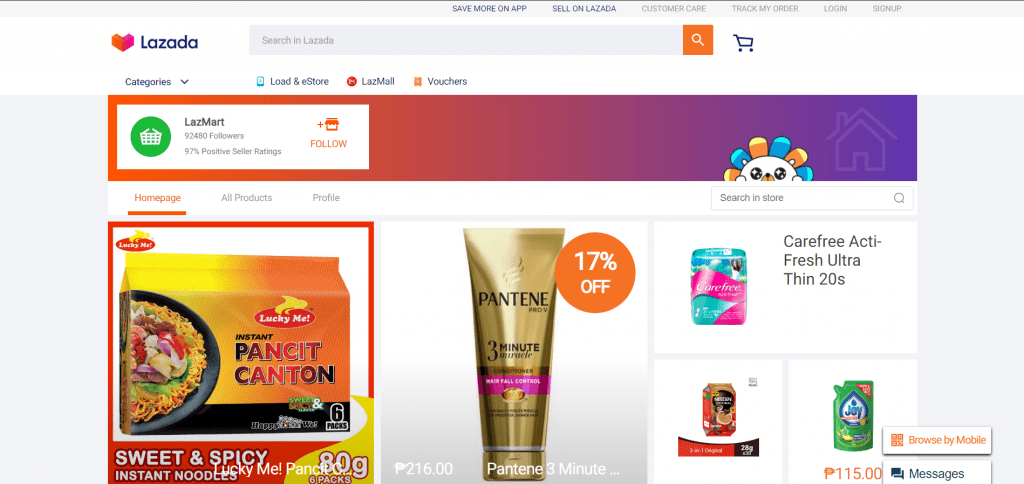 LazMart is the virtual grocery service of the popular e-commerce platform Lazada.
At LazMart, you can do grocery shopping inside the app minus on perishable goods. Unlike competitors in the said space, LazMart offers the widest scope of service not just in NCR but in most parts of Rizal Province, Cavite, Laguna and Batangas.
With LazMart, you can do grocery 24/7 with a delivery fee that can be delivered from 4 to 10 days.
3. Marketa Philippines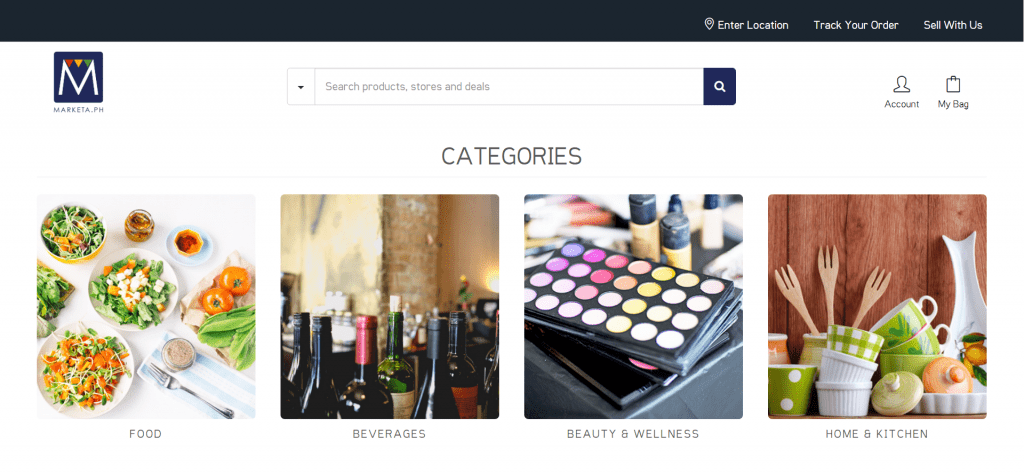 Marketa is the country's first lifestyle managed marketplace platform. They championed local micro, small and medium enterprises to build their online brand.
It is part of their mission to create a worry-free, secure and convenient shopping experience for buyers and provide the best-selling experience for merchants.
They also help increase their merchants' reach and revenue, beyond its physical stores, beyond the events and bazaars that they currently join and even beyond home-based operations through E-commerce.
4. Mayani Ph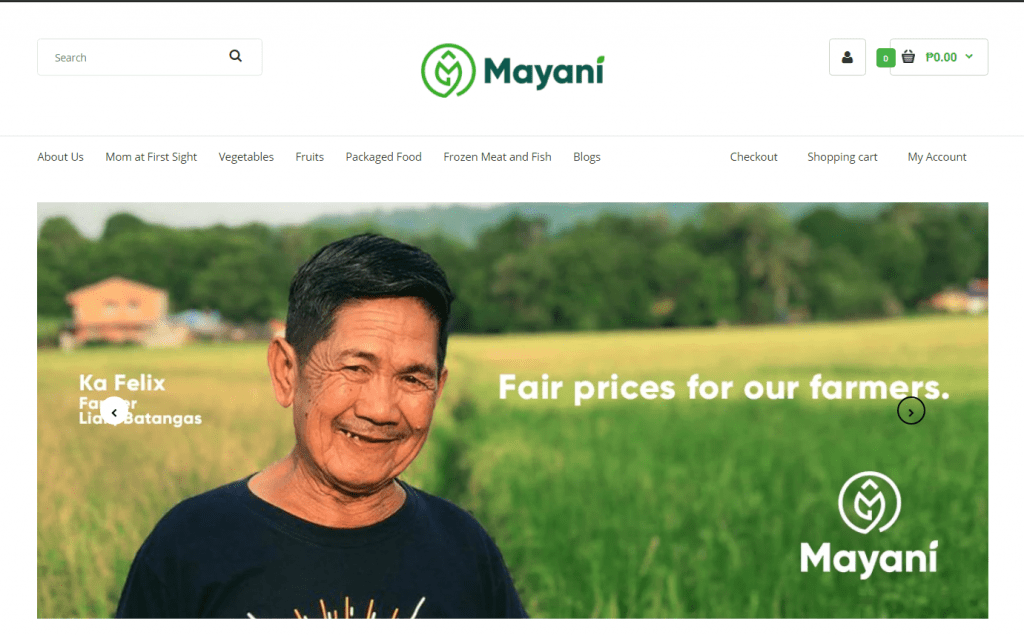 Mayani is a social impact-driven agri-tech startup that connects local farmers and buyers on a unified platform.
The founder envisions for the startup to be at the top of mind of consumers when they need fresh produce – vegetables, fruits and other food products. They also want to keep the process simple – when customers need fresh produce, all they have to do is to head to www.mayani.ph, make their selection, check out and pay, and wait for delivery at their door!
Mayani's operations are supported by establishments Amici and its sister company Caramia, UCC, Waltermart, Yamato and Max's Group of Companies.
5. The Green Grocer Manila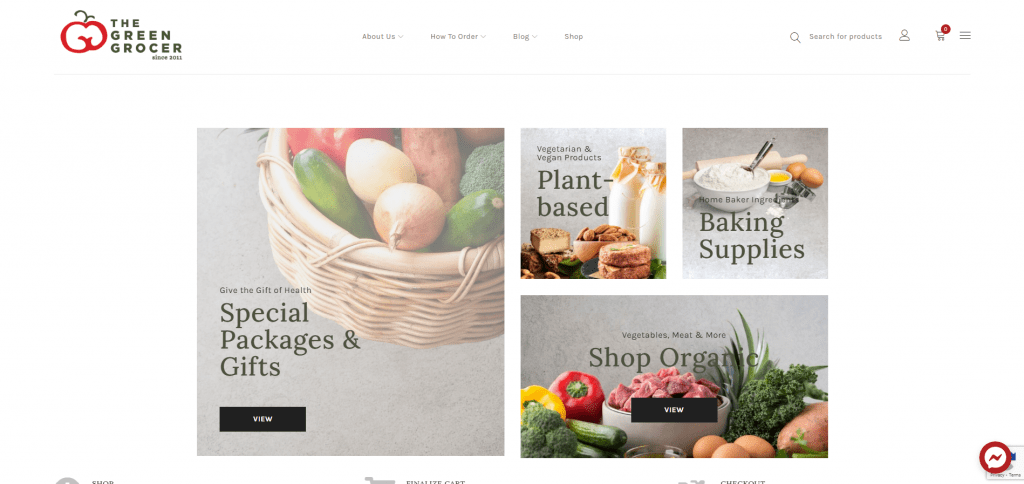 They have been in existence since 2011 back when fresh market delivery was unheard of, and they were already serving homes all over the metro.
The Green Grocer Manila delivers only the freshest harvest at your doorstep every Wednesday, Thursday and Saturday, straight from the different farms they represent located in Benguet, Cavite, Laguna, Tarlac, and more.
They synchronize with the harvest schedules of their farms and ensure that the produce you receive is ultra fresh. They know where their products come from and vouch for their integrity. They also screen new partners and continually add to their roster for a more consistent availability.
6. Zagana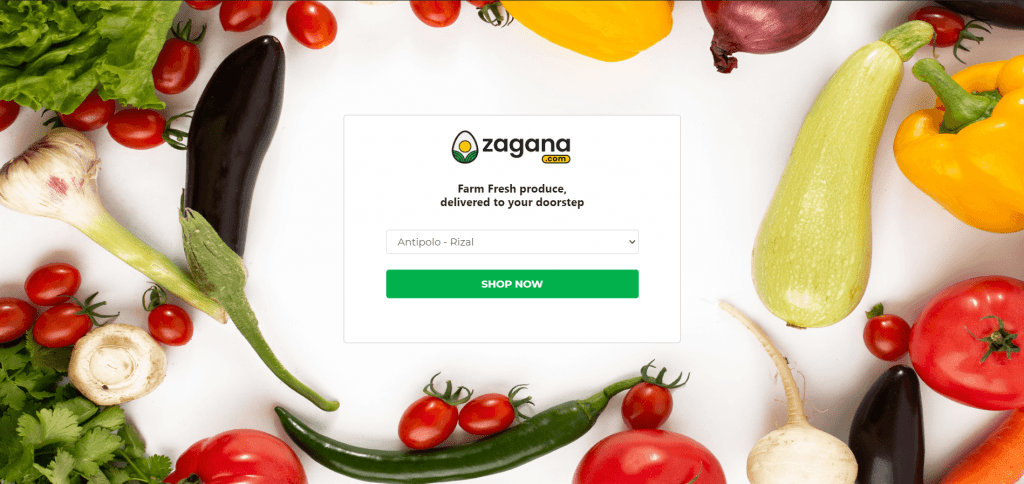 Zagana is an online platform for fresh fruits and vegetables direct from local farmers here in the Philippines.
They are a social enterprise that aims to uplift the lives of our Filipino farmers, give consumers access to safe and healthy goods, and deliver high quality and guaranteed fresh produce from farm to kitchen.
7. Gerald Ph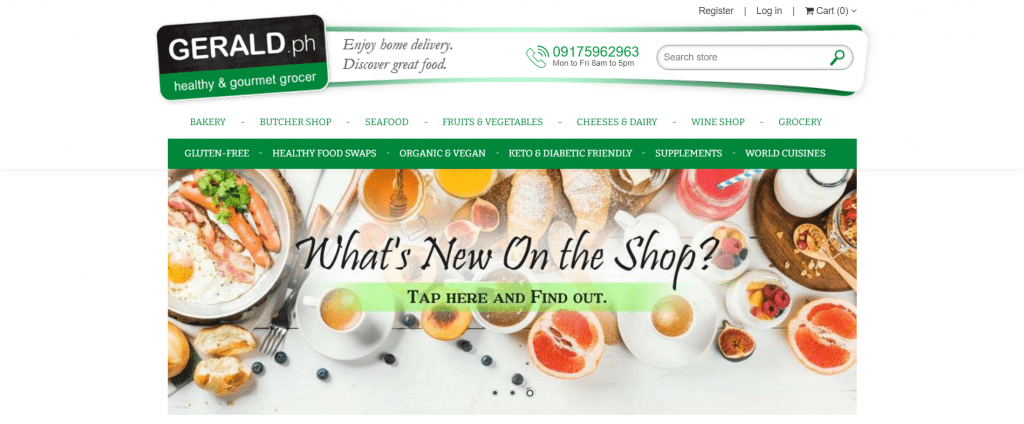 Gerald.ph is a young e-commerce startup founded in the Philippines a few years ago with offices in Makati for logistics and fulfillment in Alabang for the e-commerce platform and customer management.
The company was created by Gerald Egasse, who has over 10 years of experience in France as a purveyor of quality food. He has had much success in the food retail industry, knowing the best suppliers all over the world for top quality gourmet food items.
He moved to the Philippines and started the Gerald and Icebox Gourmet shops for bakery and frozen food items, giving a taste of Europe to the booming expatriate population in Manila, as well as local foodies wanting to try gourmet food products at practical prices.
8. BukidFresh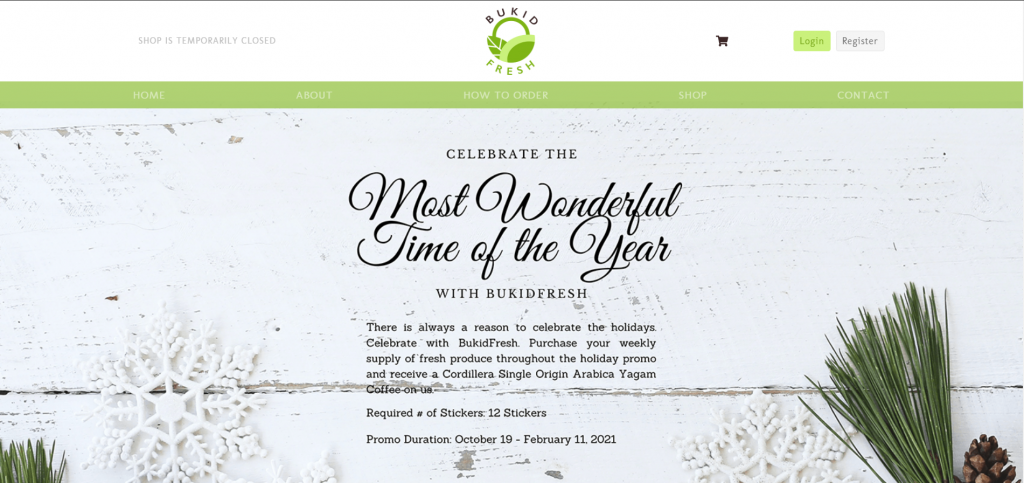 BukidFresh was born out of its founders' vision of an improved agriculture sector that's inclusive for the majority of smallholder farmers in our country.
What started out as a school requirement for the team has now become a full-fledged business, creating value not just for the farmers but for urban dwellers as well who want access to fresh, quality, and nutritious produce.
Through BukidFresh, the founders are giving respect and dignity back to the farmers as they now set the price for their produce and at the same time, allowing them to market their produce directly to the consumers.
There are a lot of grocery online stores to choose from nowadays. Whether or not online grocery shopping is for you is a personal decision that should be made based on your family's budget, time, and specific needs.
As the trend grows, no doubt the platform options and service areas will grow with it too. So, go ahead: weigh your options and give it a try.
BRIA Homes is a subsidiary of GOLDEN MVHoldings, Inc., one of the largest real estate companies in the country. BRIA Homes is primed to bring quality andaffordable house and lot packagesand condominium units closer to ordinary Filipino families. This is the goal that drives every single employee in the company, for which the ultimate fulfillment is seeing a client happily moving into BRIA's homes.
To know more, visit their website at www.bria.com.ph, like and follow "Bria Homes, Inc." on Facebook, Twitter, Instagram, YouTube, Pinterest, Spotify, Viber Community, Telegram Channel, Kakao Talk, LINE and WhatsApp, or call 0939-887-9637.