Single and never been married men, known as bachelors, could also have a unique taste for interior design. Learn the basics of designing a masculine interior that best fits men.
Stereotypes in Interior Design Based on Gender Roles
Usually, rooms of men have a stereotype of not having a sophisticated design. It is perceived to be messy and unhygienic. Despite being viewed as disorganized, men are given a pass by the society, maybe because of gender expectations. Isn't it unfair? Women are expected to be organized, and being messy is an unacceptable behavior. If that's the case, then imagine a single man's living space. Without a woman in the house, who will do the cleaning and sorting? It looks chaotic, right? It is like they do not care about the facade of the living space like all that matters is functionality. With this article, uncover the idea of masculine interior design fit for men who have taste for home living.
History of Interior Design for Bachelors
Masculine interior design ideas were not a thing before the mid-1950s. Interior design is mostly associated with women or gay men. During these years, women are expected to stay in their homes while men spend most of their time working and providing for women and their families. With this, homes are seen as a "boudoir-kitchen-nursery". This condition is partly blamed on the culture of corporate America and women's taste for interior design. During this era, home interiors are designed as if males do not live in a household. Maybe, this is due to the culture where men are expected to work all day long and provide for their families so domesticity became an issue.
In the late 1950s, it is believed that men had a crisis in masculinity wherein they lost their sense of individuality because of gender expectations. Besides, women of this era have a culture focusing on consumption in which they tend to be materialistic, so men are expected to double their efforts to have better financial status and answer to the needs of a woman and their family.
To compensate for this, the bachelor's pad was popularized. The idea of a bachelor's pad is to provide men with alternative masculinity. By alternative, it means something that defines them outside of their work and family hence based on his values and personality. This type of living space is defined to be inhabited by a single professional man designed and organized for pleasure and exhibiting a typical man's interests and hobbies.
Read Also: Minimalistic Home Style Ideas
Basics of Interior Design for Bachelors
The true essence of the interior design for bachelors is to show a representation of the male owner living on that floor space. It might be a tough job for men but surely, it is innate in the interest of the people to design and organize their place to establish a zone of comfort and pleasure. Aside from a relaxing environment, the design of the house should showcase the personality and interest of the homeowner to completely call it yours, right?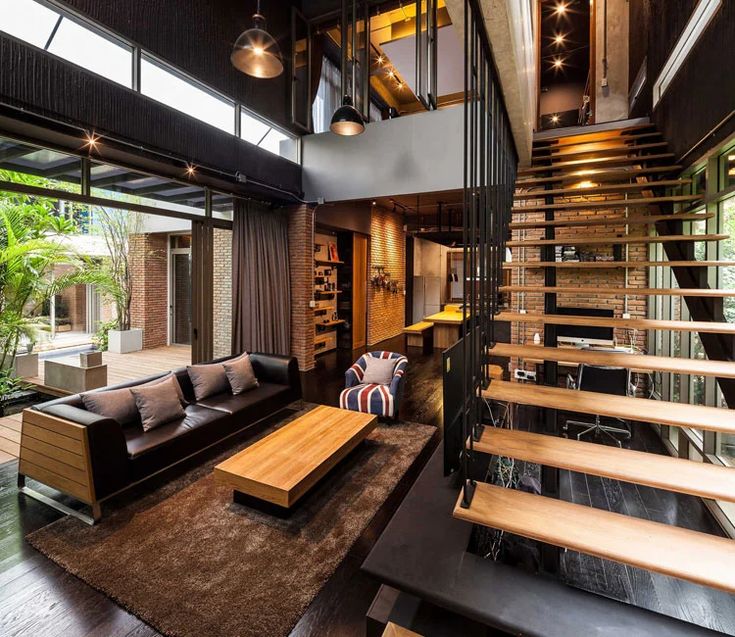 Since it's more of displaying a man's persona, there are no rules to follow but decorating is not a thing for most men throughout the years. Designing may be an overwhelming tasks so here are some useful tips or ideas to guide you in starting to build your bachelor pad.
1. Choosing the color
Rich and deep color scheme are the typical elements in creating the masculine environment of your home. You may also opt to focus on earth colors as these are aligned with the usual color type of males. However, the main colors might make the space to appear dark, so soft accent colors can help the areas of the house gain contrast and lighten its ambiance.
2. Furniture Styles
The usual taste of men in furniture styles are those with encapsulating leather, metallic and wooden elements. These are typically seen on vintage-looking furniture. Mostly, furniture pieces with these elements is attractive to men because it shows the robustness and strength which is how men are perceived by society.
Furniture of these designs are timeless – meaning it does not go out of trend especially if it complements the whole interior design of the place. Also, the choice of color for the furniture can be a way to provide accent colors to the usual color scheme of a bachelor pad.
3. Deciding on the Ornamentations
Men may hate the presence of decorations in their living spaces especially if it is not related to their interests. It is normal for homes to have different types of decoration whether it is just for aesthetics or function. Having such lessens the feelings of emptiness in a living space.
But for a bachelor pad, the emptiness of the home is an opportunity to showcase hobbies and interests instead of making their home like the trendy designs found in Ikea or any design catalogue. Usually, men "big boys' toys" which is typically a collection of action figures for grown-up men.
Read Also: Choosing The Best Accent Wall for Your Home
These figures are a good addition to building the interior design of a bachelor's home. Some sports memorabilia can be repurposed to beautify your walls and shelves. Technology, particularly gadgets, may be used as decoration aside from being functional. It is also a good idea to build a game room as it is typical for men to indulge in video games and anything geeky. Lastly, if the man likes alcoholic beverages, a small bar would be a nice addition to the overall environment of the household.
The Gist of Masculine Interior Design for Bachelor's Pad
Basically, the interior design of a bachelor pad does not have any special formula. The most important aspect to learn a masculine interior design is showcasing your interests and personality through the design of your living space. The style of the interior of your home should not be limited to what the trends dictate. In fact, deviating from such will help you make your home more comfortable and ideal for your relaxation.
Imagine, having a living space designed with heavy similarity to the trend, wouldn't it be too generic or lacking personality? Surely, the design from Ikea catalogs is stunning and relaxing in the eyes. In fact, these catalogs inspire people to revamp their homes. But these should just be an inspiration for a person who plans to design or do an overhaul in his or her living space. Showing your personality is what makes the interior style of males unique from females' aesthetic for their homes. Yes, a bachelor pad has a common color scheme. Furniture aesthetics are similar as well but the additional decorations and details showing the interests of the owner make a difference in the overall vibes of the space.
With this, a masculine interior design idea does not entirely copy what is seen in catalogs. It only takes inspiration for the color scheme and furniture designs to employ in the areas of the house. Moreover, it deviates from the trend by decorating the home's interior with gadgets, action figures, liquors, or anything which will define the owner's interest. It is important to note that the overall design is not necessarily symmetrical. In fact, the opposite is encouraged to easily exhibit a person's wide range of interests. Although asymmetry is a norm for this aesthetic, things and decorations should have a specific place in which it will still look neat and organized.
Bria Homes provides an affordable house and lot and condominium options which can be financed through Pag-IBIG housing loan. This company understands the desire of Filipinos to acquire their own house. Thus, we encourage all BRIA residents to unleash their creativity and turn their houses and lots into beautiful dwellings worth coming home to. Nothing can be more exciting and fulfilling than that." It does not only acknowledge the goal of Filipinos to own a house but also the importance of unleashing their creativity in making their homes the most comfortable space that matches their preference and needs.