Many people imagine living in large homes or mansions as a sign of their success in life. Surprisingly, though, more and more people are gravitating toward a small, useful home. Smaller homes are more environmentally friendly in addition to being less expensive.
Building or owning your own home can be exorbitantly expensive in the Philippines. One is that there isn't enough room, especially in the congested areas in the Philippines. But if you're one of the fortunate people who has a small plot of land, you might want to think about living in a tiny house. But small doesn't necessarily mean bare. You can still have everything you need for a comfortable lifestyle if you plan it properly by maximizing space in a tiny home.
We completely understand the fascination with tiny house plans. The small gems have so many uses and so much potential that they are almost impossible to resist. For many first-time homebuyers, a tiny home is a realistic option, whether it is prefabricated or is constructed according to a floor plan. Because they can run on clean energy and lessen your environmental impact, they make sustainable living simpler. Several tiny home enthusiasts attach their buildings to trailers so they can travel the country in complete comfort. You can also take them on the road. They can also be used as a second office, a guest house, or a completely independent rental in your own backyard depending on the type you pick.
What is a tiny home?
Like park models, tiny homes have floor plans that make the most of every available square inch. These compact factory-built homes are quickly gaining popularity in the manufactured home market, thanks to consumers looking to downsize their living quarters while maintaining an attractive and functional interior. The growing popularity of minimalism, premium materials, and greater functionality led to the development of tiny homes. Tiny Homes may be the most recent advancement in modular construction technology, with an emphasis on rethinking functionality and maximizing a small living area.
Pros of living in a tiny house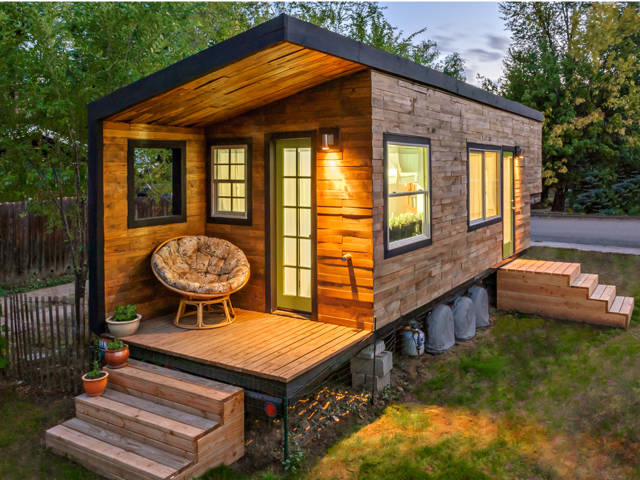 1. Minimalist lifestyle
A minimalist lifestyle is encouraged by tiny home living, which can reduce stress and anxiety. You'll be able to concentrate on what matters most and find joy in the little things if you simplify your life.
Read also: 10 things you should stop buying to avoid clutter at home
2. Less time is spent on upkeep and cleaning
Smaller homes require less upkeep and cleaning than larger ones. Cleaning takes much less time and effort when there is less room for clutter.
3. Sustainability
A sustainable lifestyle is available in tiny homes, which are also environmentally friendly. Here are a few strategies tiny homes use to encourage sustainability.
4. Friendly to the environment
Because they require fewer resources to construct than conventional homes, tiny homes are environmentally friendly. They also use less water and energy, which lessens their environmental impact.
5. Using sustainable materials
Eco-friendly materials are used to construct a lot of tiny homes. Because these materials are recyclable, non-toxic, and sustainable, less waste is produced and the environment is better protected.
Cons of living in tiny houses
1. Limited area
You won't have much room to work with if you live in a tiny house. To maximize your living space, this may call for original thinking and creative solutions. It also restricts you from inviting other people to your home due to limited space.
2. Need to be Organized
Minimalism and organization are essential when living in a small space. You'll need to be picky about what you keep and come up with inventive storage and organization ideas.
3. Finding Tiny House Designers or Builders Can Be Difficult
There aren't many builders with extensive experience because the tiny house movement is still fairly new in the Philippines, especially if you have a particular house design or structure in mind.
Ideas on how to maximize space in a tiny home
1. Use the Walls
A home's walls are its greatest untapped resource. In a small space, they should be used for much more than just hanging pictures. Install individual shelves one above the other all the way to the ceiling or use tall bookshelves that reach the ceiling. Place hooks in the wall, then hang your bike there. To have plants without taking up any table or floor space for pots, try a living wall planter. Hang extra furniture, such as tables and chairs that are foldable. Sconces are a better lighting option than table lights.
2. Use Multi-Functional Furniture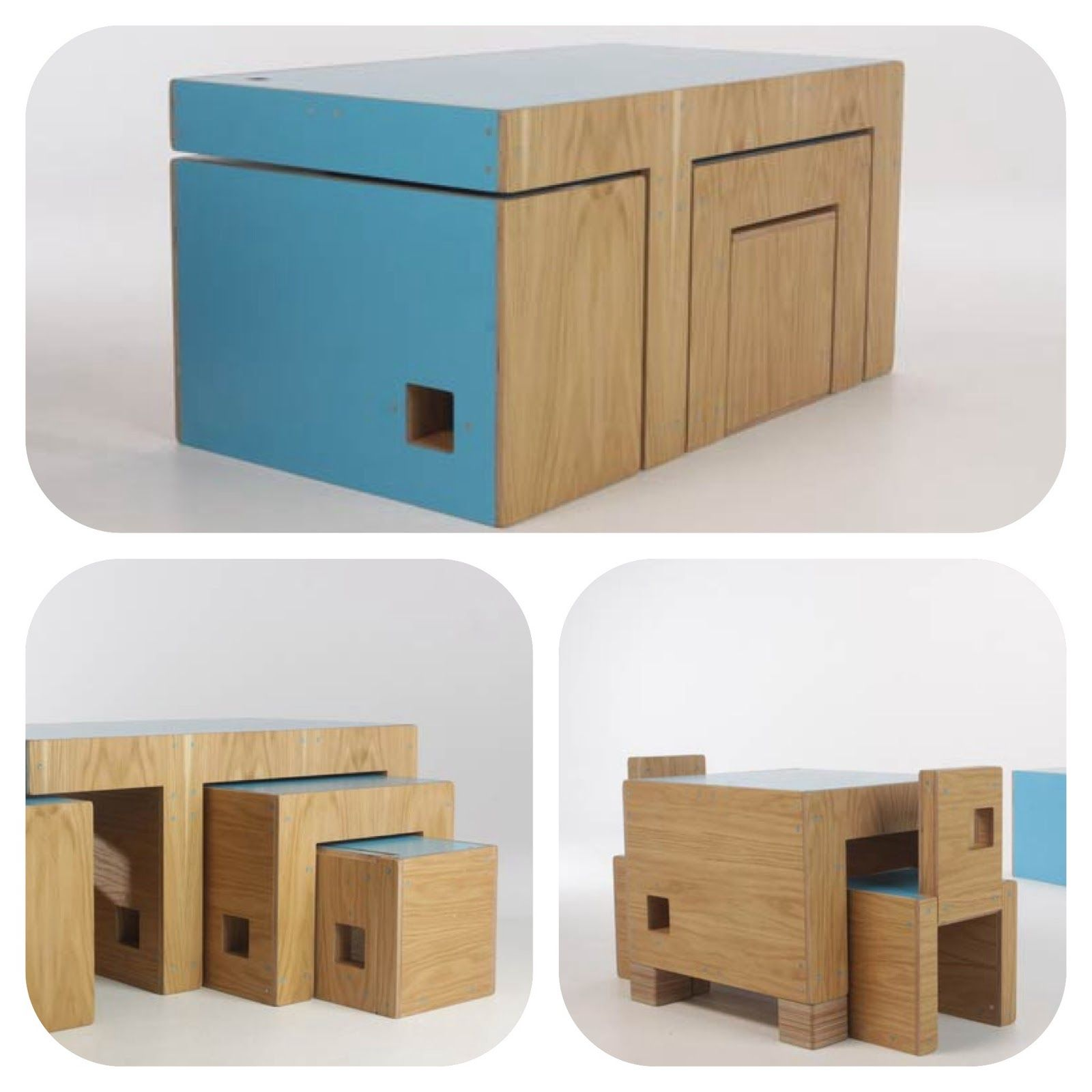 The most common idea to maximize space in a tiny home would be purchasing multipurpose furniture because these items can not only help you save space but also on costs.
There are many different types of furniture available today, each serving a different purpose. For instance, it is possible to purchase foldable furniture that can be neatly stacked away when not in use. Additionally, there are couches that can be made into beds, or perhaps wall-mounted foldable beds.
Aside from these multipurpose items, some furniture may also have compartments and underside storage for your belongings. Since they can be used for both their primary purpose and more so for space saving, furniture like an ottoman, bench, or bed with built-in pull-out drawers can offer space efficiency.
Read also: DIY Home Upgrades: Philippines Small House Renovation Ideas
3. Installing sliding doors
The lack of doors can save space if you live in a studio apartment or a small house with an open-concept living area, but it can also make it more difficult to distinguish between different rooms. To separate a dining area, laundry room, or home office within a larger space, try creating multiple nooks. To accomplish this, place the furniture in a way that makes it obvious how each space is used, rather than using room dividers. In a compact home or apartment, sliding doors and curtains can also help create separation without taking up much room.
Sliding doors can be installed all over the house to save space and spare you the hassle. You can replace each door in your tiny house with a sliding door. You won't have to fret about carefully positioning furniture to keep it from being struck by the doors.
4. Pick Skirted Home Furnishings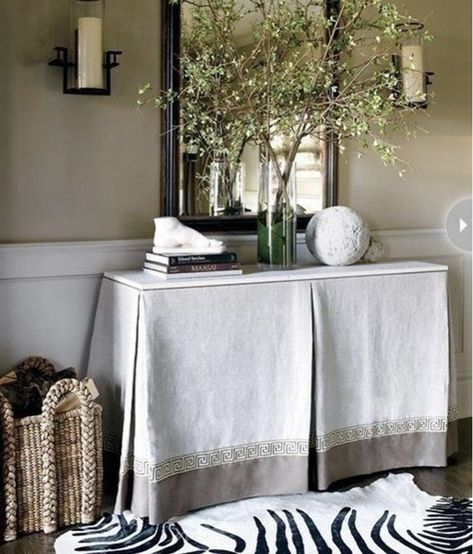 Furniture with skirts is excellent because they can be both decorative and functional. When the sofa's legs are exposed, you can see what's going on below, but if you add a skirt, you can conceal storage in that area. In general, exposed legs make rooms feel lighter and airier and enlarge small spaces, but skirted furniture is the way to go if you need additional hidden storage.
5. Utilize the vertical space
Another way to maximize space in a tiny home is placing shelf that can hold books, storage baskets, or other trinkets is frequently the perfect size for the inches between the top of the doorway and the ceiling. Do not neglect to look up if you are confined by space. Utilize the vertical space. To increase your storage capacity, use the vertical space available. To add more storage for items you use infrequently, built-in kitchen cabinets and bookcases can be extended all the way to the ceiling. By installing shelving above a bed or couch, you can create your own vertical storage solution. And ceilings can be used for more than just hanging chandeliers; in the kitchen, try hanging plants or a pots and pans rack.
6. Utilize the Doors
You can hang anything you want by hanging hooks on the backs of all of your doors. cleaning jewelry, towels, handbags, kitchenware, etc. And don't just use the doors that separate rooms—extra space can also be found inside cabinet doors.
7. Utilize in-floor storage
You might be surprised to learn that there are other options for tiny home storage. But in addition to the conventional cabinets and shelves you already have, you could also add in-floor storage.
You can add extra storage and free up floor space by making the most of the unused area under your floorboards. And these under-floor storage spaces can be made accessible by using roll-out drawers or soft-closing lids.
8. Mount your TV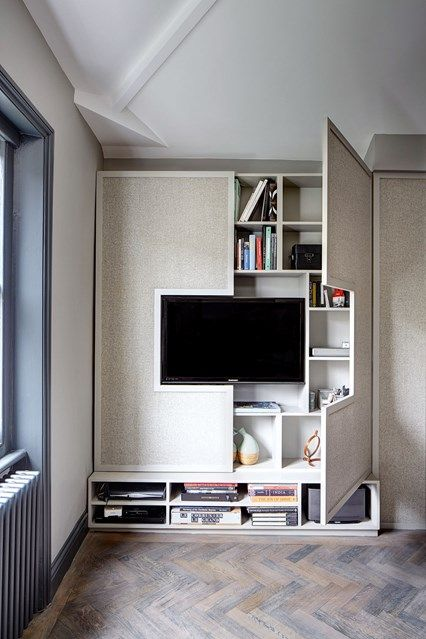 You could have more floor space if you mounted your televisions to the wall since you wouldn't need any desks or gaming consoles. Additionally, by helping to conceal the cable wires, it can make your room appear cleaner and less cluttered.
Additionally, it is thought that properly mounted televisions are safer and more stable than those that are set up on tables, particularly if you have children or pets at home.
9. Make Use of The Stairs
You might not be aware of some hidden crevices and nooks in your house, and the underside of the staircase is one such place. Although not all tiny homes have stairs, if yours does, you might be able to create or repurpose the area beneath the stairs as a place for storage space.
You can maximize space in tiny home by installing shelving units, pull-out drawers, cabinets, and cupboards in this area. Then, you can use this space to keep some of your frequently used items, like clothing, bags, and shoes.
10. Adding a Loft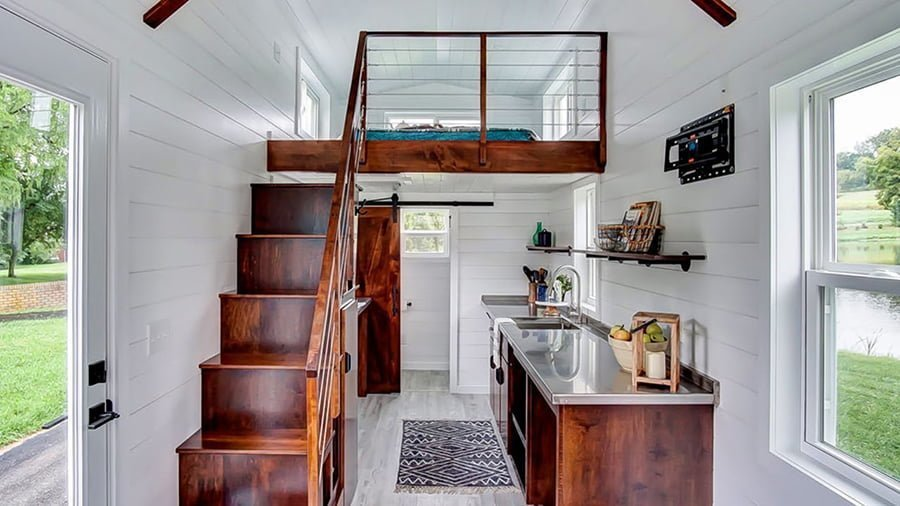 In a small area, having a comfortable sleeping arrangement is important. Even though beds frequently occupy a large amount of space, there is rarely a way to make them smaller. It is therefore best to figure out how to maintain the bed's functionality while reducing the amount of space it takes up. Adding a loft will increase your floor space and give your bedroom more privacy by dividing it from the rest of the space.
You don't always need a bed in a loft. You could keep your bed underneath and put a desk or living space on the upper floor. It's crucial to design your floor plan with enough headroom to utilize the area above and below your loft. If there isn't enough space for you to sit up in bed, a loft can be a literal headache. However, it's the perfect solution for any small home if you have enough vertical space.
11. Utilize the Roof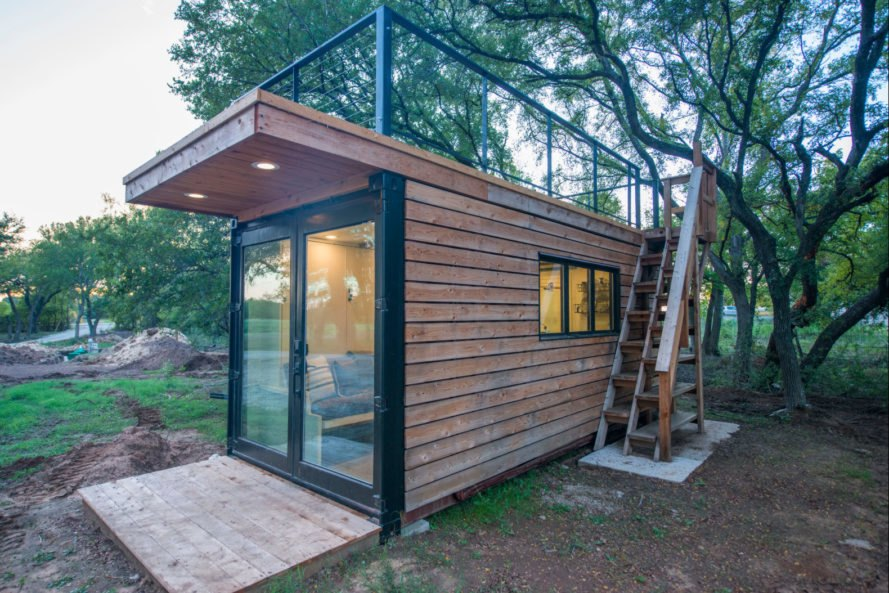 If you live in a smaller home, additional living space is always useful. Another way to maximize space in tiny home is transforming the roof into a functional space. Sometimes the best way to add a few extra square feet to an otherwise tiny home is to think outside the box. Any home would benefit from a rooftop deck, which doesn't significantly expand your footprint. This advice works well for homes that must be packed up for travel, but it can also be applied to urban settings with small yards.
A rooftop deck can give you a view in addition to a little extra breathing room, whether you're on vacation or just watching the sun set at home. To enjoy stargazing in style, add some cushions, plush chairs, and possibly even a portable fire pit.
12. Using cushions as seats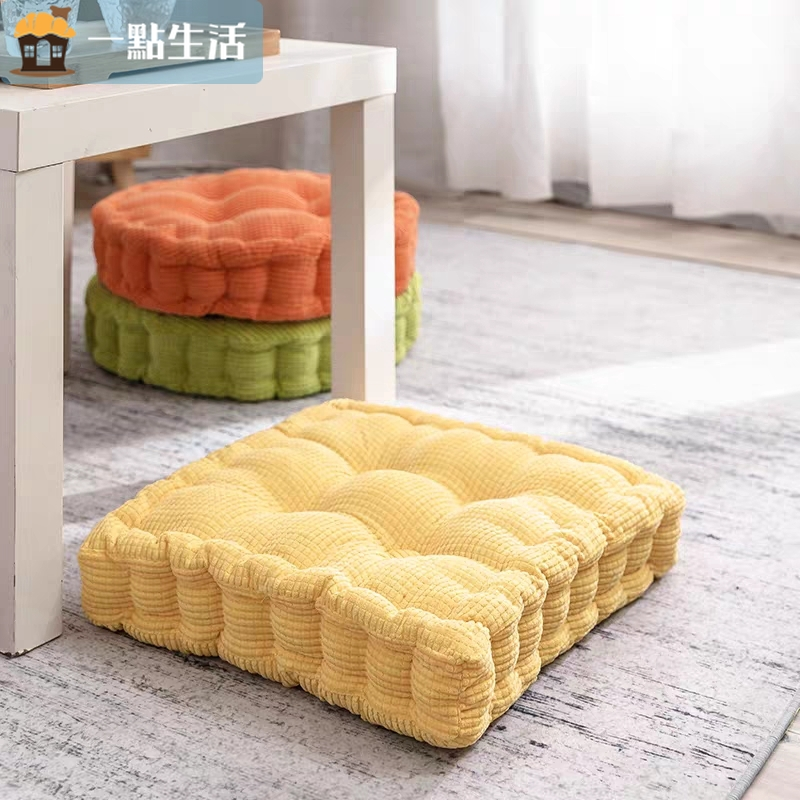 It can be difficult to have enough seating in a small area, especially if you have visitors. Choose low-profile chairs as an alternative to conventional ones by thinking outside the box. This advice will simplify seating while conserving valuable room. You can easily increase your seating area without adding any new furniture by using portable floor pillows as extra seating to suit your needs.
Using floor cushions as decor can be inexpensive. They are also adaptable and comfortable. They are made of many different materials, including washable and stain-resistant varieties. If you have a small space, adding floor seating rather than large furniture that might not fit in your home properly will create a cozier atmosphere and allow you to host more guests. Floor cushions are excellent for small spaces because they are versatile and simple to move around and store. Feel free to use vibrant colors and patterns and to be creative when making your pillows.
Thoughts…
It's crucial to do your research, make thoughtful plans, and surround yourself with a supportive group of people if tiny home living is something you're interested in. In conclusion, tiny homes have advantages and disadvantages. It would be a good choice for people who want to simplify their lives, lessen their impact on the environment, and save money.
A tiny home can be a truly transformative experience with careful planning and a willingness to adopt a minimalist lifestyle.