There's nothing better than a trip to your favorite neighborhood coffee shop if you're a caffeine addict. Nothing beats curling up in a plush chair and sipping your favorite blend for the first time – but what if we told you that you could duplicate this sensation without ever leaving your home? Read this article for a simple guide in creating an at-home coffee nook!
Read Also: List of Cozy and Practical Coffee Nooks
You may have noticed, if you're a Pinterest fanatic, that home coffee nooks have been sweeping the country. Building your own barista stand is easier than you think, and it allows you to have your fantasy cup of coffee, whether it's a plain americano or the trendiest dalgona, in a cozy, café-like setting!
Continue reading to learn how to create the ideal at-home coffee nook design. We will walk you through the stages of setting up your own coffee station and provide some of our favorite coffee nook ideas. Check out our buyer's guide to the best coffee machines on the market right now if you're wondering how to make delicious coffee at home.
How to make an at-home coffee nook?
Step 1: Build the cabinet
This is the ideal place to start building your coffee nook if you currently have a free, clear portion of the worktop in an accessible location. Make sure there are no cupboards above your worktop and that the units beneath it are empty.
If you, like many of us, don't have a free worktop, consider purchasing a small freestanding cabinet (AllHome has models ranging from PHP3,000 to PHP10,000) or making your own by screwing one crate on top of the other and adding a sheet of plywood to act as a worktop.
If you have a tight area, start considering a kitchen cart, which can also be used as a coffee and tea trolley when you have visitors!
Step 2: Set up shelving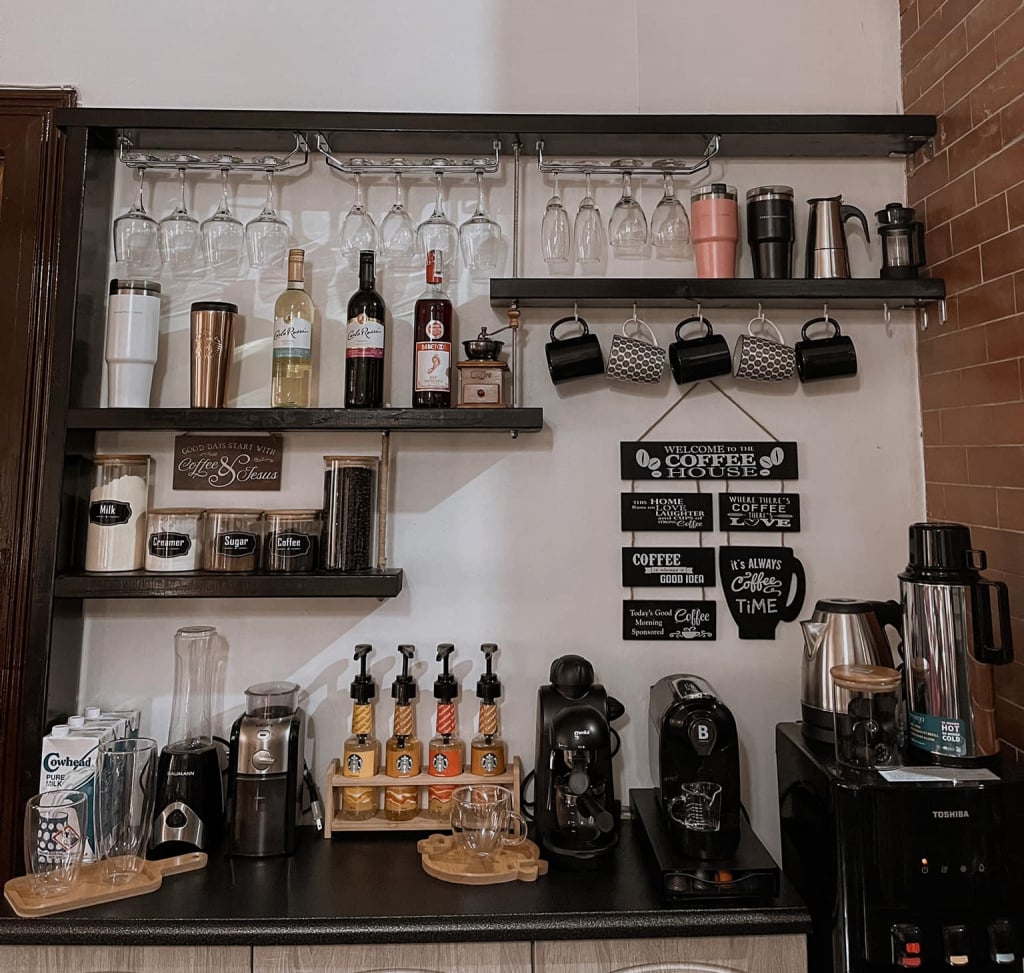 Open shelving is the way to go with an at-home coffee nook design because every barista requires quick access to their coffee beans and flavored syrups. You can also use these shelves to display cups and add decorative objects like art prints or potted plants to your coffee nook.
Install the required number of shelves at a height that allows you to reach everything on them with ease. Wooden shelves are a fantastic choice, but metallic floating shelves for a more modern and seamless design are also a good option.
Try a free-standing shelving unit like this metal shelf unit if you live in a rental house and can't drill into the wall. To add another level of surfacing, stand a small wooden box (without slats – wine crates work nicely) on its side on top of your coffee nook cabinet.
Step 3: Include a mug rack
An integrated mug rack is a must-have for any coffee nook, and the good news is that they are simple to install. The mug rack with a zig-zag design is robust and easy to assemble. Alternatively, you can repurpose an old coat rack by affixing it to the bottom of your floating shelf. You may also make your mug rack by affixing a sturdy wooden batten to the wall and fastening hooks into it.
If you can't drill into the walls, mug trees are an excellent alternative for your coffee nook idea. The wooden and marble mug tree from AllHome is one of our favorites, but there are plenty of other options available online.
Step 4: Make your storage space more functional
You'll need to install useful storage options on both the worktop and within the unit to keep your coffee nook from simply becoming another crowded cabinet. Drawer dividers will help you stay organized and make reaching ingredients and utensils a breeze.
We recommend wine racks for keeping coffee syrup bottles. A Wooden, wall-mounted bottle rack would look great, or a geometric wine rack for something a little more colorful is quite adorable.
Install an expandable hanging rail inside your cabinet or crate and attach hooks to hang your mugs instead of stacking them in bunches for more mug storage.
Step 5: Equipment should be added
The coffee station equipment you choose will be primarily determined by how you prefer your coffee – cafetiere, AeroPress, French press, espresso machine… the possibilities are unlimited! It's also important to consider the surface on which your equipment will be used. You can safely install a large, barista-style coffee machine in a cabinet if you're working with one. However, if you're dealing with a trolley or shelving unit, a lighter machine like a pod coffee machine or an AeroPress would be a better choice.
Check out our guide to the top coffee machines for sale in the Philippines if you're not sure which machine is right for you. Don't forget to pick yourself a couple of reusable coffee cups so you can take your brew with you on hikes or picnics.
Step 6: Decorate
This is the part when you can truly let your imagination run wild! Which café aesthetic do you prefer: rustic and cozy? Scandi and dapper? Decorate your station using your favorite café's look as a springboard.
Fill glass jars with your preferred coffee toppings and accompaniments. Large glass jars work nicely for coffee biscuits and marshmallows, while small mason jars or artistic canisters with a teaspoon work well for cinnamon, nutmeg, and sugar.
Step 7: Stock up on the essentials for your coffee nook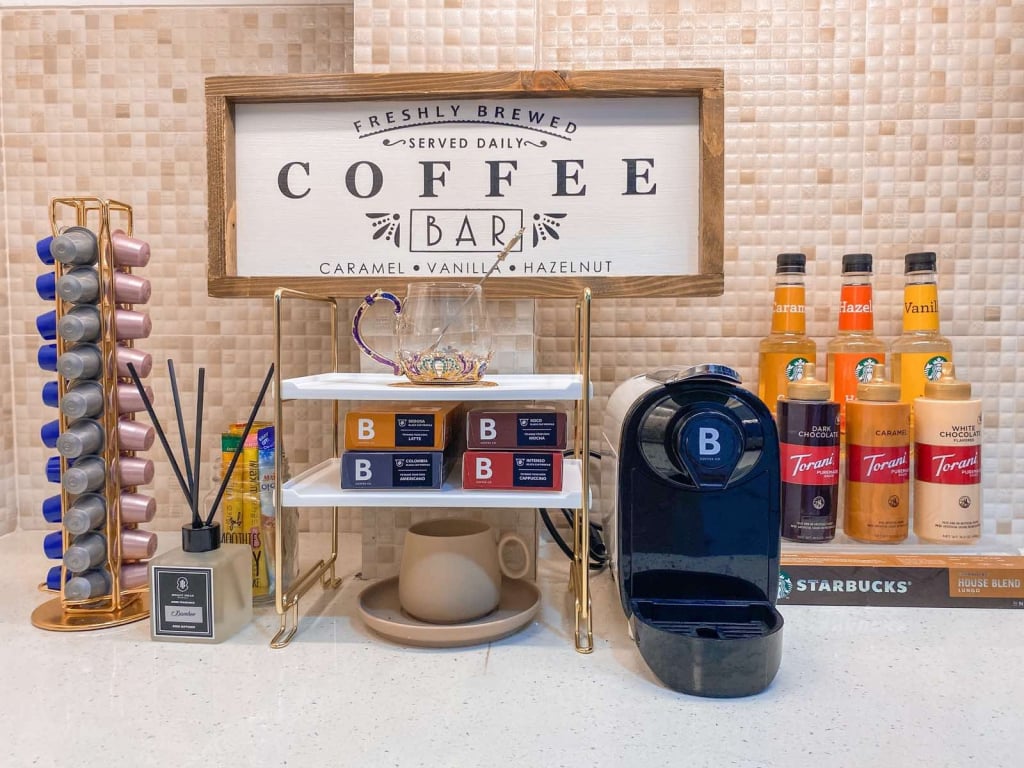 All that remains is to fill your coffee nook with your preferred tableware, coffee, syrups, sweeteners, and biscuits.
Here are a few essential things you'll need to get started:
1. Ceramic coffee mugs
It's one thing to make good coffee, but it's another to drink it out of the right mug! Fortunately, we've tried a couple and can attest that a ceramic mug is just what you're looking for. This mug is a go-to for us because it has a wide enough handle for a secure grip and a durable design.
2. Whole bean coffee
To keep your coffee fresh, the whole bean coffee is nitrogen-flushed and wrapped in an airtight bag. The packaging may look great on its own, but you can also empty the coffee into an airtight mason jar.
3. Caramel sugar-free syrup
With this sugar-free, vegan syrup, you can add a splash of caramel sweetness to any cup of coffee, frappe, or hot chocolate. Baking, sauces, sweets, and even cocktails can all benefit from it!
4. Caramelized single biscuits
Biscuits are the traditional companion to a good cup of coffee. Put them in a transparent glass jar or a drawer in your coffee nook to keep them fresh.
Written by Precious Angeli S. Mesana