Bria Homes, the fastest growing mass housing developer in the Philippines, launched a successful online photo & writing contest last August 6 to August 29, 2018 in participation of Buwan ng Wika.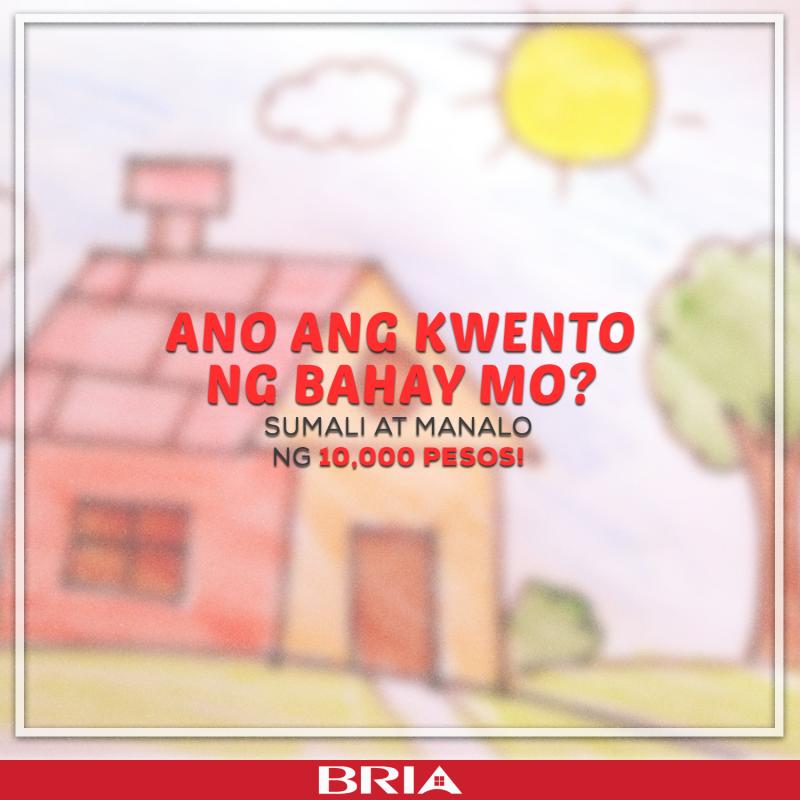 Bria's online photo & writing contest, dubbed as 'Ano ang Kwento ng Bahay Mo?' aims to foster and strengthen the Filipinos' nationalism.
Through Ano ang Kwento ng Bahay Mo, Bria hopes to create an avenue for Filipino artists and writers alike to share their talents and their love for the national language – Filipino.
Bria received an overwhelming amount of entries all over Luzon, Visayas, and Mindanao. Each of which tackles the participants' unique home stories, some filled with happiness, others with sadness. But one common factor emerged among all the entries – hope. Each participant brings with them the hope of having their own homes.
Out of hundreds of entries, 10 entries were shortlisted, 5 entries from the 13 and above online category and 5 entries from the 12 and below school category. From these 10 entries, 2 stood out.
These two entries, made by Edcel Caballero (13 and above online category) and Aiyah Gwyneth Colonia (12 and below school category), were able to show their home stories seamlessly through words and picture. Their hope and hard work to attain a home shines through their stories.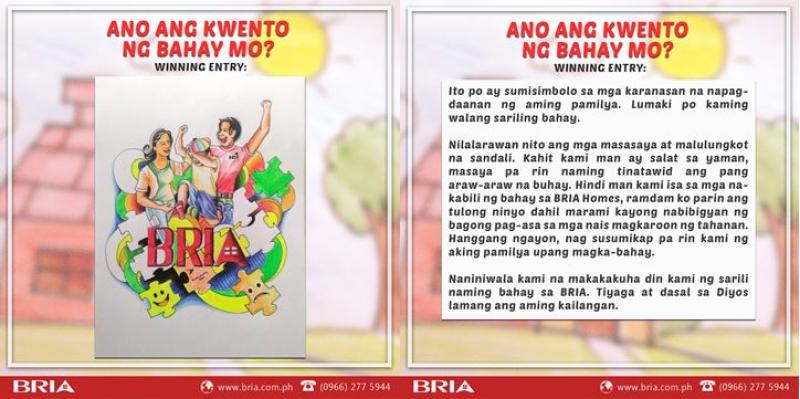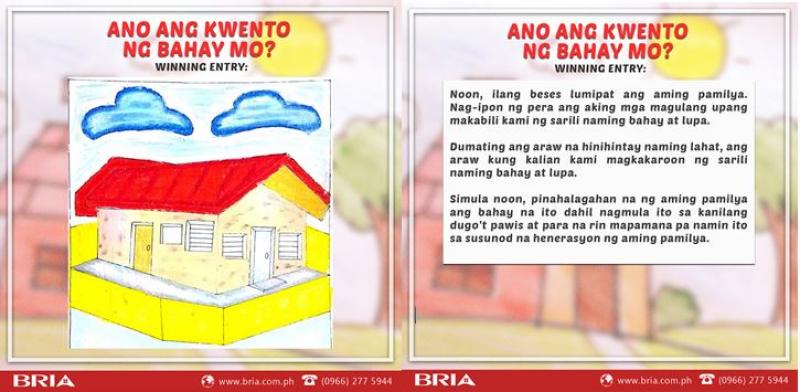 Edcel Caballero will take home a P 10,000 cash prize, while Aiyah Gwyneth Colonia and her school, Dadiangas West School, will take home P 5,000 each.
With that, Bria hopes to proliferate the love for our native tongue and to encourage artists to showcase their works. Bria wants its homebuyers to experience a holistic lifestyle – from a healthy and greener home to a community that promotes nationalism.
For all the participants of Ang Kwento ng Bahay Mo, Bria offers its deepest gratitude for joining Bria's online photo & writing contest.
BRIA Homes is a subsidiary of GOLDEN MV Holdings, Inc., .one of the largest real estate companies in the country. BRIA Homes is primed to bring quality and affordable house and lot packages and condominium units closer to ordinary Filipino families. This is the goal that drives every single employee in the company, for which the ultimate fulfillment is seeing a client happily moving into BRIA's homes.
To know more, visit their website at www.bria.com.ph, like and follow "Bria Homes, Inc." on Facebook, Twitter, Instagram, YouTube, Pinterest, Spotify, Viber Community, Telegram Channel, Kakao Talk, LINE and WhatsApp, or call 0939-887-9637.