Blessed with abundant natural resources, picturesque local spots, and a rich culture, Laguna is the picture of prosperity. It is surrounded by mountains and bodies of water that thrive with some of the Philippine's famous crops and crustaceans.
Why Laguna is considered as one of the wealthiest provinces in the country.
According to the Commission on Audit's 2016 annual financial report, Laguna is the 8th richest province in the country with an asset of Php 7.556 billion.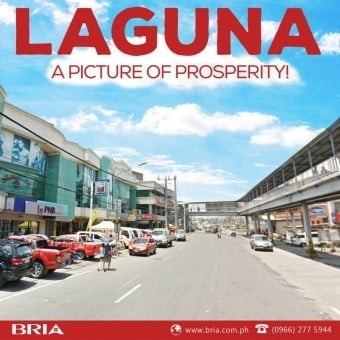 Fast Construction of Major Establishments
One of the reasons for Laguna's prosperity is the construction of some of the major establishments in terms of real estate, food services, and transportation in Laguna – Bria Homes, Inc; Monde Nissin Corporation; Toyota Motor Philippines; and many more. According to the Business Permit and Licensing Office and City Information and Technology Office's report in 2015, a total of 5,507 establishments are active in Sta Rosa, Laguna alone.
Economic Zone
Laguna is also home to 19 economic zones, the biggest of which is the Laguna Technopark. These economic zones, not only provides incentives to business, but also provide employment opportunities to the constituents of Laguna.
Agricultural Center
In addition to its thriving industries, a huge part of the province of Laguna remains agricultural. In 2015, according to the Knowledge Management and Commission Division, there are a total of 38,445 farms in Laguna. These farmlands produce millions of pesos worth of rice, corn, coconut, mango, and banana. Fishing grounds are also abundant in the province, with Laguna de Bay serving as the main fishing ground. Laguna de Bay alone produces 410,000 metric tons (410,000,000 kg) of fish.
Truly, Laguna is a picture of prosperity as it continues to grow in terms of its economy. Together with its economic growth, more income opportunities arise for Filipinos, making it an ideal location to settle.
Bria Homes, the fastest growing mass housing developer in the Philippines, recognized Laguna as a location wherein homebuyers will be able to provide a stable home for themselves and their families because of its numerous income opportunities. Having Bria Communities near work locations creates the opportunity for homebuyers to not only attain their dream homes, but also to build their careers and to provide for their families' basic needs.
Currently Bria Homes has four projects in Laguna – Bria Homes San Pablo, Bria Homes Calamba, Bria Homes Sta Cruz, and Bria Homes Calauan – and it will open more projects before 2018 ends. By the end of 2018, Bria Homes will dominate Laguna.
BRIA Homes is a subsidiary of GOLDEN MV Holdings, Inc., .one of the largest real estate companies in the country. BRIA Homes is primed to bring quality and affordable house and lot packages and condominium units closer to ordinary Filipino families. This is the goal that drives every single employee in the company, for which the ultimate fulfillment is seeing a client happily moving into BRIA's homes.
To know more, visit their website at www.bria.com.ph, like and follow "Bria Homes, Inc." on Facebook, Twitter, Instagram, YouTube, Pinterest, Spotify, Viber Community, Telegram Channel, Kakao Talk, LINE and WhatsApp, or call 0939-887-9637.