When it comes to celebrating the Anniversary of the Declaration of Philippine Independence, one particular town trumps all others — and that is the town of Kawit, Cavite. Being widely known as the birthplace of Philippine independence Day, it is not a secret that every June 12, Kawit, Cavite hits national headlines as we celebrate our nation's freedom from the hands of colonizers.
Why is it the birthplace of Philippine Independence, you may ask? This is because 123 years ago, it served as the place where the Philippine flag was waved to officially announce our independence from Spain. More than this, it is also where the Philippine National Anthem was played for the first time. Talk about freedom after long years of hardship!
Here is a round-up of the top 5 places to visit in Kawit, Cavite in commemoration of the birthplace of Philippine Independence:
1. Emilio Aguinaldo's Mansion and Shrine in Kaingen Freedom Park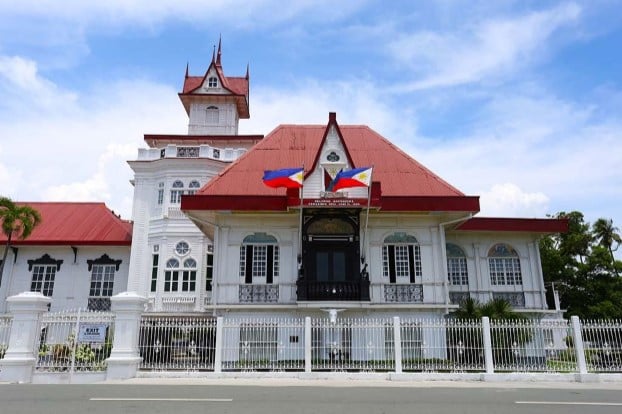 The Museo ni Emilio Aguinaldo includes all 7 storeys of the mansion that their family lived in. Located right in front of Aguinaldo's shrine in Kaingen, their mansion is a focal point in the unfolding of our nation's rich history. Not only did it serve as the site where the Declaration of Philippine Independence was signed, but it still remains important up to this day as it houses a permanent exhibit of Cavite during the revolution as well as what happened after the said revolution. Aguinaldo's earlier years up to his Katipunero days were also exhibited, along with the Filipino-American war. More than this, the museum also holds 19th and 20th century furniture and nouveau art pieces.
Right in front of Aguinaldo's home is Kawit's Freedom Park where Emilio Aguinaldo's monument of him riding a horse stands. His monument was surrounded by scriptures that are written in Spanish and have a Tagalog translation.
2. Museo ni Baldomero Aguinaldo in Barangay Binakayan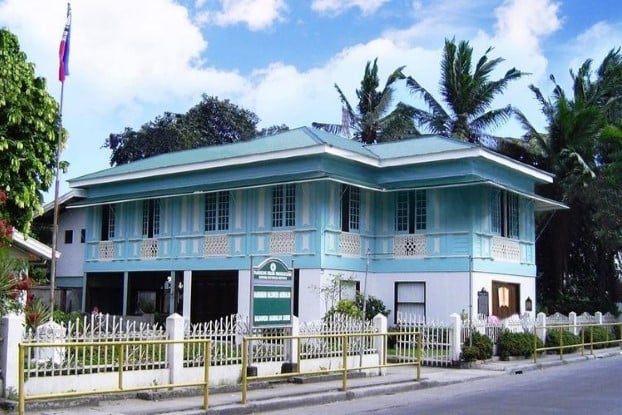 This 19th Century Heritage House pays tribute to Emilio Aguinaldo's first cousin, Baldomero Aguinaldo, who is one of the three Aguinaldos who became generals of the Philippine Revolution. In fact, Baldomero always stood by Emilio's side and fought battles with him. The museum is much more quaint than that of Emilio's mansion in Kaingen, but it has a lot to offer including a showcase of the 19th-century lifestyle and artifacts, furnitures, furnishings, photographs, drawings, ceramic ware, and other household items used back in their day. Baldimero stayed at this house during his retirement days and it became their ancestral house, which is why a part of the backyard is still allotted for the grave plot of Baldomero Aguinaldo along with their family.
3. St. Mary Magdalene Parish Church in Poblacion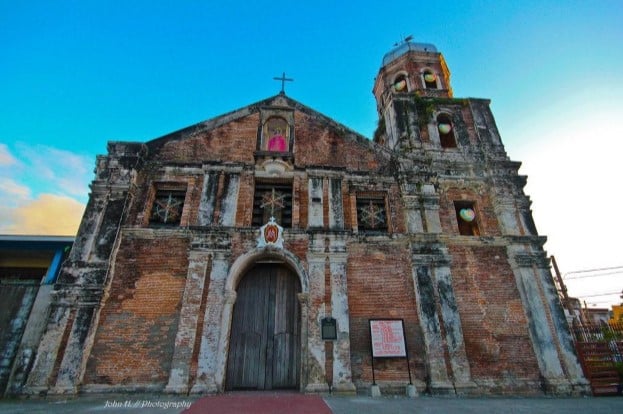 The church of St. Mary Magdalene serves as a very historical landmark in the birthplace of Philippine Independence Kawit, Cavite as it is one of the oldest standing centuries-old church in the Philippines. Built-in 1737, it has witnessed many events including the Filipinos' war for freedom and was able to recover from being destroyed when the Spaniards' attacked using cannonballs. Having been around during such a difficult time, the parish has provided comfort for people during the time of war. This was possible because there was an underground tunnel that connected to Emilio Aguinaldo's shrine that connects directly to the church's altar, which served as the troops' sanctuary. Not only that, but the church also holds the tomb of Emilio Aguinaldo since their family was very influential, they had the privilege of having their bodies buried inside the church.
4. Battle of Binakayan Monument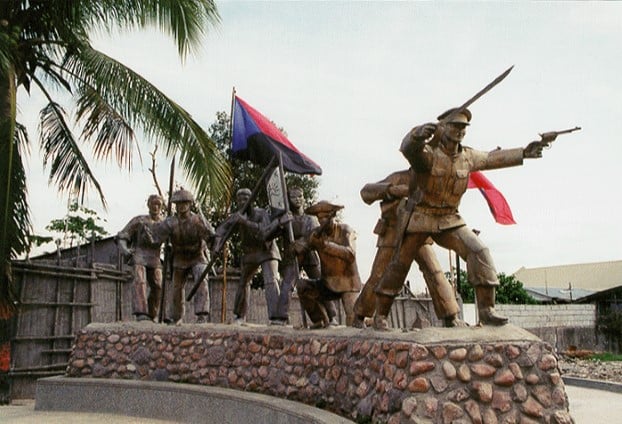 If Kawit hasn't wow-ed you enough from the story behind each site, there is still another important piece of our history located here. The Battle of Binakayan Monument serves as a reminder of a battle that happened in November of 1896, which was led by no other than General Emilio Aguinaldo. During the time, the Spaniards were planning a sneak attack but General Aguinaldo beat them to it with the help of his cousin. He deployed his troops to Binakayan to intercept the Spanish forces and turn the attack on them. 10,000 Filipino soldiers were deployed, which was enough to make 20,000 Spanish soldiers fly back to their camp. With limited weapons and fewer soldiers, this battle was a great success for the Filipinos.
5. Kawit's "Pandayan" (Blacksmith)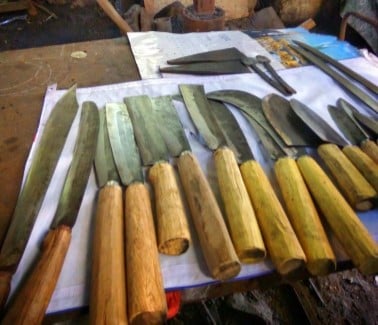 In line with the theme of this year's Independence Anniversary, "Kalayaan 2021: Diwa sa Pagkakaisa at paghilom ng Bayan," it is worth visiting the foundry of "pandays" or blacksmiths. This appeared to be one of the most used skills during the olden days of the war but it is now considered a dying industry in the Philippines. Back in the day, people were skilled in making itaks, bolos, swords, and other weapons that were used by their revolutionaries as they defend the city during the 19th and 20th centuries. You can get to know Nanay Meni who acquired the workshop from her ancestors and Tatay Waldy Cabigona who skillfully exhibits his talents as a panday by making crafted weapons using the traditional method — all before technology was present.
With all that the Filipinos have endured in all those years, the town was still able to develop as a heritage town that witnessed the strength of the Filipinos. We can only imagine the amount of pride that this town holds! What else is better than basking in the glory and history of the Birthplace of Philippine Independence Kawit, Cavite has to offer?
Up to now, it can be seen that this remains to be a town celebrated for its role in the journey of Filipinos towards independence. With its rich culture, pride, and heritage, living in Kawit, Cavite would be a good area to consider when thinking about your future home. Aside from having a good neighborhood, these places that you can visit will surely be the cherry on top when you decide to live at Bria Homes.
We at Bria Homes aim to provide affordable housing to Filipinos who dream of having high-quality homes with pleasant communities. If you want to secure a home where you can create a happy lifestyle with your family, then Bria Homes is the one for you. Want to know more about our affordable house and lot packages in communities as pleasant as ours? Check out our listings for Cavite.
BRIA Homes is a subsidiary of GOLDEN MV Holdings, Inc., .one of the largest real estate companies in the country. BRIA Homes is primed to bring quality and affordable house and lot packages and condominium units closer to ordinary Filipino families. This is the goal that drives every single employee in the company, for which the ultimate fulfillment is seeing a client happily moving into BRIA's homes.
To know more, visit their website at www.bria.com.ph, like and follow "Bria Homes, Inc." on Facebook, Twitter, Instagram, YouTube, Pinterest, Spotify, Viber Community, Telegram Channel, Kakao Talk, LINE and WhatsApp, or call 0939-887-9637.
Written by Florieli Po