Filipinos are known fans of sale events, discounts, promos, and freebies that is why whenever everyone has a chance to redeem and avail one, nothing could stop them from claiming it. It became a norm in the country and was passed on from generation to generation. Gladly, convenience is what Villar Group wants to give to its future investors– having a life where they can acquire, enjoy, and cherish the perks of a convenient lifestyle. This is why the Villar Group has thought of something that would provide a rewarding and satisfying feeling when they become a part of the ever-growing community of Bria Homes. Future property owners of Bria Homes and other residential housing projects of Villar Group can now have exclusive access to the amazing perks and discounts they can avail exclusively from All Rewards loyalty program.
AllRewards and Bria Homes have a move-in partnership project for new home owners. A buyer can enjoy members only privileges that AllRewards offers once they have signed the "Acceptance of Property" form and completed their move-in briefing. Those who have already accepted their units but have not yet moved in onsite will also be entitled to these benefits once they finally decide to move in to their Bria Homes community.
Sounds exciting? For aspiring homeowners of Bria Homes who want to avail the AllRewards card upon move-in, here is a list of some reminders that they need to remember:
1. One must be 18 years old and above and is a resident of the Philippines with valid identification cards to be able to apply for an AllRewards card.
2. You may receive a FREE AllRewards card, as long as you can present a valid ID and proof of billing with Bria home address.
3. You may also purchase AllRewards Card at the cashier counter of AllHome, AllDay Supermarket and Finds (A Discount Store) for only 150 pesos. After payment, you may then proceed to Customer Service for the application process.
4. Your AllRewards Membership doesn't expire as long as you use the card. Points will expire after two years of zero transaction.
5. You can earn AllPoints by just presenting your AllRewards card to the cashier at the start of every transaction. Every P400 purchase at any AllDay (mart & supermarket), AllHome, Finds (A Discount Store), AllToys, AllSports, Bake My Day and Coffee Project, Market Liberty & All American, entitles you to 1 point which is equivalent to P1. You may also earn a fraction of a point if you purchase below P400 (i.e. P100 will earn P0.25). Points will expire after two years of zero transaction.

Bria homeowners will only have to follow few simple steps to avail what AllRewards has in store for them. There are two ways to avail this program. First is by going to the brick-and-mortar store where they will need to fill out an application form with the necessary details to process their membership.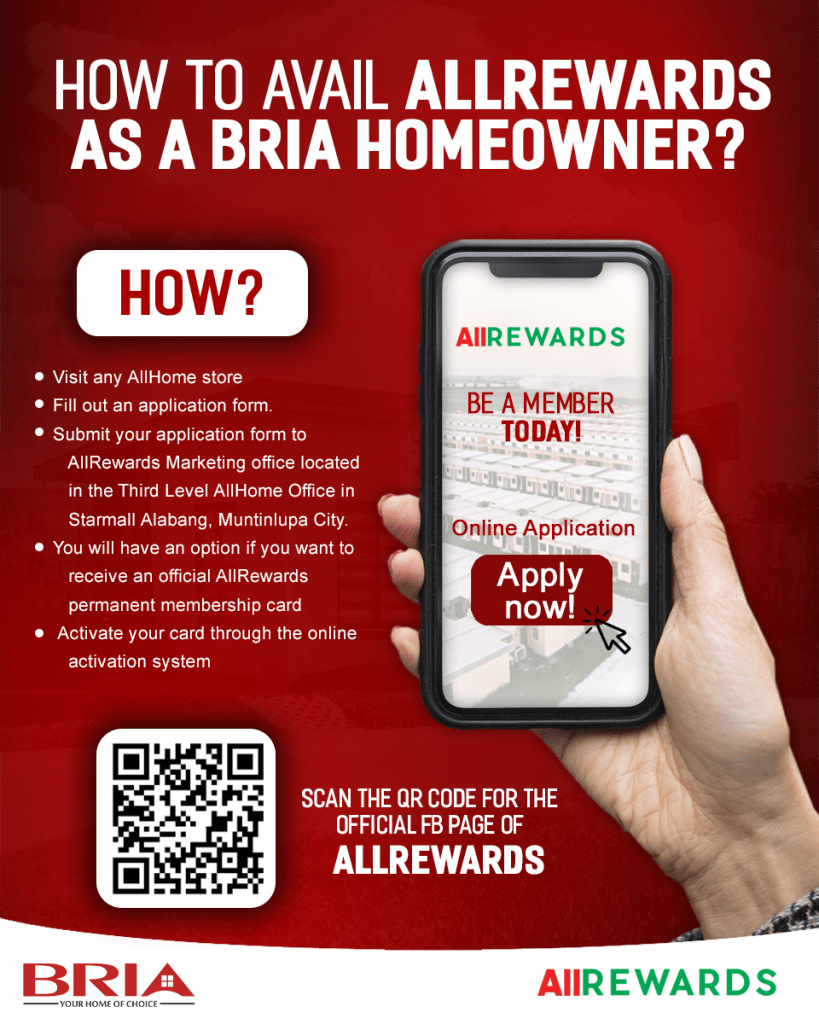 The second, and easier, way to avail the exclusive AllRewards program is through online registration. On AllRewards website, homeowners will need to fill out an online application form for registration. After filling out the application form, they can sit back, relax, and wait for the application to be processed.
Meanwhile homeowners can check out other exciting features on the All Rewards website. The website also allows all users to view their past transactions and monitor their present and future ones. It also regularly gives updates on ongoing rewards and promos, as well as future events and activities. Homeowners will also find it useful to browse through AllRewards' up-to-date list of branches and retail partners. They can also check the Frequently Asked Questions page for instant answers to their questions. The AllRewards website also acts as a Customer Service Portal, further empowering its members and users. If customers find something unsatisfactory or not up to their standards with any AllHome product or service, they can visit the website for proper addressing of concerns. AllRewards clients and membership cardholders can easily course all worries through the website.
All of its clients are also encouraged to install the AllRewards mobile. They can utilize the app to get access to eAll of its clients are also encouraged to install the AllRewards mobile. They can utilize the app to get access to exclusive app vouchers. App vouchers can also be used offline. Simply, the buyer can save his or her AllRewards QR code to be used in AllHome and all our external partners. 
Below is a quick guide to access the vouchers in the app, to check current and existing points, and also view their available voucher QR codes:
1. Download or install the AllRewards mobile application from Google Play or Apple App.
2. Click on the register button to start your online account.
3. Enter your AllRewards card number, birthday, email address, and set your password.
4. Click the verification link through to email to verify your account.
5. Start using your vouchers and redeeming your points. Aside from its enticing vouchers, there are also games in the mobile application where you can play and earn points.
Aside from the AllRewards app, AllRewards is also enhancing its online social media presence to adapt to the new normal. Members are encouraged to like, follow, and subscribe to all the AllRewards social accounts on Facebook (AllRewards), Twitter (@AllRewardsPH), and Instagram (@allrewardsofficial). Members are encouraged to regularly check the AllRewards social media platforms to get updates on news and events, seasonal promos, and upcoming great discounts that members can avail in AllRewards retail partners nationwide. 
 
AllRewards is truly a gift to future Bria Homes homeowners because of the limitless benefits that they can avail using their reward points in its numerous retail partners nationwide. Here are some of AllRewards retail partners which homeowners can consider when using their regular membership card: AllHome, AllDay Supermarket, Finds, AllSports, AllToys, Bake My Day, Coffee Project, AllAmerican Trading Co., Rufo's, Market Liberty, Vista Cinemas, Kinder City, Chicken Deli Bistro, and My Mother's Cupboard. 
Other AllRewards perks members can enjoy include: special promos like times-ten-points, redeem points, double the points per item, birthday freebies, points, free cake from Coffee Project, AllHomeclick.com voucher, and free frappe. AllRewards cardholders are also eligible of having mobile app vouchers and online shopping vouchers – get 250php off when they shop at alldaymarket.com and allhomeclick.com with a maximum of three usages per account.
Interested homeowners can view more information at the FAQ page on the AllRewards website. Join our rewards program today, start earning reward points and enjoy exclusive freebies.
BRIA Homes is a subsidiary of GOLDEN MV Holdings, Inc., one of the largest real estate companies in the country. BRIA Homes is primed to bring quality and affordable house and lot packages and condominium units closer to ordinary Filipino families. This is the goal that drives every single employee in the company, for which the ultimate fulfillment is seeing a client happily moving into BRIA's homes.
To know more, visit their website at www.bria.com.ph, like and follow "Bria Homes, Inc." on Facebook, Twitter, Instagram, YouTube, Pinterest, Spotify, Viber Community, Telegram Channel, Kakao Talk, LINE and WhatsApp, or call 0939-887-9637.
Written by Patrick Comendador