Mindanao maybe the second largest island in the Philippines but because of its rich natural resources – corn, rice, abaca, bananas, pineapples, mangoes, coconuts, cotton, ramie, coffee, and cacao – it has brought forth great economic progress in the Philippines. With the launching of 10 new projects in the region Bria Homes will Dominate Mindanao.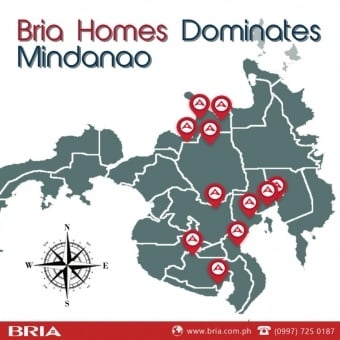 Because of Mindanao's rich and progressive economy, Bria Homes has launched 10 projects in the island:
Bria Homes Gran Europa (CDO), Bria Condo Cagayan De Oro, Bria Homes Balingasag, Bria Homes Manolo Fortich, Bria Homes Valencia, Bria Homes Panabo, Bria Homes Tagum, Bria Homes Digos, Bria Homes General Santos, and Bria Homes Kidapawan.
From 3 cities and municipalities in 2016, it has expanded into 9 last year.
The 1st quarter of 2018, Bria Homes has again begun its domination in Mindanao, starting off with Bria Homes Valencia.
Bria Homes Valencia, Bukidnon
This 26 hectare project is located at Brgy. Mailag, Valencia City. This community is ideal for homebuyers who wants to attain affordable, high quality, and beautiful homes.
What attracts Mindanaoans to invest a home at Bria is because it offers them a community wherein they can prosper as individuals and as a family.
All Bria communities are equipped with complete facilities such as (perimeter fence, shuttles, parks & playground, and covered basketball courts). Our communities also offer close proximity to places of interest (schools, hospitals, places of worship, major roads/ highways, commercial establishments). In addition to this, Bria Homes offers an affordable alternative to the otherwise expensive investment Mindaoans perceive. Bria Homes' affordability gives ordinary Filipino families in Mindanao the chance to own homes without sacrificing the needs of their families.
Because of the comfort Bria Homes brings its homebuyers, it is no wonder why it has been dominating Mindanao. It has now given homes to more than 12, 100 families in the island. And has been considered as one of the most trusted developers in Mindanao.
Bria Homes Valencia is only the first project in Mindanao for 2018. More projects are on the pipeline in order to respond to the growing housing demand of Mindanaons.
As Bria continues to dominate Mindanao, it aims to give more Mindanaoans the home they deserve. A home wherein Bria's homebuyers could create happy memories and grow in a community.
For more information about Bria, LIKE "Bria Homes Inc Official" on Facebook and FOLLOW "@TheBriaOfficial" on Instagram.