By Jubee C. Veras
What makes a home, a home? Home is most defined as a place where people stay and lives permanently and where the family story begins. Sometimes, it is a safe haven or a comfort zone, a place to build your memories with special people and a place where someone can express their truest self. At the same time, people defined it as a happy place where someone can live, laugh, love, and learn. But according to many South Asian Communities, a home is not just where you are, it is who you are.
This is the conception of home for many people especially for Filipinos, but what should you look for in a home?
Here are some things to look for in a home, if the location is near the necessities, peaceful and clean neighborhood, prime floor-plan, sophisticated features and price of the property, panoramic amenities, and the quality of the house. These must-haves are really important to fit in as it will be the home for today and a decade into future. 
Most Filipinos actually eyeing for a quality life which has a great deal in looking for a home. It is the satisfaction in your life that comes from having a good health, relationships, financially stability and a comfortable shelter.
Nowadays, it is difficult to find a house and lot that meets the desirable characteristics, standard or qualities that are on the list but with Bria Homes, everything that is in everyone's checklist are perfectly provided even having a stable internet connection.
According to javatpoint, internet is one of the powerful creation that has endless knowledge and entertainment. Today, the internet plays a critical role in many ways but there are also multipile advantages of the internet.
Here are some benefits of the internet – connectivity, communication and sharing, information, address, mapping, selling and making money, access to a global workforce, internet of things and cloud storages.
As stated by Julie Kwach of Kenya News – Life and Hacks, It is difficult to think of an aspect of life that has not been affected by the Internet. Internet has changed the ways of working, learning, and shopping. It has also changed the ways on interacting with friends, family and lovers. The importance of the internet cannot be overestimated.
In today's modern world, a stable internet access is one of the major things to consider in looking for a perfect home. The more stable and faster internet connection, the more information will be absorb. It can also save time and can get things done in no time. Furthermore, it creates a different improvement in a daily life as it will make someone or everyone's life a whole lot easier.
This consideration will also make the clients gradually want a greater than the normal speed in their homes whether it is for work or business, leisure and entertainment, education, or communicating to friends, family and relatives globally. And even in a business aspect, the speed of an internet is a huge slice in life that can mean a difference between profit and loss. Having an unreliable internet is stressful and counterproductive. But together with Bria Homes, Streamtech is now available to some Bria Homes community to provide comforts to every Filipino.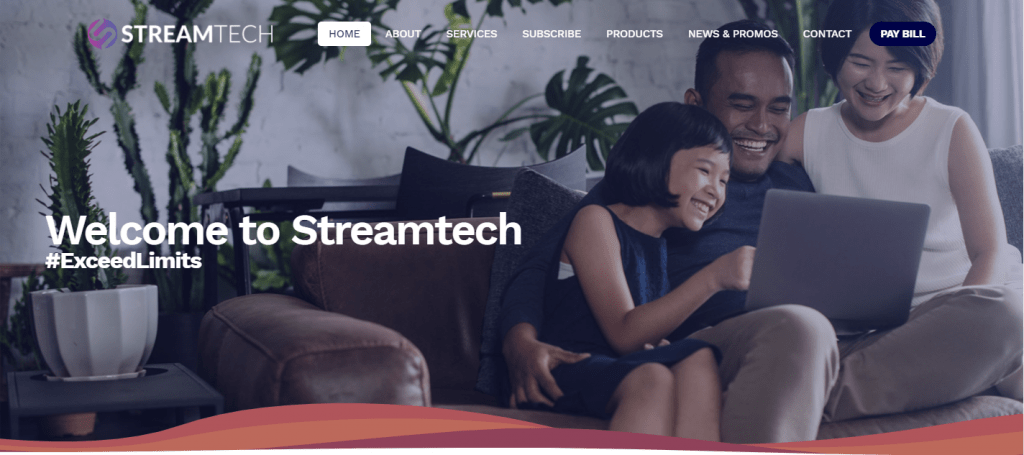 Streamtech is an affordable, high-speed fiber internet and cable and the newest telecommunications company player to stream into the country's homes, establishments, businesses, and offices.
Why choose Streamtech Internet?
It is a reliable home internet connectivity with unlimited fiber internet that has a strong technical support team. It has also quick installation time and service with widely-deployed technical teams that can install faster than the competitors.
Crossing the line of big and extra presents, Streamtech Internet welcomes every Filipino to their new Bria Home Property with the has-it-all offers.
Streamtech Internet Package
25Mbps is PHP 1,499
50Mbps is PHP 1,999
75Mbps it PHP 2,499
150Mbps is PHP 3,499
Internet with Cable TV Package
20Mbps plus Cable TV is PHP 1,499
25Mbps with Cable TV is PHP 1,999
50Mbps with Cable TV is PHP 2,499
75MBps plus Cable TV is PHP 2,999
150 Mbps with Cable TV is PHP 3,999
Streamtech Cable Package
Streamtech offers 3 different choices, for Lite it is PHP 350, for Deluxe PHP 750 and for Premium it is PHP 1,300 only. Very affordable and pocket-friendly to every Filipino Bria Home owner.
The category of Cable TV only, has numerous channels that are fit for every home, such as news, most watched, movies, kid oriented, sports, documentary, general entertainment, lifestyle, international, religious, and shopping. The said channels are also available in HD or High-Definition.
At the moment of move-in, Streamtech proffers to every Bria home owner an exclusive offer. To every inquiry in subscribing to any Streamtech's fiber internet packages for the new home, it will connect every home owner within 48 hours of subscription's confirmation. And even in the event that Streamtech is not yet available in a particular area, the above-mentioned offers has no expiry date.
As the newest wave in fiber internet in the Philippines, Streamtech is now streaming into many Bria Homes project locations.
Bria Homes Northridge Grove Phase One (1)
Bria Homes Northridge Grove Phase One (2)
Bria Homes Northridge View
Bria La Hacienda in Rizal
Lumina General Trias Phase One (1)
Lumina General Trias Phase Two (2)
Bria Homes General Trias
Bria Homes Trece Martires
Bria Homes Calamba Phase One (1)
Bria Homes Calamba Phase Two (2)
Bria Homes Calamba Phase Three (3)
Lumina Homes San Pablo
Bria Homes San Pablo
in Bria Flats Cagayan de Oro.
For now, the serviceable areas are in Batangas, Bulacan, Cavite, Ilocos, Iloilo, Naga, National Capital Region, Nueva Ecija, Pampanga and Rizal. However, there are Bria Homes projects that are still in progress but Streamtech will surely come to more locality or areas as it goes nationwide.
In connection with Bria Homes, the housing developer is also known in offering the most friendly price properties across the country's most progressive towns and cities with four (4) elegant house models to choose. This house models offered by Bria Homes comes in different have-it-all packages. Elena or Elyana Rowhouse, a Bungalow type with 22 to 24 square meter floor area and a minimum of 36 square meter lot area; Bettina Select Townhouse is the only 2-storey complete package house with tile finished floors and 2 bedroom ready; Alecza Single Firewall and the newest house model, Thalia Single Firewall are bungalow with 2 to 3 bedroom ready with tile finished floors. All are available in stylish contemporary look to every Bria Project nationwide.
It is known that Bria Homes takes pride in offering affordable housing to the market especially to a daily Filipino in a socio-economic segment.
Bria Homes has successfully constructed more or less 25,000 homes across the 9 regions with more than 50 projects nationwide. Behind its success is the (5) Five Brand Pillars – Affordability or Budget Friendly Amortizations (Mura), Well-planned, Quality and Design Integrated Community (Maganda), Accessibility or Proximity to Commercial hubs, Transportations and etc. (Malapit sa Lahat), Customer-Oriented Service Experience (Mahusay na Serbisyo) and Proficient and Competnt Construction Procedures (Mabilis). Since year 2015, Bria has welcomed many Filipinos and continuously promoting the platform of alleviating homelessness to every aspiring home owners.
All of the said projects has a prestigious top class amenities that can be found in Sentro. Sentro is an amenity hub with many features such as Community Facility, Recreational Court, Parks and Playground, and Open Spaces. And in order to maintain a secured Bria community, it is also surrounded with Perimeter Fence, 24-hour Guard House with only one entrance and exit point.
Aside from simply providing housing, the said developer aims to build and develop township-like communities. Achieving at improving every detail of quality of life to every Filipino home owners.
On the other hand, Bria is also available in vertical aspect as it introduces the first condominium brand – Astra Vertical Villages. This is a contemporary mid-rise condominium that particularly offers three (3) main features – affordability, accessibility, and independence. Also providing some refined amenities like Clubhouse, Guardhouse, Gym, Perimeter Fence, and Open Spaces.
In order to avail the aforementioned offers, one must have a Valid ID and if Overseas Worker, simply provide a Passport, and a reservation fee. With these, dreams can be into reality as easy as one, two, and three.
With Bria Homes and Streamtech, each and every home owner can enjoy life in the most fulfilling experience that exceed the limits.
BRIA Homes is a subsidiary of GOLDEN MV Holdings, Inc., .one of the largest real estate companies in the country. BRIA Homes is primed to bring quality and affordable house and lot packages and condominium units closer to ordinary Filipino families. This is the goal that drives every single employee in the company, for which the ultimate fulfillment is seeing a client happily moving into BRIA's homes.
To know more, visit their website at www.bria.com.ph, like and follow "Bria Homes, Inc." on Facebook, Twitter, Instagram, YouTube, Pinterest, Spotify, Viber Community, Telegram Channel, Kakao Talk, LINE and WhatsApp, or call 0939-887-9637.