In these modern times, the Internet has become a powerful tool in connecting people to the world. For many of us, it has become an essential part of our daily lives, whether it be through social media websites, entertainment platforms, or shopping applications.
Alas, the world has plunged into a New Normal, with our day-to-day routines having to adjust as well. The need to connect through communication systems and information networks is at an all-time high as we transition into a world where a big chunk of our everyday lives must now be done virtually. Luckily, thanks to Streamtech, we have the option to stay connected!
Streamtech, the newest telco player in the country, is now coming to the nation's homes, establishments, and offices, as it provides its users with improved high-speed fiber internet and a top-of-the-line cable experience. Streamtech aims to be one of the biggest and most technically advanced internet and cable service providers in the country while also boasting unlimited fiber internet and a strong technical support team. Despite the existing misconception regarding the Philippines having slow, unstable, and pricey internet services, with Streamtech, Filipinos can experience the best internet connectivity at a relatively inexpensive price.
For as low as Php 1,499 monthly, you can experience high-speed 20 mbps internet along with Cable TV. For even faster internet services, Streamtech offers packages from 25mbps all the way up to 150mbps of internet speed, proving to be the optimal choice for reliable home internet connectivity. Serviceable areas of Streamtech include the provinces of Batangas, Cavite, Iloilo, Pampanga, Bulacan, Ilocos, Naga, Nueva Ecija, Rizal, and the National Capital Region, with more regions being added to the list as Streamtech goes nationwide.
Providing Small- and Mid-Size Enterprises with Quality Internet Access
As the New Normal sees different industries utilizing the Internet for a variety of day-to-day ventures such education, business, leisure, and entertainment, Streamtech does more than just provide internet and cable services nationwide; Streamtech also offers plans to small and medium sized enterprises (SME) with strong technical support team and quick installation process, making its services different from other internet packages and providing a huge advantage for profit and productivity.
Bria Homes and Streamtech Partnership
Internet, indeed, is an advantage in many businesses including the real estate industry, allowing people to find and buy their dream property online, including Bria Homes! Bria Homes offers affordable yet satisfying, quality economic housing in more than 50 projects nationwide that fits every buyer's dream home or investment. With the help of social media platforms, owning a dream home becomes much easier, since interested homebuyers can use Bria Homes' digital platform where online transactions such as reservations, payments, orientations, Virtual Tours, and other housing-related transactions are made accessible to all.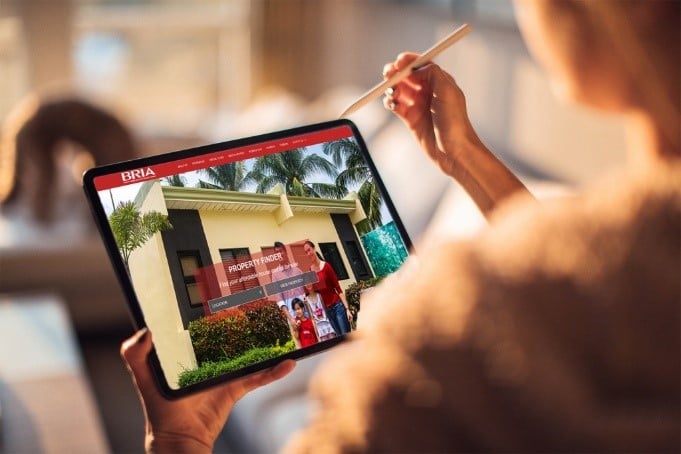 Bria Homes, as the fastest-growing mass housing developer in the country, gives its clients the best customer service, providing its residential consumers with the best internet experience in the country. Upon the moment of move-in, every Bria homeowner is entitled to an exclusive offer from Streamtech. Those who avail of Streamtech's fiber internet for their new home are guaranteed to have their internet connected within 48 hours after confirmation of their subscription.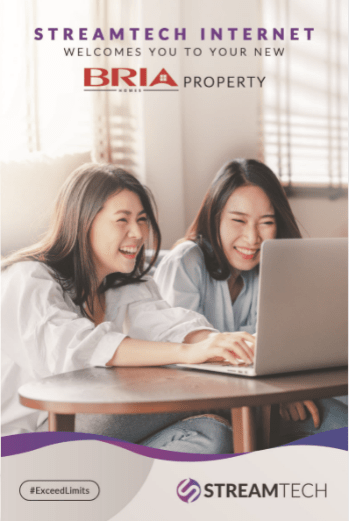 Among the first Bria properties that will get to experience the high-speed internet and cable provided by Streamtech is Bria Homes Calamba located at Brgy. Bañadero, Calamba City, Laguna. Streamtech has started to market its internet and cable services to the subdivision's homeowners last October 2020. Booths have been installed in Bria Calamba's covered court with interested clients being assisted.
Homeowners have a variety of packages to choose from when availing of Streamtech's services, ranging from Cable TV for as low as Php 350.00 monthly, to 20mbps internet speed with Cable TV for only Php 1,499.00 per month. With these exciting offers, you can enjoy home entertainment with your loved ones while spending quality time with them. There is no need to go out of your safe zone, especially during this time of pandemic, to experience never-ending entertainment because Streamtech can give you just that!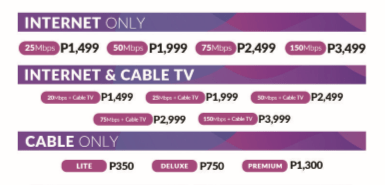 While some areas still await the availability of Streamtech, this will not be a problem at all. The "Guaranteed Connection within 48 Hours" exclusive promo has no expiry, allowing homeowners to enjoy this offer once Streamtech becomes available in their locality.
With Bria Homes, homeowners are one step closer to reaching their dreams of having the best home for their family, and all this can be achieved with the help of Streamtech as they both provide Bria Homeowners with a perfect move-in experience. Whether it be watching your favorite TV series with your family in your very own living area or doing online business and transactions just by sitting on your couch, it is an assuring feeling to know that Bria Homes and Streamtech allow you to go through your New Normal at the comfort of your own home. More than just connecting people to the world, Streamtech connects communities. And there is no better community to begin with than Bria Homes.
BRIA Homes is a subsidiary of GOLDEN MV Holdings, Inc., .one of the largest real estate companies in the country. BRIA Homes is primed to bring quality and affordable house and lot packages and condominium units closer to ordinary Filipino families. This is the goal that drives every single employee in the company, for which the ultimate fulfillment is seeing a client happily moving into BRIA's homes.
To know more, visit their website at www.bria.com.ph, like and follow "Bria Homes, Inc." on Facebook, Twitter, Instagram, YouTube, Pinterest, Spotify, Viber Community, Telegram Channel, Kakao Talk, LINE and WhatsApp, or call 0939-887-9637.
Edited by Maphi Ona