In 2018, the Republic Act 11055 or also known as the Philippine Identification System Act was signed by President Rodrigo Roa Duterte. The goal of having a single national identification is to simplify for all citizens and resident aliens of the Philippines transactions in public or private sectors. The Philippine government aims to promote seamless social services as we migrate into the digital economy allowing people to have paperless and cashless transactions. Bria Homes will guide you on how to get your Philippine National ID. The Philippine Statistics Authority has 3 easy steps to follow in accomplishing the task.
Here is the step-by-step guide on how to get your Philippine National ID:
Online Registration and Appointment
On-site Validation of Information.

Requirements and documents needed

Delivery of the National ID
Step 1: Online Registration and Appointment
The Philippine Identification System (PhilSys) started its online registration last April 30, 2021. According to the website Inquirer.Net, applicants like Bria Homes residents will simply input their personal information and have their schedules. Applicants need to go to the center to have their biometrics information collected and recorded.
Philippine Statistics Authority (PSA) targets to gather and register at least 70 million individuals in the PhilSys by the end of 2021.
Based on the information of PSA Assistant Secretary Rose Bautista there were 17.4 million individuals who have accomplished the Step 1 registration. In this process, a representative from the Philippine Statistics Authority will gather the information via door-to-door data collection in low-income households. The government prioritizes this sector so they can have access to basic banking services and can efficiently receive government subsidies. The PSA representative will collect the demographic of the household head, providing information such as Full name, gender, date, and place of birth, address, and blood type. This information will be collected through a digital tablet. The registrant will receive an appointment slip to proceed on Step 2. PSA representative follows strict COVID-19 health protocols as he/ she conducts house-to-house data collection.
Step 2: On-site Validation of Information
After the collection of data to the registrants, Step 2 is the on-site validation of information. In this step, the registrant will submit his/her documents for validation. The registrant biometric information including iris scan, photograph, and biometric will be collected and registered during your appointment.
Here are the lists of primary and secondary requirements you can bring for your validation on-site. Registrants are required to present an original copy of at least one (1) of the following:
Primary Documents:
PSA-issued Certificate of Live Birth AND one (1) government-issued identification document which bears the full name, front-facing photograph, and signature or thumb mark
GSIS or SSS-issued Unified Multi-purpose Identification Card (UMID)
DFA-issued Philippine Passport or e-passport
Land Transportation Office (LTO)-issued Student's License Permit or Non-Professional/Professional Driver's License
Secondary Documents:
PSA-issued Certificate of Live Birth/NSO-issued Certificate of Live Birth with Birth Reference Number (BreN)
PSA-issued Report of Birth
PSA-issued Certificate of Foundling
Integrated Bar of the Philippines (IBP) Identification Card
Professional Regulatory Commission (PRC) ID
Seaman's Book
Overseas Workers Welfare Administration (OWWA) ID
SSS ID
Senior Citizen's ID
Pantawid Pamilyang Pilipino Program (4Ps) ID
Police Clearance/ID
License to Own or Possess Firearms (LTOPF) ID
NBI Clearance
Solo Parent's ID
PWD ID
Voter's ID
Postal ID
Taxpayer Identification Number (TIN) ID
Philhealth ID
Philippine Retirement Authority (PRA)-issued Special Resident Retiree's Visa (SRRV)
National ID from other countries
Residence ID from other countries
Meanwhile, the following identification documents will also be considered secondary supporting documents as long as it has a front-facing photograph, signature/Thumbmark, Full Name, Permanent Address, and Date of Birth.
Employee ID
School ID
Barangay Clearance/Certificate
Barangay ID
City/Municipal ID
According to PSA, as of April 20, there were 4.6 million people who accomplished the registration, appointment, and validation on-site.
Meanwhile, almost 1 Million (some 849,862) registrants went to online registration as of May 13 even though PhilSys experienced some glitches last April 30, when it first opened its online registration.
Step 3: Delivery of the National ID
After the registrant accomplished Step 1 and Step 2, Step 3 would be the issuance of the PhilSys Number (PSN) and PhilID. These will be delivered to your home address by the Philippine Post Office (PHLPost). Just present the transaction slip or any valid IDs to the chosen courier.
PSA reminded the public that refrain from posting your PhilID on social media as it contains sensitive personal information.
PhilSys look forward that Filipinos will improve lives by providing the National ID, it can make the transactions within the government efficient, safe, and secure.
FAQs about Philippine National ID:
1. Where are the Registration Centers for the Philippine National ID?
The Philippine Statistics Authority (PSA) is the over-all-in-charge for the mass registration and implementation of the National ID.
Here is the list of the public offices where you can also register for the National ID:
Individuals can go register in the following centers:
Philippine Health Insurance Corporation
PSA Regional Provincial Offices
Local Civil Registry Offices
Government Service Insurance System
Philippine Postal Corporation
Social Security System
Home Development Mutual Fund
Commission on Elections
Other government agencies as assigned by PSA
2. What are the benefits of having a Philippine National ID?
According to the Congressional Policy and Budget Research Department, Filipinos will benefit from having a Philippine National ID by limiting red tape in government transactions. It will lower costs, streamline transactions, and provide ease and convenience.
The person can use his/her National ID as an official document that will verify his/her identity. It can also be used in police clearances, courts, banking transactions, financial institutions.
It can also be used to identify an individual based on her voters, school, and employment. Senior citizens can avail his/their benefits.
3. What are the practical uses of Philippine National ID?
According to the article written in the Philippine News Agency entitled "Knowing PhilID's benefits and uses, The Philippine National ID can be used for application for eligibility, services, and access to social welfare and benefits and subsidies of the government. The palace aims to elevate the standing of low-income families by providing them access to banking services in an efficient way.
The ID can also be used in any transactions in the government, admissions in schools, the opening of bank accounts, admission in public hospitals. The National ID can also be for registration and voting, employment transactions, renewal of police and NBI clearances, passport for travel, driver's license, UMID for social security transactions.
The National ID supports the initiative of the government is shifting towards the digital economy.
Having the National ID can also help the those aspiring unit owners and OFWs in purchasing house and lot in Bria Homes as this ID can be use in transacting in bank housing loan or PAG-IBIG housing loan.
4. What are the components Philippine Identification System?
The Philippine Identification System should have these components:
1. PhilSys Number or PSN
The registrants have a unique and permanent identification number. This should not be shared with any of your social media accounts as it contains highly confidential information about your identity as an individual.
2. PhilID
This is the non-transferrable card that contains all the demographic information of the holder. His/her biometric information such as fingerprint, iris scan, and photographs can be found on the card.
3. PhilSys Registry
This contains all the registered records of the registrant in the system.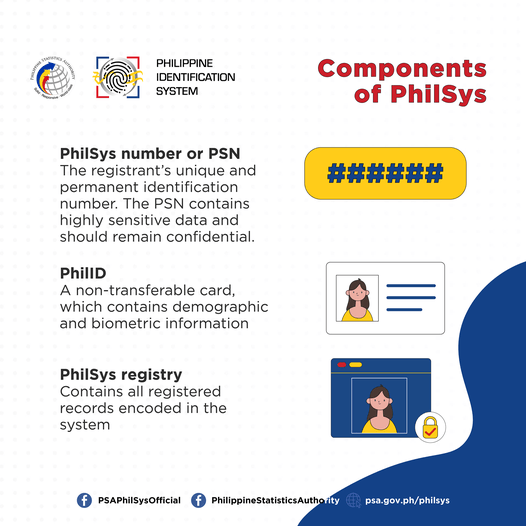 Take away:
BRIA Homes is a subsidiary of GOLDEN MV Holdings, Inc., one of the largest real estate companies in the country. BRIA Homes is primed to bring quality and affordable house and lot packages and condominium units closer to ordinary Filipino families. This is the goal that drives every single employee in the company, for which the ultimate fulfillment is seeing a client happily moving into BRIA homes.
To know more, visit their website at www.bria.com.ph, like and follow "Bria Homes, Inc." on Facebook, Twitter, Instagram, YouTube, Pinterest, Spotify, Viber Community, Telegram Channel, Kakao Talk, LINE and WhatsApp, or call 0939-887-9637.