The "City of Golden Friendship," as it is sometimes called, is home to specially friendly and warm Filipinos. Cagayan de Oro City often bearing its abbreviation CDO as its other commonly known moniker, is the capital of Misamis Oriental located in the Northern part of Mindanao. We will now be exploring some of the many things you can do while in Cagayan de Oro.
The city annually celebrates Higalaay Festival, a week-long festivity filled with a series of colorful, culturally rich, and fun-filled core events that culminate every last week of August but the main celebration falls on the 28th, the feast day of the city's patron saint, St. Augustine. It has grown not only as the customary day of thanksgiving but also a rallying point for a campaign to promote Cagayan de Oro City and the surrounding areas globally as an investment and tourism destination according to the Tourism Promotions Board Philippines (TPBPHL).
Read Also: Here's why you should add Mindanao to your bucket list
With its strategic location and accessibility, CDO is dubbed as the "Gateway to Northern Mindanao." Highly urbanized yet pretty laid-back, the city connects other neighboring cities and towns like Tagoloan, El Salvador, and Malaybalay. But of course, Balingasag and Gingoog in Misamis Oriental, and Valencia and Manolo Fortich in Bukidnon, where our other Bria Homes Projects in North Mindanao are located, through its extensive and highly developed roads and highways.
Amplified with the increase in development within and outside the city – booming infrastructure together with strong & solid local economy. Not only it is the reason why investors are immensely coming to invest in the Cagayan De Oro but also the lucrative tourism opportunities are at play. The city will sweep you away with its breath-snatching panoramas and incredible bargains for a variety of products. Filled with must-see spots for both thrilling and relaxing activities. Cagayan de Oro is the 3rd most popular destination among local tourists next to Cebu in Visayas and Davao in Mindanao, and a safe destination for foreign travelers (Lumagbas, n.d.).
Read Also: 10 Tourist Spots in Southern Mindanao
Take a look at this 10 must-do list and add them to your itinerary! Most of the activities in the list are accessible via public transportation for a convenient trip. Let's go and explore Cagayan de Oro, where adventure is within reach, and a de-stressing stretch of beaches are a step away.
1. Challenge the Rapids and Experience Whitewater Rafting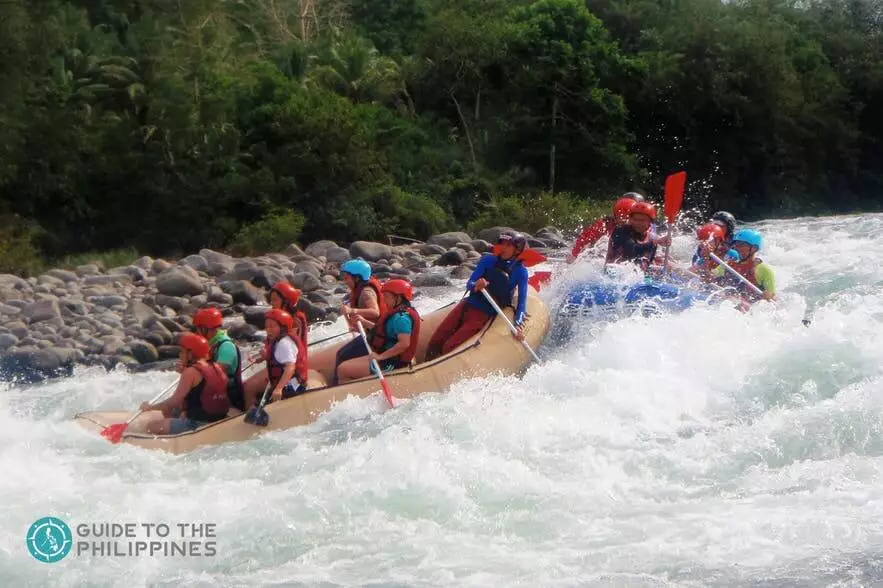 This activity should definitely be on your list! Whitewater rafting is what Cagayan de Oro is famous for. It is a must-try adventure-filled activity for you, your friends, and your family. You'll witness an array of lush green trees and stunning views while being splashed with water as you paddle, scream, and laugh.
There are over 25 rapids to take on, with the trained guides leading you and your crew for navigation and safety. So, if ever you or one of your crews fell, there's nothing to worry about as it is also part of the experience. While this experience is for all types of rafters, even beginners. There are also rapids intended for advanced ones or those who already experienced water rafting and wanted to take it to a more extreme level.
2. Slip and Slide at Seven Seas Waterpark and Resort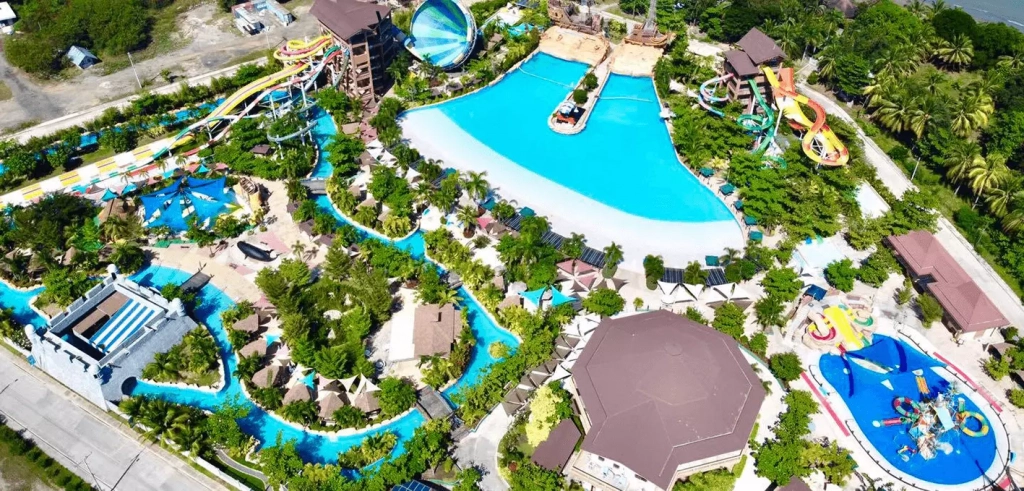 An accessible waterpark that's just minutes away from the city is what most of us want! Get refreshed with your whole family during summer especially when you're in the city. Seven Seas Waterpark and Resort offers a variety of exciting, fun-seeking, massive water slides to try. There's a lot to choose from and what to try to, but rest assured, you're going to enjoy exploring the resort's Shipwreck Island, Treasure Island, and Pirate Lookout Tower.
As a matter of fact, Seven Seas Waterpark & Resort is home to the longest waterpark slide in Mindanao and the biggest dual wave pool in the Philippines, the Buccaneer Bay (Lumagbas, n.d.).
3. Glide and Fly at Sierra del Oro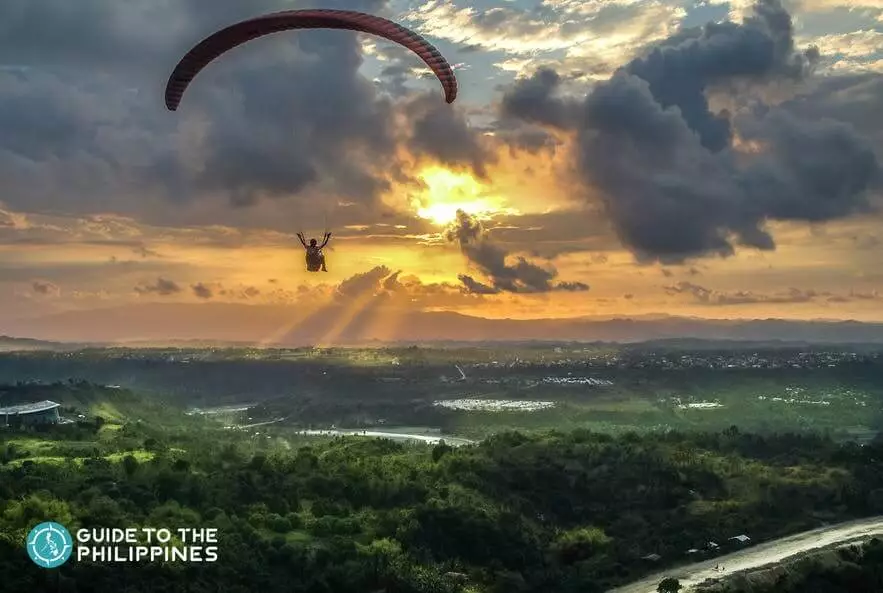 If you're a sky kind of person and like extreme, then this adventure is definitely for you! Try paragliding at Sierra del Oro and experience the feeling of flying. This exciting and thrilling experience is a must-try for all adventure-seeking individuals.
As extreme as it might sound, Paragliding at Sierra del Oro can also be enjoyed by everyone, even for beginners.
4. Conquer Asia's Longest Dual Zipline at Dahilayan Adventure Park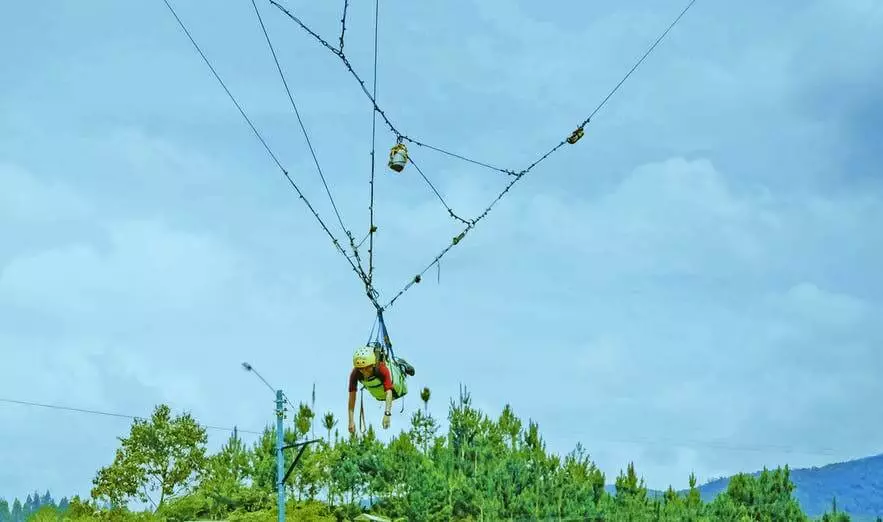 If you think Paragliding is too much, you can always go and try Asia's Longest Dual Zipline at Dahilayan Adventure Park located at Manolo Fortich in the province of Bukidnon. Approximately 45 minutes away from Cagayan de Oro and just 25 minutes away from Bria Homes Manolo Fortich. Take a road trip with your friend and head to the launch pad set at 4,700 feet above sea level and enjoy a thrilling ride at 90 kph.
However, if you're not a fan of zip lines, you can still enjoy the cool weather with your family or friends during your day trip to Dahilayan Adventure Park.
5. Get lost in Del Monte's Pineapple Farm at Bukidnon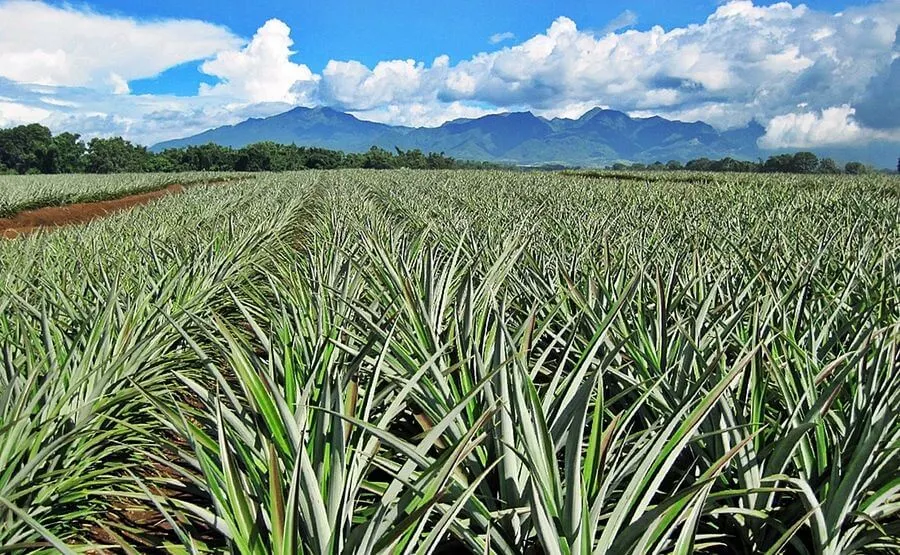 After an exciting and fun-filled day, you might want to visit Del Monte's Pineapple Farm. A wide pineapple plantation that seems to stretch into the horizon. The 5,000-hectare Del Monte Plantation is a popular side trip destination for people visiting Dahilayan Adventure Park. The produced goods in the plantation are then exported to countries like Japan and the USA.
If you love pineapples, do include this side quest in your itinerary.
6. Visit the Divine Mercy Shrine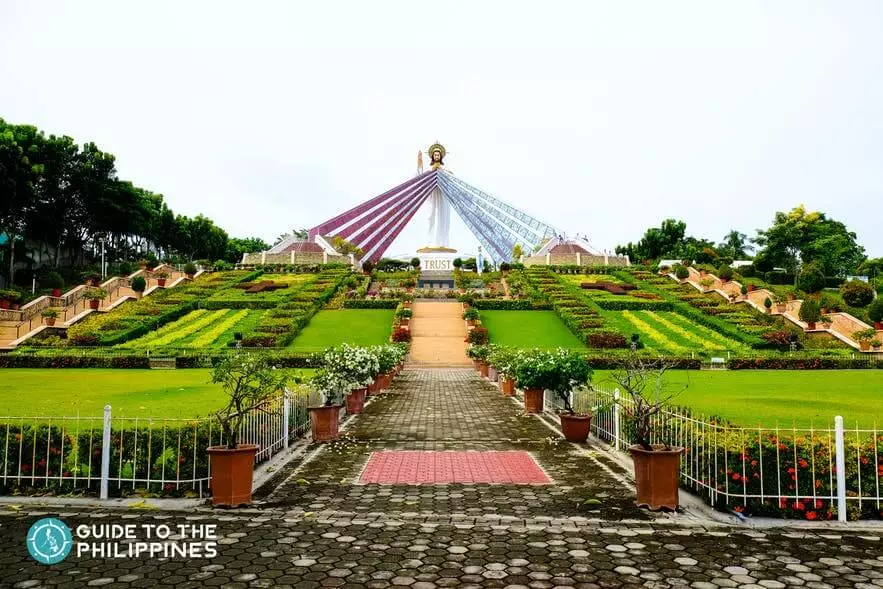 Now, this may not include adventure as much as the aforementioned activities. Still, make sure to visit the Divine Mercy Shrine. Where you'll see its most striking landmark, the 50-foot tall statue of Jesus Christ. The "rays" that radiate from the statue's body is an actual staircase that is said to lead the faithful up to Him.
The view once you're at the top of the staircase or at the 'chamber of adoration' is totally a sight to behold. If you go down at the base of the statue, you'll find a healing chapel.
7. Hop on the Boat and Go to Camiguin Island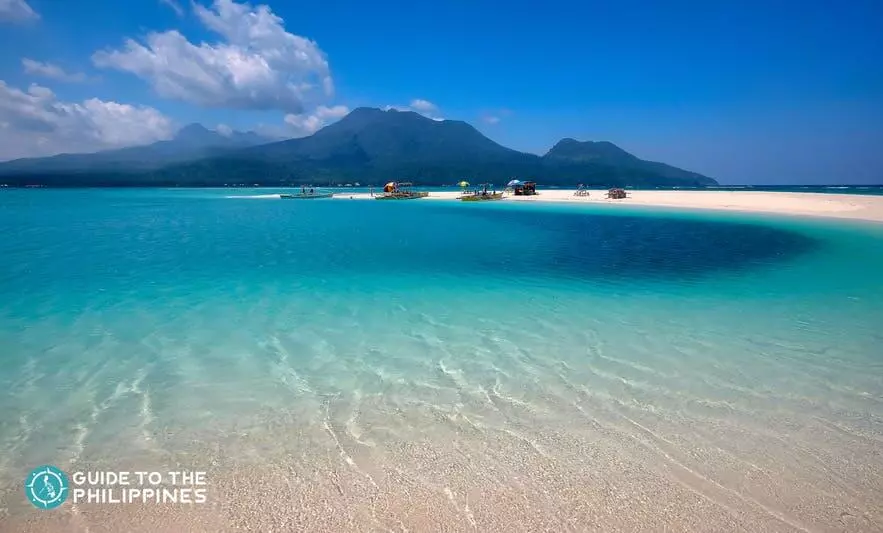 Another surely exciting activity is a Camiguin Island Day Tour! Especially for the first-timers or tourists just visiting Cagayan de Oro. Going on a tour around the breathtaking Camiguin Island, you'll have the chance to visit a lot of Instagram-worthy places. Including the infamous White Island, Sto. Niño Cold Springs, Ardent Hot springs, Katibawassan Falls, the Taguines Lagoon, the 16th century Old Catarman Church Ruins, the Sunken Cemetery, and the walkway to the old volcano.
Apart from their beaches, the island is also known for its fruit called Lanzones. You might want to try a bite while exploring and enjoying the sceneries.
8. See the Hobbit House at Mt. Kitanglad Agri-Ecological Techno-Demo Farm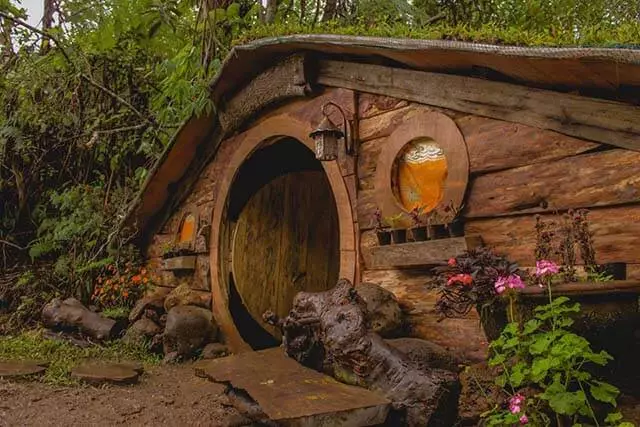 Take time away from city life and explore Mt. Kitanglad Agri-Ecological Techno-Demo Farm. It features a lot of amenities such as a hot pool, fish pond, eco-park, and natural forest. If you're a Lord of the Rings fan, you'll definitely get excited seeing the so-called Hobbit House up close. I'm sure you'd want to take photos while you're in the vicinity.
The farm is actually located in Malaybalay City, Bukidnon but its close proximity to Cagayan de Oro especially in Valencia City where one of Bria Homes projects is located – Bria Homes Valencia. Making it a popular go-to destination and even accommodation.
9. Spend the Night at Initao Beach Resorts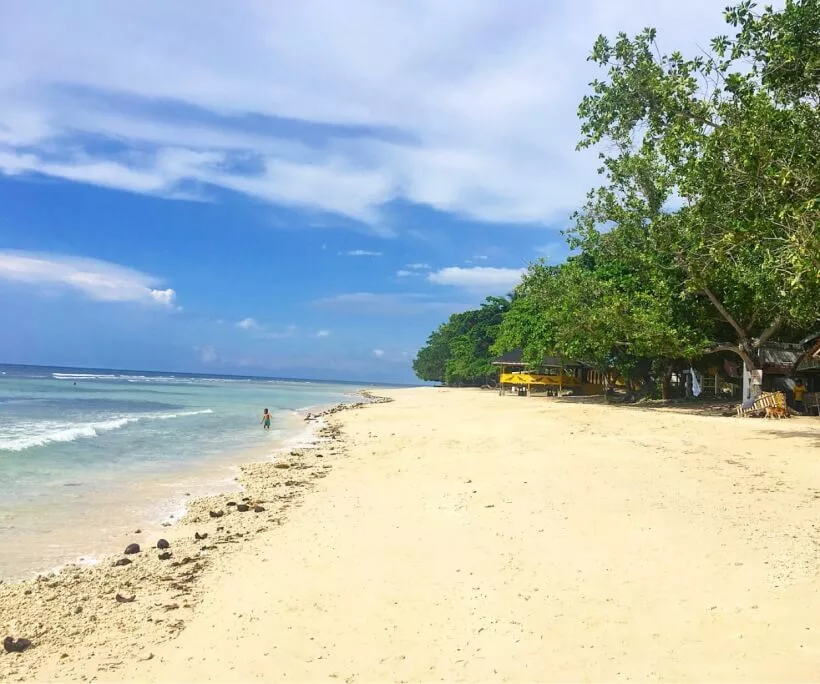 In Misamis Oriental, just a few minutes away from Cagayan de Oro is a long stretch of beach of Initao. Favorite hangout place for friends and families who would want to spend a night at the beach. Beach fees vary from each of the resorts, from quite expensive to the cheapest. But if you only want to have a good time with your friends, it is wise to go to the cheapest but if you are with your family, the quite expensive one is ideal. Since they vary mainly on the quality of the rooms, the size of the cottages as well as the service.
Nonetheless, spending time with your friends and family at Initao Beach Resorts is totally a time well spent. Irrespective of how much each one paid.
10. Savor the culinary delights of Cagayan de Oro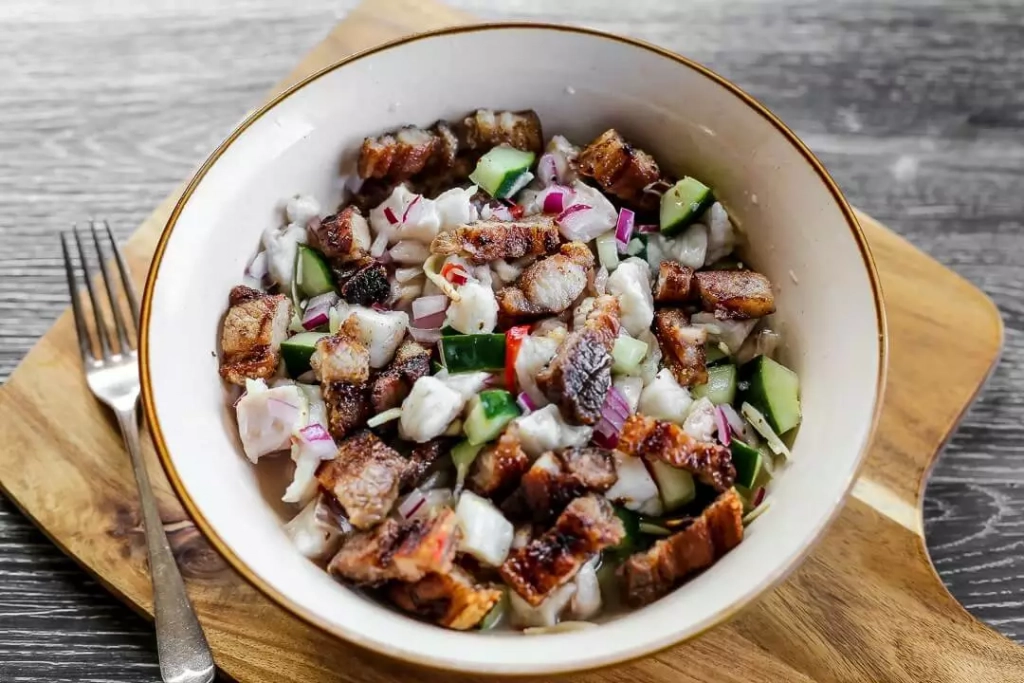 Even though CDO is not known as a food destination, it overflows with treats that will tickle your taste buds, such as sinuglaw, jamon de Cagayan, pastel, roasted cashew nuts, and many more.
So while you're at the "City of Golden Friendship," you might as well try to go and eat at the different shops, café, and restaurants. Not only to fill your hunger but also to experience and savor each of the delicacies that represents CDO's culture.
Read Also: 10 Must Visit Restaurants and Cafés in Davao Region
Cagayan de Oro is indeed the "Gateway to Northern Mindanao," accessing all adventures from mountains to beaches and everything in between. With that, investing in Cagayan de Oro might have crossed your mind, or not. But either way, I'm sure you'd want to experience some, if not, all things mentioned. So if you want to live in CDO, Bria Homes will take care of you. With the amenities and affordability of our houses, exploring CDO would never be a problem.
Sources:
Lumagbas, T. (n.d). Top 16 Tourist Spots in Cagayan de Oro Including Whitewater Rafting.
Flores, J. (2017, July 31). 11 exciting things to Do in Cagayan de Oro. Skyscanner.
PWC. (n.d.). Cagayan de Oro City, Misamis Oriental.
Written by Mark Rosada