San Pablo city is one of the most progressive locations in the Philippines.  Its scenic location and colorful festivities add up to the beauty and economic progress of the city. Because of this, Bria Homes, a maverick real estate developer, launched a project in the city – Bria Homes San Pablo.
Bria Homes, located at Barangay San Gregorio, San Pablo City, is a 17 hectare project. Offering its homebuyers practical, beautiful, and affordable homes amidst the city's bustling community.
Homebuyers from all over the City opted to invest in Bria Homes because of its affordability, its fast construction time, its pleasant community, and its close proximity to places of interest.
What the citizens of San Pablo consider as an otherwise expensive investment to venture into, Bria Homes gave them the chance to get their own homes at an affordable price. Bria Homes offers two home models; Airene (22 sqm) and Elena (22 sqm), both of which are offered for as low as P 1,897 a month. Despite its affordable price, these home models have state of the art features that gives comfort to the homebuyers. It has a living area, dining area, kitchen, toilet and bath, provision for bedroom, and provision for service area.
Bria Homes San Pablo also assures its home buyers that Bria has a fast construction time.
This is because it uses new technologies in home building in order to give its homebuyers the home that they deserve at a fast rate.
Bria Homes also has a pleasant community that offers complete facilities. It has a guard house and a shuttle service in order to assure the safety of Bria's homeowners 24/7. A multi-purpose hall, wherein homeowners could organize events or celebrations. It has a covered basketball court, mini gardens, and a playground, wherein homeowners could spend their time relaxing or exercising. In addition to these facilities, Bria Homes' community is surrounded by trees, creating an ambiance of peace and beauty.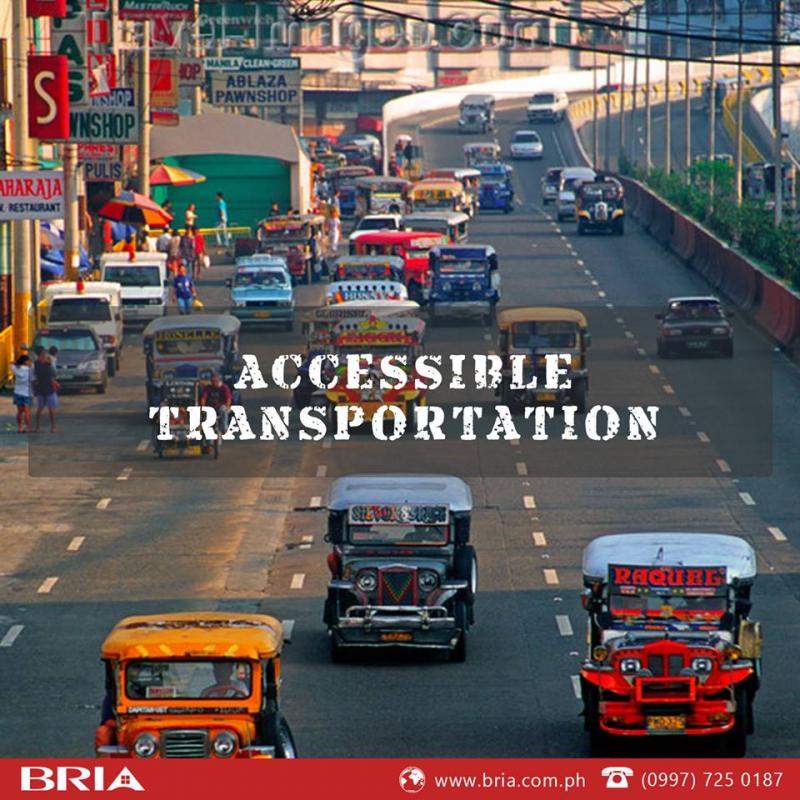 An addition to the beauty of Bria Homes is its proximity to places of interest. It is only 10 to 20 minutes away from excellent health care facilities such as: San Pablo General Hospital, Community General Hospital, Immaculate Concepcion Hospital, San Pablo Medical Center, and San Pablo District Hospital.
Excellent schools/ universities such as: Laguna State Polytechnic University – San Pablo, San Pablo Colleges, Laguna College, Canossa College, STI College, MSC Institute of Technology, Montessori Professional College, Capellan Institute of Technology, Dalubhasaan ng Lungsod ng San Pablo, Datamex Institute of Computer Technology, and Chrisville Institute of Technology, Inc.
And Places of worship such as: Diocese of San Pablo, St. Paul the Hermit, Immaculada Concepcion Parish, and First Fundamental Baptist Church; major roads or highway such as: Pan-Philippine Highway;
The community is also near commercial establishments such as: SM City San Pablo, Villa Escudero, Ultimart. As well as San Pablo Shopping Mall, and Me and City Shopping Center.
Bria Homes' services does not end in the homes it offers. It also ensures that their homebuyers will receive the best possible service.
All of Bria Homes staff treat their homebuyers as a part of their family. That is why they are all willing to give a helping hand to any queries they may have.
Because of its affordable and state of the art features; fast construction time; pleasant community; close proximity to places of interests; and quality service, the citizens of San Pablo consider buying homes from Bria Homes as the best option to attain their dream homes.