As the end of 2020 approaches, the urge to undertake major changes in one's life can be more keenly felt. The prospect of a brand-new year, after all, brings with it hope and optimism for an upturn in the days ahead, especially after surviving an incredibly tough time as we did. With Filipinos' much vaunted resilience and willingness to work hard, we are expected to rise above the challenges heading into 2021.
For many Filipinos, transitioning into better times could mean purchasing a new house and lot,which acts as a marker for the next stage in their lives. Whether this means finding somewhere to live on their own and assert their independence or settling down to start a new family, the comfort of a brand-new home cannot be overstated especially in these trying times.
For Filipinos so inclined, the best place to look is BRIA Homes.Touting more than fifty housing developments across the country, BRIAoffers affordable house and lotswith tastefully designed, well-laid-out spaces. Their top-of-the-line community amenities such as multipurpose halls, children's playgrounds, and round-the-clock security make BRIA Homesan ideal choice for any Filipino looking to invest in a new house and lot.
However, even at the affordable prices that BRIA Homes offers, the cost of a new house and lot can be intimidating. Luckily for prospective buyers, there are several ways to make the dream of owning a home a reality. One of the best ways to do this is by using a home loan.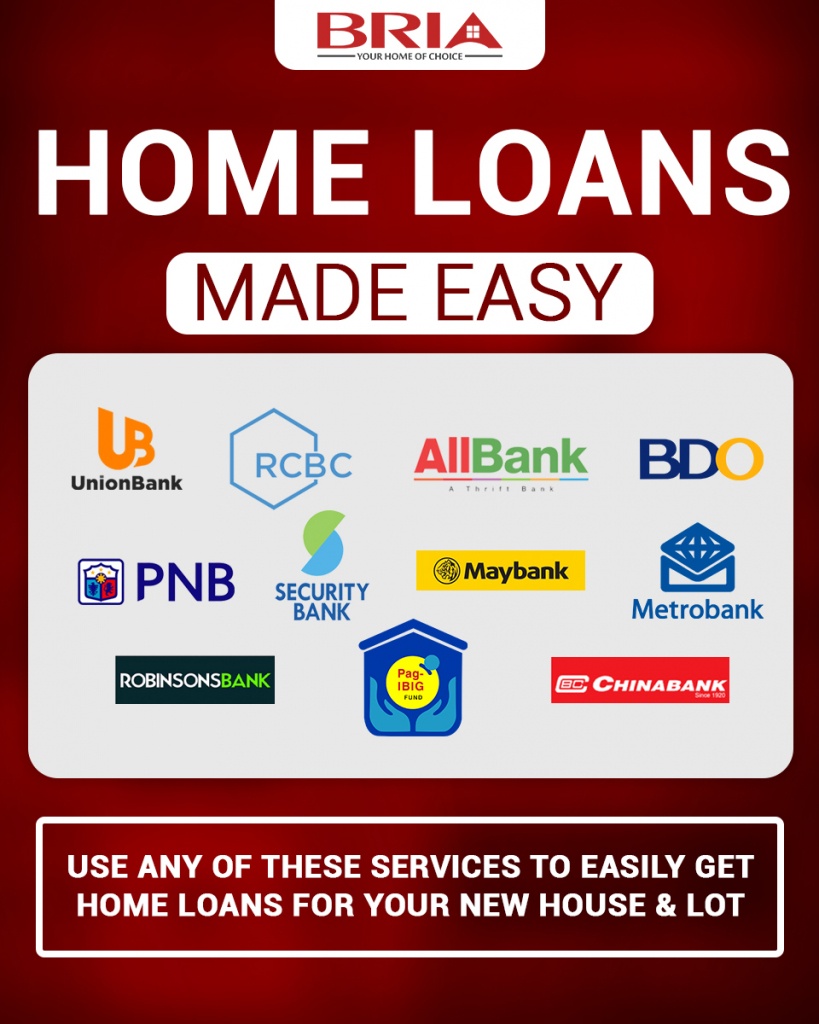 What is a Home Loan?
A home loan simply means a sum of money borrowed from a financial institution or bank to purchase a house and lot.
It consists of an adjustable or predetermined interest rate and payment terms. The borrower, then, has to pay back the amount over a period of time known as the loan tenure.
Types of Home Loan
There are two specific types of home loan—public and private. The public home loan such as the PAG-IBIG housing loan is taken out from a government institution.
Members of PAG-IBIG that have completed at least 24 monthly contributions can apply for an affordable PAG-IBIG housing loan to help fund the purchase of their dream home. PAG-IBIG housing loans are known for their low interest rates and flexible paying terms. Combined with their longer fixing periods and lower processing fees, this is an attractive option for those looking to make a wise investment in a house and lot.
Prospective homeowners can also take out private home loans from several of the country's biggest and most trusted banks. With a great number of banks offering housing loans, the borrower can select one that best suits their needs and current financial situation.
Currently, BRIA Homes house and lotscan be availed using home loans from RCBC, Unionbank, Allbank, BDO, Chinabank, Maybank, UCPB, Robinsons Banks, Security Bank, and PNB. Information on the interest rates and minimum loan amounts for these banks can be accessed on their websites. Most of these banks also have online loan calculators that clients can use to see how much money they can borrow and the monthly payments they'll have to make based on their income.
Whether you choose to take a government or bank home loan, Bria Homes will help you every step of the way. Bria Homes will make sure that you will have a seamless processing of documents in getting your dream house and lot.
"At BRIA Homes, we have always worked towards offering high-quality affordable house and lotsto every Filipino," says Red Rosales, president of BRIA Homes."It is our hope that with the availability of home loans from both PAG-IBIG and a variety of private banks, more Filipinos will have a chance to make wise and informed investments when purchasing the homes of their dreams."
BRIA Homes is a subsidiary of GOLDEN BRIA Holdings, Inc., one of the largest real estate companies in the country. BRIA Homes is primed to bring quality and affordable house and lot packages and condominium units closer to ordinary Filipino families. This is the goal that drives every single employee in the company, for which the ultimate fulfillment is seeing a client happily moving into BRIA's homes.
To know more, visit their website at www.bria.com.ph, like and follow "Bria Homes, Inc." on Facebook, Twitter, Instagram, YouTube, Pinterest, Spotify, Viber Community, Telegram Channel, Kakao Talk, LINE and WhatsApp, or call 0939-887-9637.