The term "textiles" refers to objects that are constructed using woven fabrics or cloth, but the term "home textiles" refers to woven fabrics and cloths that are only used for the purpose of decorating a home.
Towels for the bathroom and the kitchen, table linens, shower curtains, and complete bathroom sets are some examples of the kind of items that are typically grouped together under the umbrella term "linens."
As was mentioned before, home textiles are made up of woven fabrics and clothes that are only used for the purpose of decorating a home. When developing a new product, careful deliberation is put into the choice of its components, paying attention to how well they satisfy both the aesthetic and functional needs of the product.
One of the most common uses of home textiles is for floor coverings, which can be purchased in an extremely diverse range of designs and multiple patterns due to their versatility.
Importance of textile in interior design
Textiles play an important part in interior design because of its capacity to assist set a mood or pull together a variety of components to create an exceedingly polished effect. Some textile designers focus specifically on the development of textiles for use within residential or commercial interiors.
It is expected of interior designers to have a comprehensive knowledge of textiles, including an awareness of the most recent fashion trends, acceptable safety regulations, and long-term durability.
The fabrics that are utilized in the construction of our homes have the dual purpose of providing insulation against the heat and the cold. The creation of the pieces of furniture on which we sit and sleep involves the utilization of a great variety of distinct types of textile products.
Textiles include, but are not limited to, carpets, rugs, floor coverings, curtains, cushion covers, napkins, towels and toweling fabric, bedspreads, furnishing fabric and upholstery, table linen, bed linen, sheets and pillowcases, blankets, shower curtains, aprons, and wallpapers. Home textiles are a rather significant part of technical textiles.
Why do you need to choose the right fabric?
The style, the feel, and the overall quality of your garments are all determined by the fabric you choose to use, making it one of the most significant aspects of clothing design or garment specially your pillows, dress and for you accessories of your home.
It is vital to choose the appropriate fabric for your apparel in order to guarantee that the outfits you create are comfortable, long-lasting, and environmentally friendly.
In the same vein as your home, it is essential to be knowledgeable about the appropriate fabric to use in your home in order to get a decent, quality and timeless design for your home.
2 types of fabric
Upholstering furniture, in contrast to other types of upholstery, is comparable to performing significant surgery on furniture. When it comes to furniture materials, one mistake can cause significant damage to the piece of furniture, which we may have to live with for years. Curtains and table mats, on the other hand, can be easily replaced.
Before covering a piece of furniture in upholstery, it is essential to check that the construction is sound, that the corner bracing are firmly attached, and that the general structure is sound.
The next category is fabric drape, and there is an abundant selection of these. The process of styling and decorating a much-loved piece of furniture, such as a chair or sofa, can be rather intimidating at times.
As a result, it is essential to acquire the knowledge and comprehension necessary to know and comprehend what natural and synthetic materials are, as well as how we might go about selecting them for our furniture.
Natural Fabric
The fibers that make up a natural cloth come from either plants or animals specially from wool. Because they are breathable, they are an excellent choice for individuals who have sensitive skin or who suffer from allergies.
Cotton fiber is resilient and soft, and it is also easy to clean and absorbent. Cotton, on the other hand, is prone to wrinkling and fading. It is also quite prone to stains, and you will need to protect the fabric in order to lessen the appearance of flaws. It cannot be applied to chairs that are exposed to a significant amount of sunlight.
Although it does not fade rapidly, linen is prone to picking up stains and developing creases. Mold can grow on linen, making it an unhygienic material to use in environments with a high relative humidity.
Leather is a durable material that is simple to clean and tough at first, but it eventually breaks in and becomes more pliable. It is also offered in a wide variety of finishes and grades, each of which possesses its own unique level of sturdiness and durability.
Silk is a luxury fabric that is glossy, silky, and has a natural sheen. It is tough and long-lasting, but it is also pricey and susceptible to damage from the sun.
Read Also: 5 Ways to Take Care of Your Leather Sofas
Synthetic fabrics
The transformation of chemicals into strands of fiber is the process by which synthetic fabric is produced. It is sturdier and more resistant to fading and wear and tear than a natural fiber, and it is also stronger than a natural fiber.
Acrylic fiber is hardy, can withstand the damaging effects of the sun, and dries out quite rapidly. Because of its durability, it is suitable for use as seating in the open air.
Nylon is a durable material that does not wrinkle easily and is resistant to stains; yet, it fades quickly and can be stretch the fabric.
When combined with microfiber, polyester, which on its own is relatively frail, becomes very resistant to stains, wrinkles, sunshine, and scratches. It continues to work for a very long period.
It is essential to have a clear understanding of the function, lifespan, and environment of the furniture prior to making a decision on either of these fabrics. The materials that are used to upholster chairs can be selected in accordance with the style of chair that will be upholstered.
3 Important considerations when choosing a fabric
The following are the three most important considerations to make when selecting a fabric: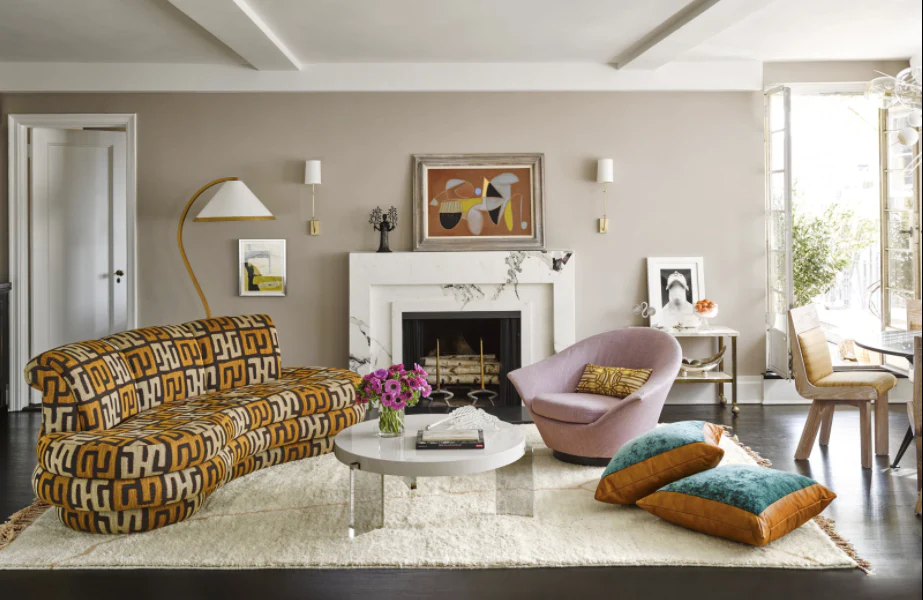 Durability of Fabric
If the chair is going to get a lot of use, as it's going to be in the main living space, the upholstery should be made out of a durable material. Both nylon and polyester are excellent choices, particularly when one takes into consideration the presence of youngsters and animals.
Read Also: Most Durable Furniture Fabrics
Different Colors and Designs
It's best to choose colors and pattern that go with the rest of the room's design rather than ones that compete with it. The depth of the room is enhanced by the use of a range of materials with textures finishes.
Materials that are woven and decorated give off the impression that they are warm, whereas materials that are neutral in color palette and clean and crisp give off the impression that they are fresh. It is possible for printed fabrics to lose their color over time.
Fade Resistance Of Fabrics
Natural textiles degrade quickly. As a result of this, they can only be used inside, and even then only in the more coolly ventilated parts of the house. It is absolutely necessary for the fabrics used in outdoor furniture to be resistant to fading.