Many more young Filipinos today think that investing on a house and lot is for established individuals, those with high income or good careers, only. But this is not true. Even young individuals, like you, who are only starting their careers can invest on a home. Through Bria Homes, more and more young individuals are starting to invest in house and lots.
Bria Homes is the fastest growing mass housing developer in the Philippines. It caters to ordinary Filipinos who dreams of having high quality and affordable homes.  It has buyers as young as 18 years old because its main goal is to provide homes for Filipinos from different walks of life.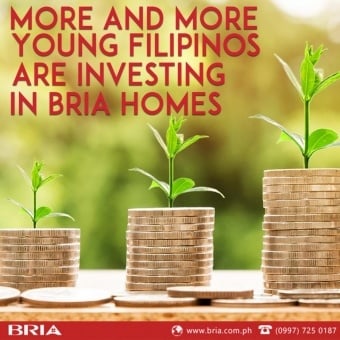 Here are some reasons why young Filipinos invest on a Bria Home:
1)Affordability
Filipinos, as young as 18 years old, who are only starting their careers can easily avail a Bria Home because of its affordability. This means that one does not have to allot a whole lot of money just to buy one of man's basic needs – a home. And with the help of financing institutions such as banks and PAG-IBIG, this has made it easier for young individuals.
For as low as P 1,897* per month, one can already attain their dream homes. The best thing about this is despite its affordability, Bria's homes are durable and high quality.
2)Pleasant Communities
Young Filipinos opt to buy a Bria Home because of its pleasant communities. All home models – Elena, Bettina, and Alecza have beautiful and modern designs. Aside from this, the community itself is filled with trees, producing a calming and relaxing atmosphere.
State of the art facilities that many young individuals tend to hangout in and need, such as parks and wifi zones, can also be found here. This way, they can entertain themselves for hours on end.
3)Proximity to Places of Interest
Bria Homes' proximity to places of interest is also one of the main reasons why young Filipinos opt to choose Bria Homes. It is near churches, schools, hospitals, major roads/ highways, and commercial establishments. As a result of this, travel time can be reduced and a more convenient lifestyle can be achieved.
4)Fast Construction Time
Young Filipinos are assured by the fact that they can live in their own homes as fast as a year. For them, it is already a great achievement to be able to live in a house they own as early as now. Owning their own home at a young age is already a great source of fulfillment for them.
5)Good Service
Because of Bria's enthusiastic, attentive, and good natured staff, many young Filipinos are becoming interested in Bria Homes. All of them are trained to courteously respond to the buyers' inquiries.
Aside from this, since most of the staff are young themselves, they can easily provide the needs of the current generation. They are innovative in terms of what young homebuyers need.
6)An Investment for the Future
Young Filipinos who buy a Bria Home consider it as an investment for the future. They experience a great sense of relief to be able to think that they already established a home at such a young age. It also gives them a sense of security for themselves and their family.
Surely with all these great reasons, more young Filipinos should be willing to invest and now is the time to follow the footsteps of these young Bria homeowners. It is time to invest on a home and secure a great future for you and your family.
For more information about Bria, LIKE "Bria Homes Inc Official" on Facebook and FOLLOW "@TheBriaOfficial" on Instagram.