A home is a place where your comfort and safety are. Although you're in your safe place, there are circumstances when you cannot avoid unfortunate incidents or accidents. There are various accidents that might happen within your household like tumbling down the stairs and bathroom slips which commonly happen to elderly people. The most common accidents here in the Philippines are fire incidents. Know the importance of having a fire extinguisher at home through this article.
Read Also: Fire Prevention Month 2022
Fire Incidents in the Philippines
According to a report written by Caliwan (2022), the number of fire incidents that happened in the first two months of the year 2022 rose by almost 13 percent as compared last year (2021). For more information on the Statistics of fire incidents here in the Philippines, you can visit this page.
Fire incidents are one of the most devastating and destructive incidents that can happen to a household. Imagine losing your house, your property, your belongings, and even your loved ones in just one snap. It can happen so fast that you'll start to panic, you cannot think clearly, and you do not know what to prioritize during the incident because you are unprepared and you did not anticipate it to happen. It is important to educate yourself on the things you should do before, during, and after a fire. It is always better to be prepared and come up with a plan than to end up regretting it, right? That is why it is important to implement a fire plan in your household and educate your family members. Educate your family by telling them what to do and who to call during an incident. It is vital for them to know what to do next instead of panicking because panicking will cause more injuries or damage. Imagine if you're in a fire incident and you do not know what to do. It will be chaotic. So, preparedness is very vital. It is also essential to have a fire extinguisher at home. It may be just a small item but it is one of the most important things in having a safety plan for your own household. You might not need it now, but maybe, just maybe, you'll need it in the future and it can save lives, it can save your own life. Owning a fire extinguisher isn't enough. Fire extinguishers are not for displays only, it has a major function for safety housekeeping. You should know how to use it and what kind of fire extinguisher should be used.
Read Also: Electrical Fire Safety Tips for Your Home
What are the different classes of household fire extinguishers?
To understand the importance of having a fire extinguisher, especially at home, know the different types of fire extinguishers first. There are only three primary classes of household fire extinguishers and these are designed to put out different kinds of fires.
1. Class A
Class A fire extinguishers are used for fires that are caused by ordinary combustibles such as wood and paper. It can be placed in your room or home office. Especially when you love to work on your paper works with scented candles on your desk because it helps you think and it relaxes your mind. It will also give you peace of mind while working with a fire extinguisher placed below your desk.
2. Class B
Class B fire extinguishers are suitable for fires caused by flammable liquids like grease, gasoline, and oil. These extinguishers can be placed in your kitchen where flammable liquids especially gasoline and cooking oils are located. A fire extinguisher in the kitchen is a must because fire that starts from flammable liquids such as oil and gasoline is very common here in the Philippines. You should store it in your kitchen far away from the stove but make sure it is visible and reachable. It is advisable to place it near your kitchen door. It is the best place to place your fire extinguisher.
3. Class C
Class C fire extinguishers can only be used on electrically energized fires. Electrically energized fires are caused by overcharging your devices, damage in your power cords, or faulty wirings. This type of extinguisher is really recommended because most of us are currently working online because of the pandemic. You need an electrical unit to use online devices such as computers, laptops, mobile phones, and many more.
You should keep in mind that every floor of your home should have a fire extinguisher. So that you can easily access it wherever you are in your house when a fire happens. You might think that it will ruin the aesthetic interiors of your home but you should always prioritize the safety of your household. The size of the fire extinguisher also plays an important role. It is important to buy the right size of the fire extinguisher for your home. For household purposes, it is advisable to have small fire extinguishers because the bigger ones are too heavy to carry. Remember that not all people are In these cases, you should move fast and owning a big fire extinguisher might cause more troubles for you.
How to use a fire extinguisher properly?
Now that we already know the different classifications of household fire extinguishers. It is important to have the knowledge on how to use it because fire extinguishers are not only there to be displayed in your household, it should serve its purpose. Its purpose to put out the fire.
We were taught that during an earthquake we should always remember the drill which is to duck, cover, and hold. When using a fire extinguisher, you should also keep in mind the word PASS. Here is an infographic made by SafeWise for you to clearly understand and know how to use a fire extinguisher.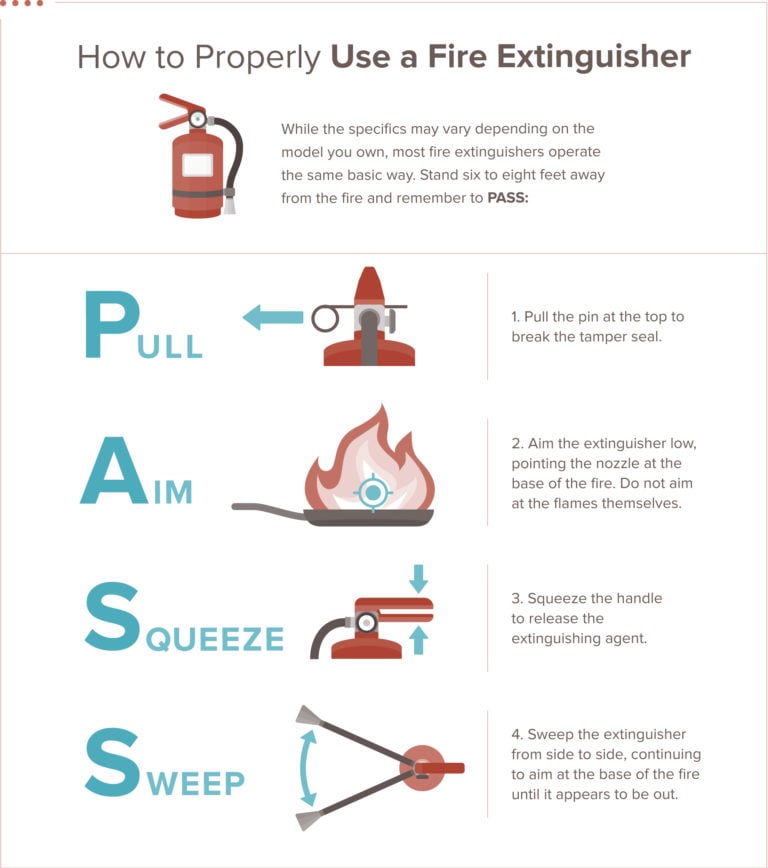 These preventive measures are not complicated, right? It's simple but we should not neglect it. Do not wait for it to happen and live with regrets for not being prepared. Every household should implement a plan to avoid injuries and damages. We can never predict accidents. We have to accept the fact that no matter how careful we are, there will be unfortunate times that might cause accidents or fire in our household. We can never avoid it and it happens out of the blue. Fortunately, there are ways for us to prevent it. The only thing we can do is to be prepared, stay alert, make decisive actions, and follow preventive safety measures all the time because it does not only minimize the damage but it can save lives. Especially the lives of your family.
Better to have a fire extinguisher at home in times of fire incidents. Your mind will always be in peace when you're ready and prepared. There is no need to panic when you know what to do, right? Keep your household safe by being aware and also spreading awareness. Prioritize your family and your own safety. It is what matters the most.
For more information, you can visit their website for the emergency hotlines here in the Philippines.
Written by Janine Diones