BRIA Homes, one of the country's leading housing developers, is set to participate in the National Real Estate Association (NREA)'s 26th National Convention, a virtual event that the alliance will hold jointly with the Department of Human Settlements and Urban Development (DHSUD) on June 16 and 17, 2022.
According to MA. Ysolde Flores Prado, NREA Secretary-General and overall convention chairperson, the NREA-DHSUD's 26th National Convention online is part of a series of on-ground and online activities that the NREA has mapped out for its members and other industry stakeholders.
Bearing the buoyant theme "Real Estate: Roaring Into 2022 and Beyond," the convention will hold virtual consultations on real estate concerns and seek solutions to housing issues.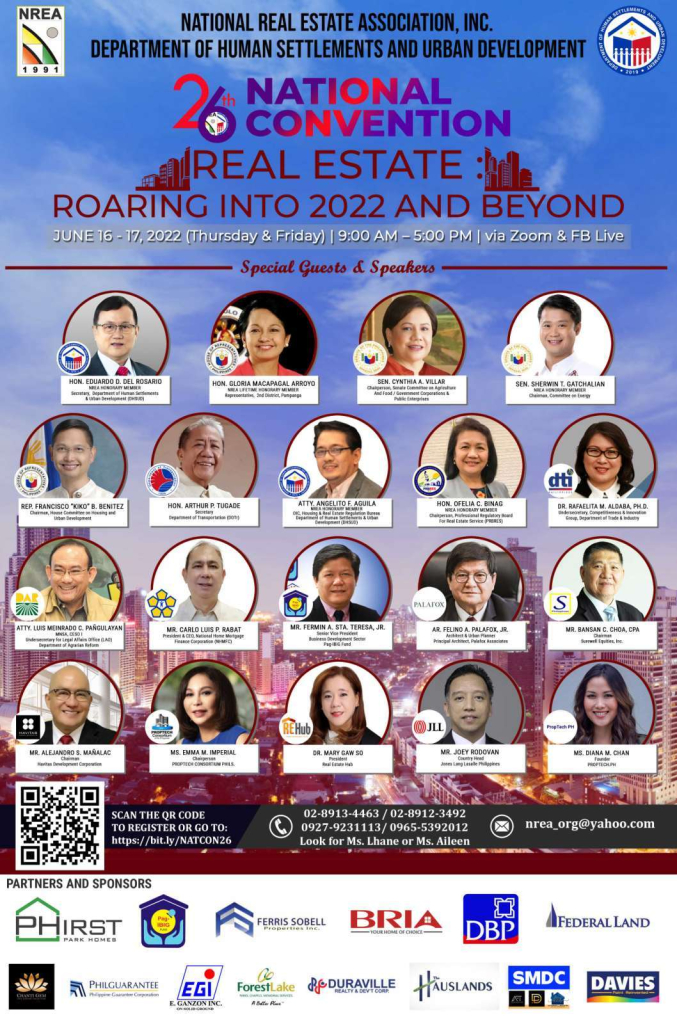 During the convention, stakeholders will present forecasts and the outlook of real estate in forthcoming years, and a proposed roadmap on addressing the housing backlog in the country. Participants will gain a deeper perspective on the real estate market—how it works, how it affects prices, the demand and supply of residential and commercial developments, the impact of government laws in the real estate industry, and a general picture of what the future holds for the national housing industry.
Apart from well-known personalities in the Philippine real estate industry and government, the National Convention online expects the attendance of a multitude of real estate practitioners who will receive Continuing Professional Development (CPD) credits that are necessary or the renewal of their licenses or accreditation in the case of brokers, consultants, appraisers and sales persons.
Likewise joining this centerpiece event are the country's trusted real estate developers such as BRIA Homes, which, as one of NREA's convention sponsors and partners, is also participating in NREA's trade exhibits on July 1 to 3. With the economy well on its way to post-pandemic recovery, BRIA is seizing the opportunity to reach out to a vast market of aspiring Filipino homeowners at the on-ground activity—including casual walk-ins and passersby—and offer them its viable housing options in fifty-plus residential projects nationwide.
Viable Housing Options for Filipinos
In these exhibits, potential homebuyers can check out BRIA Homes' superior-quality, well-designed house models and state-of-the-art amenities. Through this endeavor, NREA and BRIA Homes hope to encourage Filipinos to pursue their dream of homeownership because it is within their reach—financing institutions and trusted real estate developers will make it happen for them.
BRIA Homes Division Head Eduardo Aguilar says, "BRIA Homes is excited to be a part of NREA's National Convention and upcoming real estate activities, because we know these initiatives bring us closer to providing viable homes for every Filipino family."
Meantime, interested homeowners can check out BRIA house models via virtual tours in the BRIA website. Prospective homeowners can also inquire via the official BRIA Facebook page, or reserve a BRIA home online through this link.
Source: