The new normal of learning – homeschooling. But what exactly is homeschooling and what is its difference in the traditional learning and distant learning that we Filipinos currently have?
Bria Homes listed 10 Homeschooling Providers in the Philippines that you can utilize within the Bria Homes Community.
Georgia Academy
Homeschool Global
CFA Homeschool
Kairos Homeschool Academy
Living Learning Homeschool
Chosen Homeschool
The Learning Place
Peniel Integrated Christian Academy
B.U.I.L.D. Up Christian School
Child's Home Educational Center
Based on an article entitled "Homeschooling vs. Online School: What's the Difference?", it explained that there is one major difference between these two forms of learning – the teacher.
In online schooling or also known as virtual learning, the online teachers are the ones teaching or managing the students from a distance within a designed school course or program. While in homeschooling, your parents or relatives are your instructors. They tailor-fit the curriculum based on the needs of their homeschooled children (their kids).
It is quite confusing at times; many people are using these terms interchangeably. One of the similarities between homeschooling and online schooling is that both forms of learning allow the students to study outside the walls of public schools and/or private schools. You have the freedom to get formal education anywhere such as at the coffee shops or in this case, due to the pandemic, we all must stay at home and study.
10 Homeschooling Providers in the Philippines:
1. Georgia Academy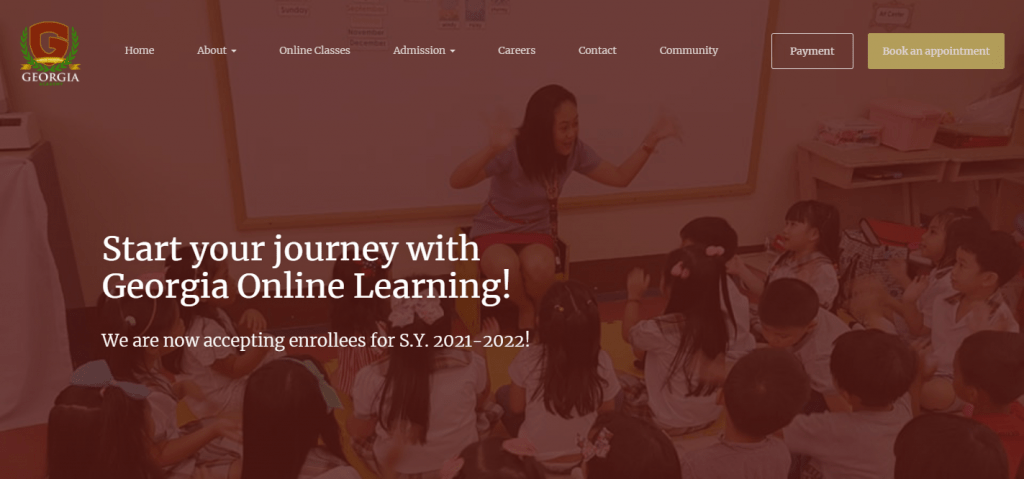 This homeschooling provider envisions its institution to be the leading provider of quality and integrated education while preparing the children to be future leaders of our society. At Georgia Academy, they make sure that young children participate actively in all aspects of learning – academics, arts, athletics, communication, and leadership.
Georgia Academy has three branches located strategically within the community in Iloilo, Antipolo, and Cagayan de Oro.
It was first established in Georgia Academy Iloilo in January 2008, offering curriculum in Pre-school, Grade School, and Senior High School with 400 active students enjoying homeschooling advantage. A year after, Georgia Academy Antipolo was established.
And in 2014, Georgia Academy brought homeschooling in Cagayan de Oro, Mindanao. They offer programs from Kindergarten to Junior High School.
Georgia Academy CDO is just a 24-minute car ride from Bria Homes Gran Europa via CDO- Airport – Bukidnon Road and Masterson Avenue. Bria Homes Gran Europa is strategically located near the schools, banks, Limketkai Center, Cogon Public Market, hospitals, and police station. It is the first master-planned housing development community in Cagayan de Oro City, Misamis Oriental. It has the amenities of a Basketball Court, Multi-purpose Hall, Playground, and Mini gardens.
Meanwhile, Georgia Academy Antipolo is a 30-45 minute drive from Bria Home La Hacienda in Teresa, Rizal. Therefore, visiting the school to learn more about their programs and culture will be a lot easier if you are living within the community.
2. Homeschool Global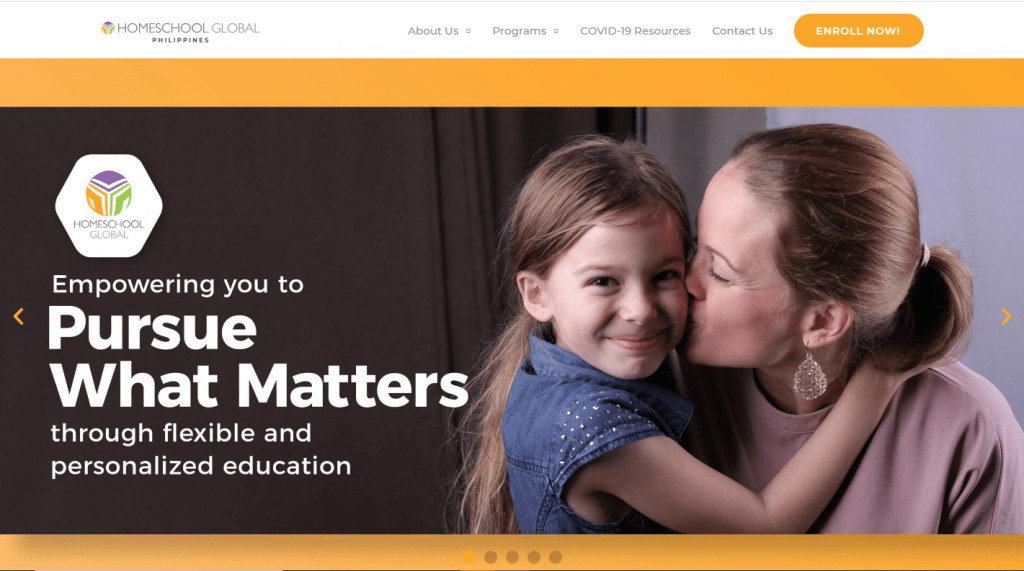 This homeschooling provider was established by Deonna Tan – chi, with a vision of transforming countless families through the word of Jesus and giving children holistic education through homeschooling.
For 22 years and as a pioneer of the Home Education Program (HEP), Home-school Global allows the family to pursue flexible and personalized programs through world-class, parent-led, home-based Christian education.
Home-school Global also partnered with US-based home-school provider Wellspring. This is beneficial for kids who are gifted with sports talents like swimming, basketball, volleyball, karate. This will be a great opportunity for the kids to pursue sports scholarships in the United States accredited colleges.
Home-school Global is also known in the Middle East – Saudi Arabia, Dubai, Abu Dhabi, and Qatar. There were over 18,000 students from pre-school to high school levels across 30 countries that we're satisfied with the homeschooling set-up.
Homeschool Global has five curricula to choose from that are program-specific. These were Touch, Tech- BJU, Tech-AOP, Online Academy, and Shine. These programs were designed to achieve the full potential learning of your children.
Some popular personalities were students at Home-school Global like Cheska Kramer's kids Kendra, Scarlett, and Gavin
The Philippine Regional Office of Homeschool Global is located at 2/F Ayala Malls, The 30th, Meralco Avenue, Pasig City. An 8- minute drive away from Bria Homes Head Office in Starmall, Mandaluyong City.
To learn more about Homeschool Global, click on their website.
3. CFA Homeschool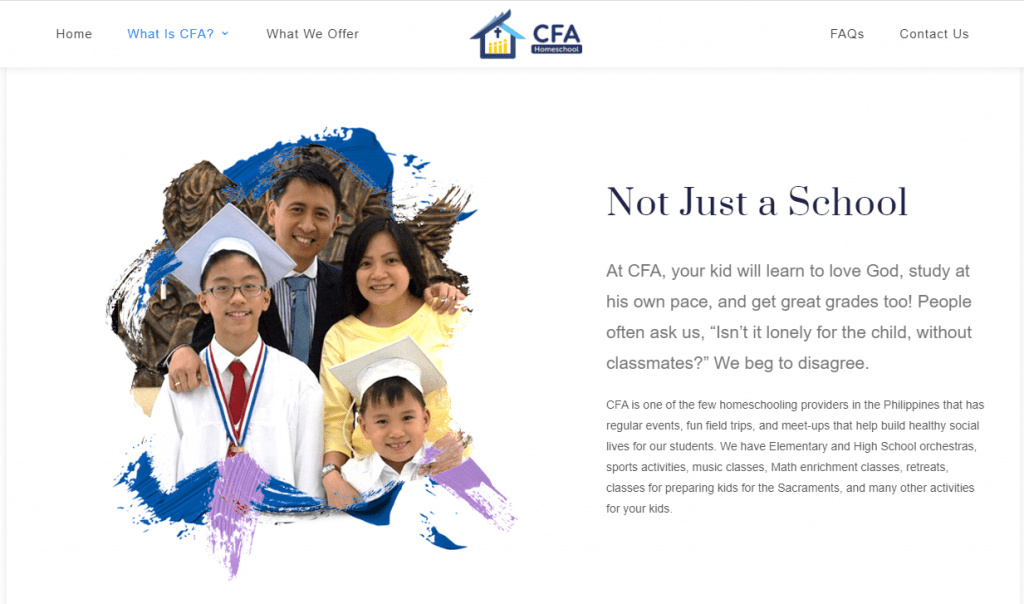 Catholic Filipino Academy Home-school or CFA is one of the home-school providers in the Philippines. It was founded by Bo Sanchez, a well-known motivational speaker, and best-selling author of the Feast Books in 2005. He discovered the benefits
Catholic Filipino Academy Home-school or CFA is one of the home-school providers in the Philippines. It was founded by Bo Sanchez, a well-known motivational speaker, and best-selling author of the Feast Books in 2005. He discovered the benefits and blessings of homeschooling his kids, Benedict and Francis. He learned that the children should grow up in an environment that is purpose-driven, passion-oriented, and best of all God-loving.
CFA envisions itself as a God-centered school. It prides itself that it not just a school but a family. Homeschooled students study at their own pace and get great grades too.
On this website, Eleanor Manalo shared that CFA has a warm environment, and the school admins and parent coaches were very supportive. "One could feel being part of a family", she said in the Filipino Home-schooler.
CFA offers a curriculum for preschool, elementary, and high school with programs in orchestras, sports, music classes, retreats, and enrichment classes.
The main office of CFA is at 41 Lantana Street, Cubao Quezon City. It's a 26-minute car ride from Bria Homes's main office in Shaw Boulevard, Mandaluyong via EDSA.
To help you assess if homeschooling is perfect for you and your child's education, attend the CFA Discovery class or visit their Facebook page here to get to know more about their program.
4. Kairos Homeschool Academy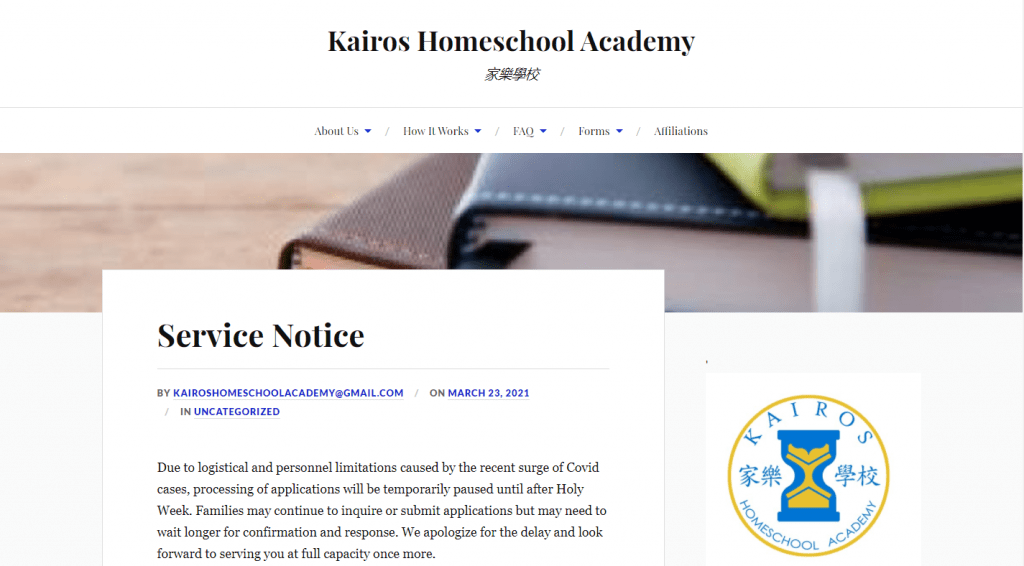 Another homeschooling provider in the Philippines can be found in Malabon City. Kairos Homeschool Academy, (KHA) is a non-profit educational organization that envisions serving the Christian Filipino-Chinese community.
Kairos is a Greek word meaning "the opportune moment" in the language of the New Testament. KHA believed that children were handed over to us to love, care for, teach, and train. They value Christian Faith, Love for Learning, and Commitment to Excellence. It is important in Kairos that the children develop personal relationships with Jesus as well as cultivate their passion to pursue learning and growth in all aspects of life.
They pride themselves as the students of KHA practice English, Fujianese, or Mandarin. Their curriculum is a hybrid approach to learning. Once enrolled in their program, students get to enjoy access to the 400-title children's library. They offer programs for nursery, kindergarten, and elementary. They have academic and non-academic subjects that the students can enjoy.
The main office of Kairos Homeschooling Academy is Room 201, United Evangelical Church of Malabon, 45 Governor Pascual Avenue, Potrero, Malabon City 1475. It is an hour's drive from Bria Homes Office in Mandaluyong City via EDSA.
To get to know more about their program, you may check on their website here or their Facebook page here.
5. Living Learning Homeschool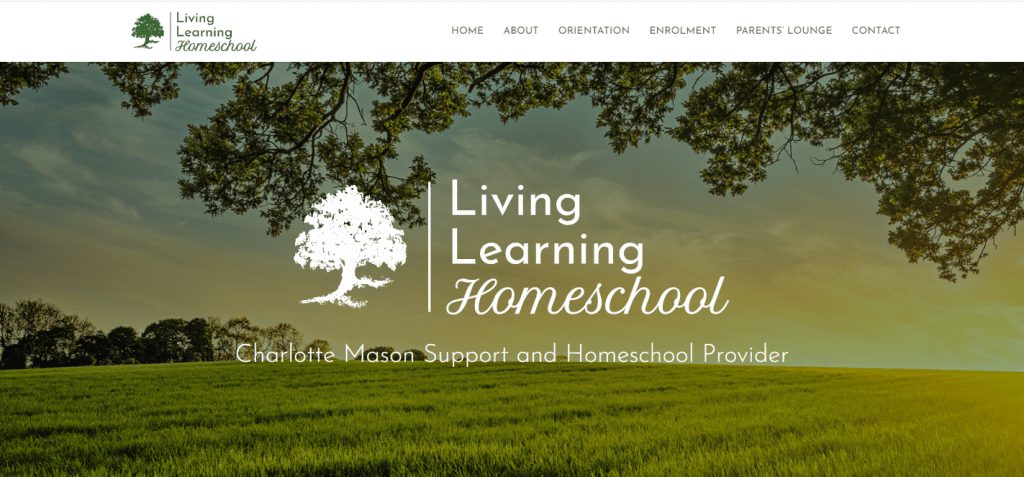 "What is an idea? A living thing of the mind… we say of an idea that it strikes us, impresses us, seizes us, takes possession of us, rules us… To excite this 'appetency toward something' – toward things lovely, honest and of good report, is the earliest and most important ministry of the educator." – Charlotte Mason
Living Learning Homeschool (LLH) finds inspiration through Charlotte Mason, who was an extraordinary woman in the 19th century and founded a lot of schools in England.
They follow Charlotte Mason's principles and teachings. These are the following:
A way of Life – The mission is to provide Atmosphere, Discipline, and Life to children to achieve the Fullness of Life.
A Liberal Education- Children were exposed to rich education, learning humanities, arithmetic, history, science, and reading.
Living Books – Are books that were written in conversational and literary language that contains living ideas from the great minds like Shakespeare, Aristotle, and Van Gogh.
Narration – it is adapting and retelling stories after the children read or listen to them. The kids were asked to write or tell in their own words what they understood from the excerpt or passage. These principles hone the children's self-expression and help the kids to use their minds and form their judgment.
Short Lessons – In this principle, it is encouraged to have short lessons so children can give all their attention to each lesson. Helping the children to focus and excel with each task.
The Great Outdoors – Nature and the outdoors are the greatest teachers. It cultivates the senses and motor skills of each child. It develops attention and observation.
Humanities – Children were exposed to great musicians, composers, artists and develop creativity.
Christian Worldview – it was believed by the Living Learning Homeschool that children need to understand that there is no separation between intellect and spiritual life. The Divine Spirit is their helper in all the duties and joys in life.
Living Learning Homeschool's objective is to prepare and assist families who want to homeschool their children. LLH is committed to giving the holistic approach of education to your kids.
6. Chosen Homeschool / Casa Del Libro, Inc.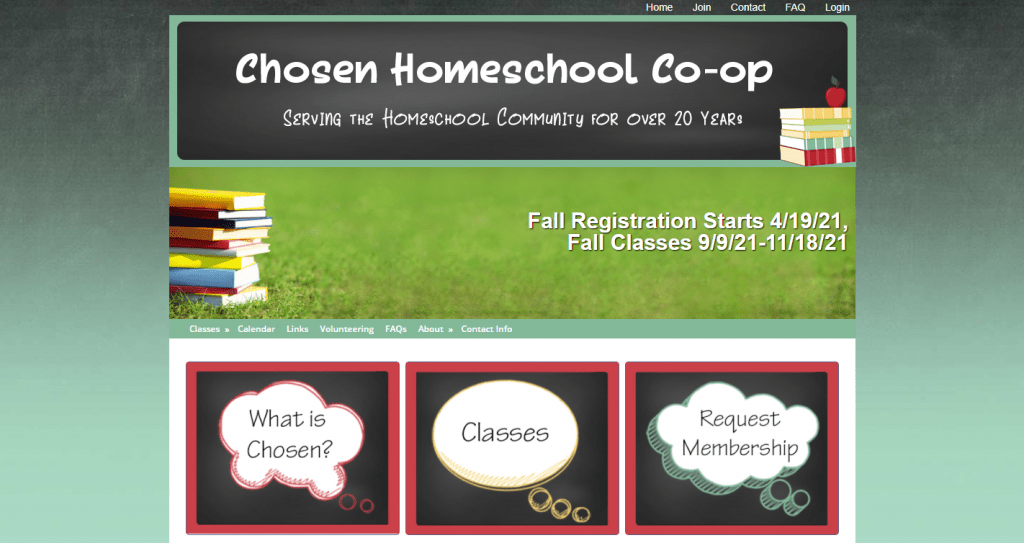 One of the homeschool providers in the Philippines can be found in Binan, Laguna. Chosen Homeschool is a home education provider under the Ministry of Chosen for Life Change Inc. and is partnered with Casa Del Libro, Inc.
Casa del Libro Inc., advocates intentional parenting, social concerns, the importance of character foundation, and academic brilliance. They have several programs designed for homeschooled kids with different learning styles.
They have three curricula: MELC DepEd Curriculum and Independent Curriculum, Online Distance Learning and Digi Module and they are accepting pre-school, kinder, and grades 1-6 students.
To learn more about the programs of Chosen Homeschool/ Casa Del Libro Inc, visit their Facebook page here.
7. The Learning Place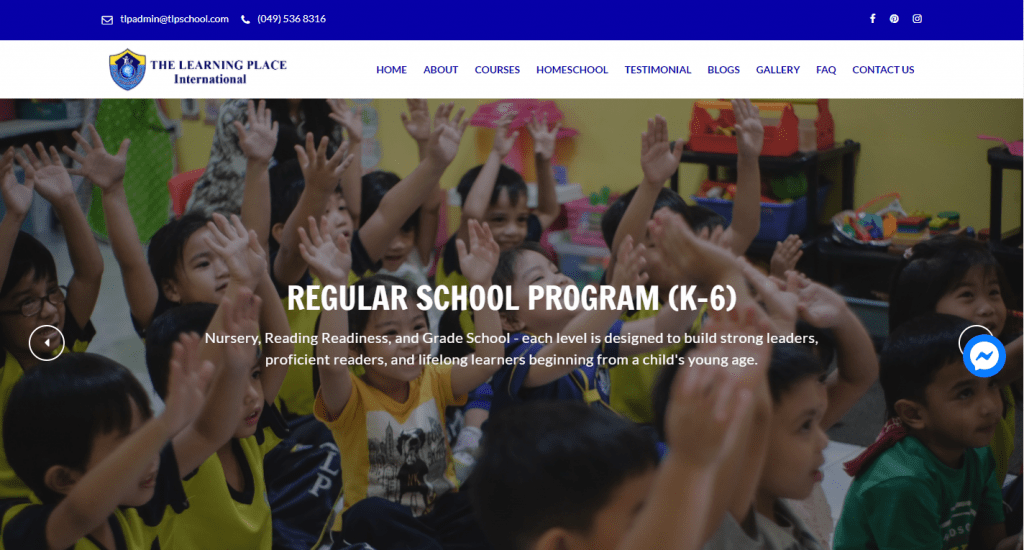 Another homeschool provider in Laguna is The Learning Place. Their school is located at Jose R. Velasco Ave, Los Banos Laguna. They were also located internationally, one branch in Vietnam and the other one is in Abu Dhabi.
The Learning Place is DepEd accredited home education and distance learning services provider that believes in giving children flexible and significant education through unique context and needs. The children need to learn socialization and academic excellence outside a public or private school.
They think that learning is fun, challenging, and exciting every day.
Want to learn more about their programs, you may visit their website here.
8. Peniel Integrated Christian Academy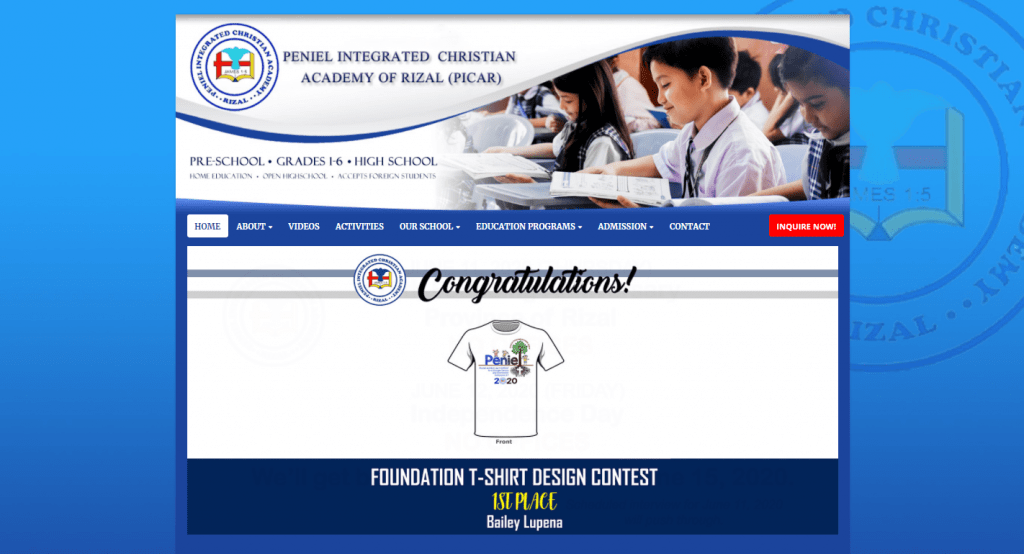 Peniel is a word derived from the Bible which means "Face of God" or its literal meaning is "he who strives with God' or "God strives"
"For I have seen God face to face, and my life is preserved." – Genesis 32:30
Peniel Integrated Christian Academy of Rizal (PICAR) was founded in 1996 under the membership of the Association of Christian Educators of the Philippines (ASCEP).
The vision of PICAR was to instill character-building lessons into children's ordinary studies by integrating Bible-context in their academic curriculum.
PICAR offers three education programs: Regular School, Home Education, and Open High School.
Home Education is managed by their parents guided by the PICAR teachers. Parents have the freedom to create schedules and teach their children according to the curriculum. The goal is to strengthen the bonding between parents and their children.
Regular Education is the traditional form of educating children guided by the teachers inside the brick-and-mortar classroom. They were accepting pre-school, elementary, and junior high school levels.
Open High School Program (OHSP) is another program of PICAR that serves as an alternative mode of education that uses distance learning. This program is open for high school students. It has eight core subjects: English, Maths, Science, Filipino, Araling Panlipunan and Music, Arts and Physical Education. This form of the program can be modular, internet-based, blended technology that will prepare children to attend college.
To learn more about the programs of PICAR, please visit their website here.
9. B.U.I.L.D Up Christian School
Another home school education provider is B.U.I.L.D Up Christian School Inc. located in Sta. Rosa Laguna. It accepts students from kindergarten and Grades 1- 6.
B.U.I.L.D Up Christian School believes that each child is unique and special. That they have specific growth patterns, interests and strengths, and learning styles. Children are always supported and valued making God's teachings the foundation of a child's behavior.
Visit B.U.I.L.D Up Christian School Facebook page here to know more about their programs.
10. Child Home Educational Center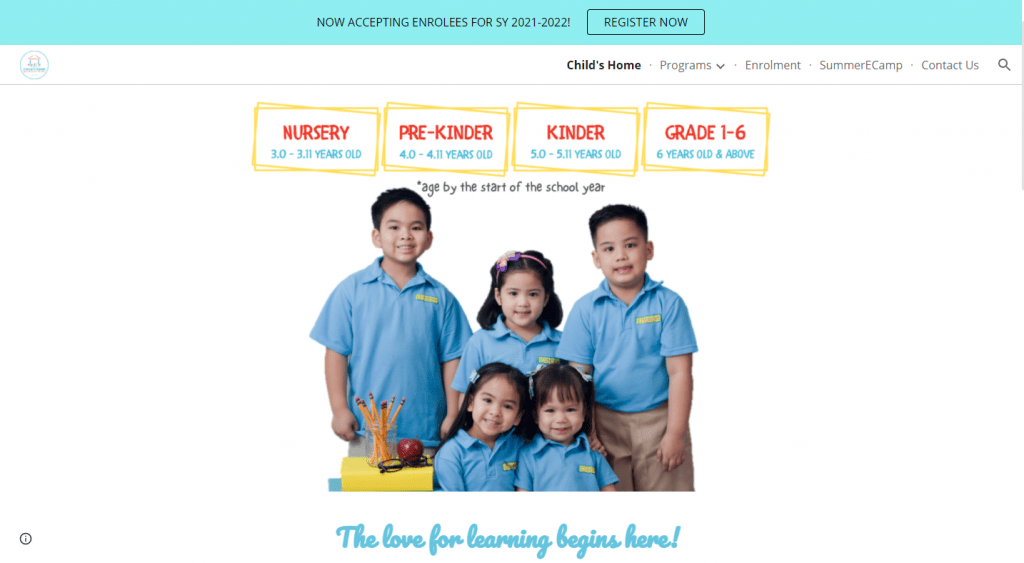 The vision of Child Home Educational Center is to develop children's positive attitudes toward homeschooling and life. The goal is to make the kids happy and well-adjusted.
The mission of Child Home Educational Center is to provide excellent child-centered experiences while enhancing all aspects of life's physical, mental, spiritual, emotional, and social development. Creating a safe space for children to explore, discover, build, create, imagine, learn, and play.
They are offering programs for pre-school, kindergarten, and grades 1-6.
Learn from Home Program is tailor-fitted for parents who are transitioning to homeschooling. Teachers guide the parents in teaching their children. Parents administer the teaching of the program and follow their style of teaching and schedule.
Child Home Educational Center is located at 876 Tropical Avenue, BF International, 1702, Las Pinas. If you want to explore more on their curriculum, you may check on their Facebook here.
Takeaway
In building a community, it is best to support one another as neighbors. Providing recommendations to one another will be a lot easier – for review, consideration, and decision making.
Adapting to a new normal of learning will be one of the most challenging decisions for both parents who are working, thus assessment is very important.
Homeschooling has benefits. Parents can control what the child is learning. They are also in charge of how much time to spend in one lesson, and parents influence the child's desire for learning.
BRIA Homes is a subsidiary of GOLDEN MV Holdings, Inc., .one of the largest real estate companies in the country. BRIA Homes is primed to bring quality and affordable house and lot packages and condominium units closer to ordinary Filipino families. This is the goal that drives every single employee in the company, for which the ultimate fulfillment is seeing a client happily moving into BRIA's homes.
To know more, visit their website at www.bria.com.ph, like and follow "Bria Homes, Inc." on Facebook, Twitter, Instagram, YouTube, Pinterest, Spotify, Viber Community, Telegram Channel, Kakao Talk, LINE and WhatsApp, or call 0939-887-9637.