Roofs, as we all know, safeguard our homes by protecting us from extreme weather and other existential forces. You may not be aware of it, but there are other materials that can do that. Cladding is another building item that offers this benefit. Get to know more about cladding and cladding options for your home by comparing its available materials like wood and PVC.
Exterior claddings for your home
Exterior cladding is one of the primary materials used by property developers and construction professionals to keep a building safe from various weather conditions. Imagine it as roofing for walls. Aside from that, there are an increasing number of cladding options available to improve a building's aesthetic appeal. With so many kinds of exterior cladding, such as wood cladding, PVC wood panels, to select from, you must first consider your needs before deciding on the best option. Aside from the added extra layer of protection, cladding has several advantages, which will be discussed further below. And continue reading to learn how to narrow down your options!
What exactly is cladding?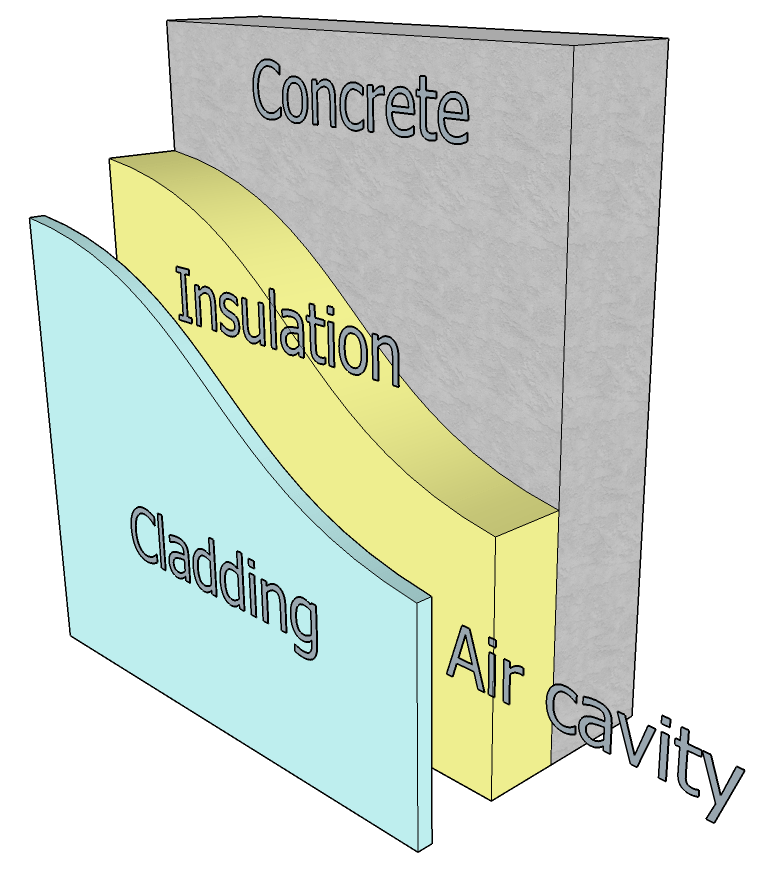 Cladding is defined as a material or skin attached or applied to a structural element or to the exterior of the walls of your house to create a waterproof outer shell. Cladding is the appearance given to the interiors, walls, floors, or facades.
Cladding is part of architecture not only in terms of aesthetics, but also in terms of structure because it conceals and protects the structure itself, isolating, delimiting, and defining structural elements. Secondary functions can include sound insulation, thermal insulation, and fire resistance. The cladding you choose has a significant impact on the environmental performance, price, visual value, and property value of your house and lot.
Purposes of cladding for your home
1. Cladding enhances the appearance of structures.
An exterior building's cladding serves as more than just a barrier of protection. With the right design and construction system, it is possible to add a remarkable, even iconic architectural element to a structure, and even a simple wall can look magnificent when cladding is applied. Cladding is available in a variety of colors, finishes, and designs, allowing you to create a look that is unique to your property.
2. Cladding protects against fire.
Depending on the material used, cladding not only offers protection from a variety of elements but is also fire-resistant, protecting you in the event that a nearby building catches fire. It actually increases the mechanical strength of any building.
3. Cladding acts as thermal insulation.
In comparison to non-clad structures, buildings that use cladding are much more resilient to cracks brought on by changes in temperature or climate, water absorption, sunlight, and all types of pollution. Home insulation is especially important in a country like the Philippines to avoid extreme heat caused by the sun.
3. Cladding increases the energy efficiency of your home.
Energy efficiency is provided by the insulation. With cladding, you'll be able to make the best use of cooling appliances and equipment like air conditioning.
4. Cladding is inexpensive.
Clad exterior walls save money because they need less maintenance and upkeep.
In short, cladding systems provide the following:
Wind and impact loads are transferred to the structural framework.
Keep the structures safe from outside factors (rain, wind)
Create an impenetrable building envelope with thermal insulation to stabilize the inside environment.
Provide protection and privacy while preventing sound transmission
Control the fire from spreading
Allow for sunlight, ventilation, and access.
Types of exterior cladding
Wood cladding
It is popular because it is energy efficient and provides good insulation. It also gives a building's exterior an exquisite yet noticeable appeal, making it a widely known option for those who value aesthetics. The wooden cladding has a timeless, classic look that will never go out of style thanks to its inherent aesthetic appeal. It is also environmentally friendly because the material is biodegradable and recyclable. It is not, however, fire-resistant.
Stone cladding
The elegance of stone cladding stems from its natural appearance. It's also a popular choice for those looking for sturdiness, as it lasts a long time with very little maintenance. It provides the necessary weather protection for your home.
UPVC – UPVC, or Unplasticized Poly Vinyl Compound cladding
UPVC is perfect for buildings in any setting because it is resistant to weather, fire, and corrosion. Because of its UV stabilizer, it also provides protection from harsh sunlight. It's popular with property owners because it is nearly maintenance-free, requiring only occasional washing. It is also inexpensive.
Metal cladding
Due to its availability and variety of designs, metal cladding is one of the materials used in buildings the most. Additionally, if you want your property to look attractive, it's a great option because of its glossy finish, which adds elegance to any property. Metal cladding is renowned for its durability and strength in addition to its creative designs. Strong weather conditions can be withstood depending on the type of metal used.
Glass cladding
Due to the fact that glass is light and sturdy enough for cladding, it is primarily used for offices and residential buildings. It is also inexpensive and simple to install.
4 Important features of a cladding system that you should look for
High-performance cladding support must be effective in terms of deflection, irrigation, drying, and longevity:
1. Deflection
The ability of an exterior building's cladding to thwart rain that hits the external wall surface is referred to as deflection. Water deflection can be helped by designers using overhangs and gutters.
2. Drainage
Irrigation refers to the ability to build cladding materials to allow water that is trapped behind the exterior to drain. Architects and builders can deal with this by installing a water-resistant shield over the drywall and an irrigation gap between the drywall and the cladding.
3. Drying
Drying describes a cladding system's permeability, or its capacity to permit ventilation inside the system to promote drying. According to building codes, exterior cladding must be vapor-permeable so that condensation or moisture can escape as a vapor when heated by the sun. Allowing airflow and additional drying by including open space at the top and the bottom of the wall cladding.
4. Longevity
The ability of a cladding system and its individual parts to withstand continuous and repeated exposure to UV rays, temperature increases and shrinkage, and wetting-and-drying cycles is referred to as durability. Sturdy cladding systems will aid in the prevention of leaks and the protection of the building envelope.
Which kind of cladding is right for you? Wood cladding or PVC wood panels?
The primary concern of those looking to clad their home is the material to be used. As a result, you should speak with your roofing manufacturer about your options. Consider its advantages as well as the material that is compatible with your surroundings.
PVC panels
Polyvinyl chloride (PVC) is a plastic exterior layer that closely resembles the shape and cut of real wood and is used to replicate logs, roofs, wood paneling, or board & banister.
It can be used for both ceilings and walls. Because of their resistance to moisture and mold inside a building, they are frequently used in bathrooms and kitchens, but they can also be used outside. You can improve the appearance of a building while adding an additional layer of protection from various weather conditions thanks to its wide variety of aesthetically pleasing designs available. It is low maintenance compared to other types of cladding because no finishing is required. Aside from that, construction professionals prefer PVC because it is simple to install. To fit, the panels can be split into various sizes. Finally, the panels are compact but strong, making them portable.
What advantages does PVC wood panel have?
When it comes to installing walls and ceilings, PVC panels are among the best options. With a variety of visually appealing styles to select from, this material is appropriate for a wide range of projects. Designers understand that there are few materials that combine waterproofing, sturdiness, great visual appeal, fire resistance, minimal maintenance, quick and easy installation, and budget-friendliness. And all of these characteristics can be found in PVC wood panels. The pros are:
1. Large-scale Use
PVC panels can be used on both interior and exterior walls and ceilings. They're the go-to product for general construction because of how versatile they are. Offices, lodging facilities, medical facilities, dining establishments, halls and corridors, showrooms, lobbies, conference spaces, and all significant rooms in a house are all covered. The options are limitless. They can be bought in lengths and developed to bend and adjust accordingly depending on the plan because they are flexible. PVC panels with UV resistance can be used for building exteriors.
2. Swift installation
You can transport PVC Panels to the site with ease because they are lightweight and durable. In contrast to other materials, you don't have to be concerned about making a messy and dusty installation environment. When the task is completed, the area is ready for use. There is no need for additional finishing such as paint, topcoat, or polish. Another factor that speeds up the installation of PVC panels is that they cover a substantial surface area. Because the material can be ordered in custom lengths or plywood dimensions, it can be installed in locations with unusual measurements.
3. Aesthetic Value
PVC wall panels can add visual impact to your project. When it comes to aesthetic cladding, this material has evolved into one of the most sought-after options. Secondary ceilings and suspended ceilings are two examples. PVC Panels are available in an infinite number of designs and patterns. This is due to the design being made of a laminated film material on the panel.
4. Water Resistance, Fire Resistance, and Longevity
PVC panels are lightweight as well, but they have outstanding mechanical durability and strength. When you purchase PVC panels, you can be confident that they will not warp or bend over time.
5. Affordable
One of the most important factors to consider during construction, design, and renovation is the cost of materials. In this regard, PVC panels outperform other building materials. The material is competitively priced, but the benefits of PVC contribute to making it a worthwhile investment as well.
It is because PVC panels are less expensive overall than having other materials installed because they are also simple to install and maintain. Because the material has a long life expectancy and is highly durable, there is little need for replacements. They are cost-effective in the long term as a one-time investment. PVC panels are suitable for institutional, commercial, and housing projects.
Wood cladding
Wood cladding is a versatile process that entails coating the interior and exterior of any structure or property with a layer of quality material that provides thermal comfort and protection from harsh environmental conditions. This exterior surface frequently affects how elements hit or land on a surface as well.
What advantages does wood cladding have?
Wood is an extremely versatile building material. The primary advantage of wood cladding is that it is made from a renewable resource. There are several methods for expanding "green" exterior wood cladding options. Scorched wood siding is a traditional Japanese method that entails slightly burning the wood and curing it with natural oils. This technique not only provides a beautiful finish but also provides protection for the wood from weather and bugs without the use of any synthetic chemicals or pesticides.
Another method for increasing sturdiness and weather resistance without using chemicals is high-temperature thermal modification. This type of wood is durable and resilient to moisture, insect pests, and mold, and it can be used on almost any type of wood
Where there are various cladding styles, it is always necessary to select the one that will provide you with satisfaction. A house's appearance is undoubtedly important, but you should always consider its effectiveness, especially in light of the various factors. To cut down on repair costs and provide long-lasting protection for your home, keeping the material you've chosen in good physical condition should also be high on your priority list. It is also a smart move to consult with professional cladding contractors who can provide you with high-quality, cost-effective materials that are appropriate for your environment.
Read more: 7 Basic Factors that Affect the Cost and Usage of Construction Materials
As a result, if you are considering investing in an affordable house and lot, Bria Homes is one of the Philippines' newest leading real estate developers. It provides a variety of house and lot models, as well as condominiums, all of which are reasonably priced and of high quality. You may browse their latest offers from the BRIA Homes website.