Summer has arrived, and with it comes the opportunity to participate in numerous water sports in the Philippines. This tropical archipelago nation is a popular location for vacationers looking for adventure and water activities. With over 7,000 islands and kilometers of pristine sandy beaches and natural wonders, the Philippines is a delight for anyone wishing to try their hand at surfing, scuba diving, or kayaking.
This post will take a look at some of the greatest water sports you can try this summer in the Philippines. There is something for everyone in this lovely country, whether you are an experienced water sports enthusiast or a beginner wishing to dip your toes in the sea. We will look at some of the most fascinating water sports destinations in the Philippines, highlighting the ideal times to visit and offering advice on how to make the most of your water sports trip in the Philippines.
From the crystal-clear seas of Palawan to the challenging waves of Siargao, the Philippines offers a bucket list of water sports adventures that are sure to delight and excite. So grab your sunscreen, strap on your gear, and prepare to delve into the world of water sports in the Philippines this summer.
Best Places For Watersports Activities In The Philippines
Here are some of the best destinations for water sports activities you can try in the Philippines:
1. Boracay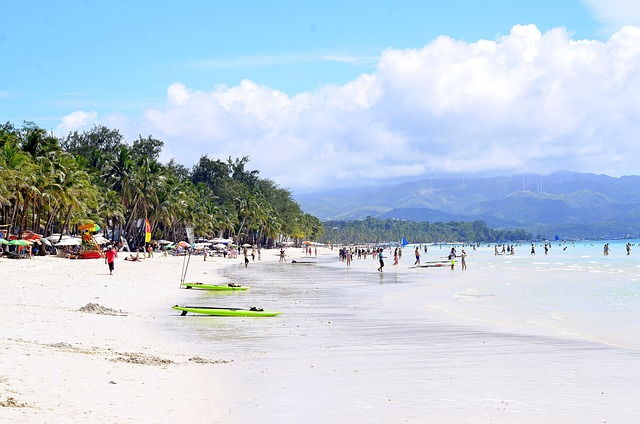 Boracay Island, located in the province of Western Visayas in the Philippines, is famous for its stunning white sand beaches and turquoise waters. It's also a popular location for watersports lovers from all over the world who come from all over the world to enjoy the thrill and excitement of the island's water sports activities.
Take a closer look at the water sports you may participate in when visiting Boracay Island.
1. Windsurfing
If you want to experience an adrenaline rush, windsurfing is the water sport for you. Boracay's high winds and quiet waters make it an ideal windsurfing location. Beginners can learn to surf with professional teachers, while advanced surfers can take on the island's fierce winds.
2. Banana Boat Riding
A fun and thrilling activity for families and groups of friends, the banana boat ride You will be scuba on a long, banana-shaped inflatable raft that will be dragged around the island's waterways by a speedboat. The ride can be bumpy, but it's a terrific opportunity to take in the magnificent views of the island while having fun with your loved ones.
3. Fly Fish Ride
For the most daring, the fly fishing ride is a thrilling pastime that will have your heart pounding. You will be seated on a huge, inflatable, wing-shaped raft being towed at high speeds by a speedboat. The journey is turbulent, and the raft might occasionally jump off the water, making it an exciting experience for adrenaline enthusiasts.
4. Parasailing
Parasailing is a must-try activity for those looking for a bird's-eye view of the island. You'll be strapped into a parachute and dragged by a speedboat far over the island's beautiful waters. The experience is both thrilling and relaxing, with breathtaking views of the island and its surroundings.
5. Scuba diving
Boracay Scuba diving is an exciting, amazing, and thrilling experience. There will be a large variety of marine species to witness, including colorful fish, sea turtles, moray eels, and even sharks, and other sea creatures. Warm and clean water with visibility ranging from 15 to 30 meters. Certified scuba dive instructors will accompany you and assure your safety as you explore and enjoy scuba diving spots.
Siargao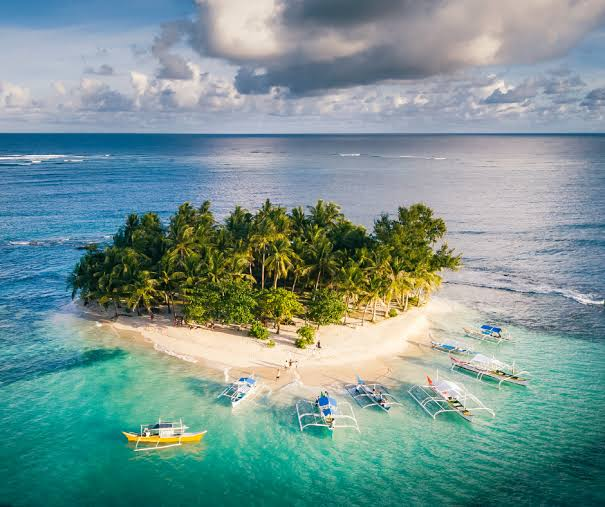 Siargao is a small island in the Philippine province of Surigao del Norte. Siargao, known as the "Surfing Capital of the Philippines", is home to world-class surf breaks and a variety of other aquatic activities that draw adventure seekers from all over the world. Take a closer look at Siargao and some of the watersports activities available on this gorgeous island.
Surfing
The popular watersports in Siargao are unquestionably surfing. The island is home to several world-class surf breaks, notably Cloud 9, which is noted for its exquisite barreling waves. Siargao provides a wave for everyone, whether you're a beginner or an expert surfer. There are numerous schools and camps on the island that offer instruction and equipment rental to people who wish to learn to surf or improve their skills.
Transparent Kayak
Siargao is a popular surfing location, but it also offers transparent kayaking experiences through its mangrove woods and lagoons. Sugba Lagoon is the most popular site in Siargao for transparent kayaking.
Island Hopping
Siargao is surrounded by dozens of small islands and islets, each with its distinct personality. Island hopping or boat tours is a popular pastime in Siargao that allows people to discover the natural beauty of the islands. Swim in pristine waters, snorkel over coral reefs, and unwind on white-sand beaches. Naked Island, Daku Island, and Guyam Island are among the most popular islands to visit.
El Nido, Palawan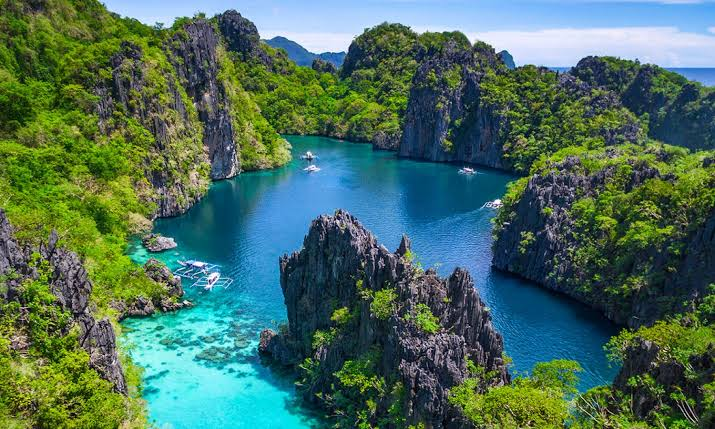 El Nido is a stunningly picturesque municipality on the northernmost tip of the Philippine island of Palawan. This location is known for its pristine white sand beach, towering limestone cliffs, and crystal-clear waters, and has become a popular destination for watersports enthusiasts from all over the world. Let's look at some of the aquatic activities available in this location.
1. Stand-up Paddleboarding (SUP)
Stand-up Paddleboarding (SUP) is a relatively new activity in El Nido, but it has grown in popularity among visitors in recent years. Standing on a board and paddling with a paddle, SUP allows you to experience El Nido's tranquil waters and mangrove trees. It's a wonderful workout that also allows you to take in the town's beautiful environment.
2. Kayaking
Another excellent method to discover El Nido's hidden lagoons and beaches. Kayaking is a low-impact and exciting ride activity that allows you to take your time exploring the town's lovely environment. You may hire a kayak and paddle across the town's gorgeous Bacuit Bay, where you can get up close and personal with the towering limestone, and distinctive rock formations.
3. Scuba Diving
El Nido's gorgeous seas and abundant marine life make it a scuba diving paradise. Over 30 dive sites are located throughout the town, each offering a distinct diving experience. Divers and snorkelers can explore the town's famous coral reefs, swim with groups of fish, and discover hidden shipwrecks. El Nido provides scuba diving sites to fit any level of experience, whether you're a beginner or an experienced diver.
Baler Aurora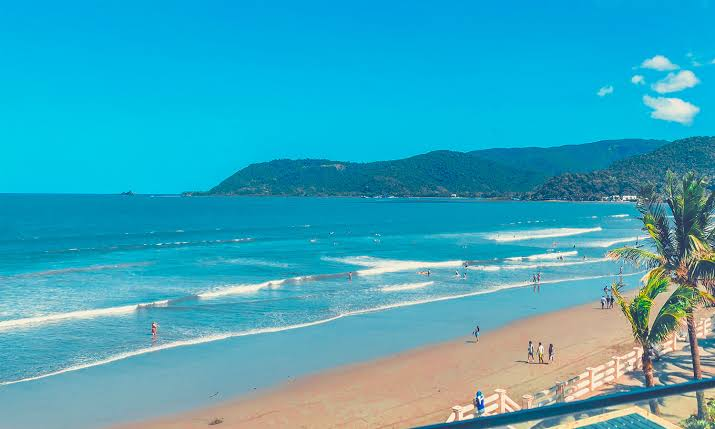 Baler is a small town located in the province of Aurora, Philippines. It is famous for its stunning beaches, high mountains, and world-class surf. Let's look at some of the water sports available in Baler.
1. Skim boarding
In Baler, skimboarding is one of the popular aquatic activities. Skimboarding is a board sport in which you ride a small board through shallow water. Baler's beaches, with their mild waves, are ideal for skimboarding, especially for beginners. Sabang Beach is the most popular skimboarding destination in Baler; however, other locations offer excellent skimboarding conditions.
2. Snorkeling and Diving
Baler is a popular destination not only for surfers and skimboarders but also for snorkeling and diving enthusiasts. Baler has various diving sites with a varied diversity of marine life and underwater landscapes. Cemento Reef, Secret Spot, and Charlie's Point are some of the most popular dive spots in Baler.
3. Jet skiing
An extreme sport that is ideal for thrill seekers and adrenaline junkies. Jet skiing is an exciting and unique way to explore the gorgeous coastline and take in the breathtaking vistas of the Pacific Ocean. Baler's warm tropical waters, with their crystal-clear and calm waters, are ideal for jet skiing. A jet ski can be rented from one of the many water sports providers in the region. They offer high-quality, well-maintained equipment that is ideal for both novice and experienced riders.
In Closing
Engaging in aquatic activities can be a physically demanding and exhausting experience, especially for beginners or those who are not used to the physical exertion required by certain water sports. After a long day of activities, having a comfortable and relaxing place to rest and recharge is essential.
This is where a quality home comes in. BRIA Homes provide a quality house and lot that provides a comfortable and welcoming environment that allows you to unwind and recharge after an exhausting day of water sports activities. A home that is designed with comfort and relaxation in mind that offers a sanctuary where you can escape the noise and stress of the outside world.
Written by Jerico Rosales