The still on-going COVID-19 pandemic definitely caused an uproar in the country with the fast spread of the virus throughout the cities and provinces. This caused increased health and safety protocols as well as quarantine implementations in various areas. The event put a strain on the country's economy; evidently causing businesses to shut down. The lack of contact was a challenge at first, but fortunately, with the help of advanced technology, people have been trying to switch to the online setting. Currently, people have been changing their lifestyle to what they call the 'new normal' wherein adjustments were to be made to adhere to the needed protocols.
Communication is key to forming and maintaining good relationships with other people. Going out to spend time with one's family or friends has now been limited due to the people's need for safety. Workers are now being allowed to go to their respective offices to work, but some are still trying to adjust to the work-from-home setting. Students are still not advised nor allowed to have face-to-face classes, meaning that another school year spent online will be implemented. There are even more different circumstances that each and every person is experiencing as they try to still make a living and continue on with their lives during this time of crisis.
How did COVID-19 change Wedding Celebrations?
Despite the many disadvantages of the current situation, there is one thing that the virus can't stop, and that is love. Many have probably heard of couples getting engaged and eventually getting married all while the pandemic has been happening. The event definitely can't break the bonds and relationships couples have between themselves. Unfortunately, some couples have planned their special day even before the pandemic happened; ultimately causing great distress among them having to adjust to the new laws and implementations of the government for everyone's health and safety. Planning a wedding is not easy because one needs to plan everything ahead of time. Factors such as down payments, reservations, invitations, etc. are included in the list of things needed in preparation for a couple's special day. It's everyone's dream to have a great and memorable wedding day. With that being said, couples now ask themselves if they should downsize their wedding preparations, limit their number of guests, change their venues, reschedule their wedding date, or even ultimately cancel the whole thing. Fortunately, many couples are still getting married even during the COVID-19 pandemic. How different are the Wedding Celebrations now as compared to before?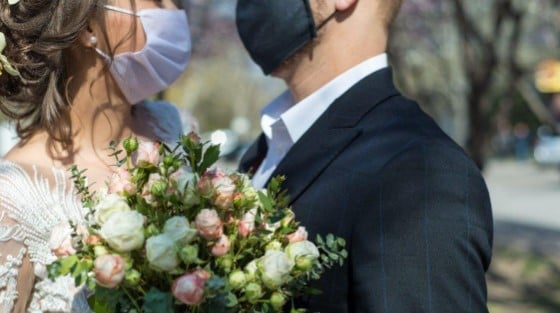 The pandemic had a great effect on the wedding industry. A traditional Filipino wedding consists of numerous guests, huge food buffets, extravagant decorations, and there's even a bonus wherein one gets to meet people they haven't even seen in years. This attributes to the great hospitality and generosity of Filipinos who greatly value familial ties and friendly bonds with their peers. But, the current situation or circumstances have now brought on the 'new normal', introducing a new kind of practicality in the wedding scene. Most weddings are now strictly being held indoors in their own homes for safety, but it's also recommended to hold weddings outdoors where there is open air and natural ventilation since the risk of virus transmission is higher compared to outdoors. Couples now limit the number of guests they invite; sometimes even only allowing their family members to witness the act of matrimony, a blessing of their bond given by God. Couples now have their smiles hidden behind face masks. There are only a few who have held their weddings in churches, but most couples held their weddings in the safety of their homes so as to not jeopardize the people involved in the event. Weddings are now downsized to accommodate the needed health and safety protocols. Who would have thought that one's dream wedding celebration would now become smaller in reality? Nevertheless, the most important thing is that couples are still able to have their special day with each other despite the challenges brought about by the pandemic.
Tips in Planning a Wedding amidst the New Normal
1. Be Organized when Planning a Wedding
It's important to properly plan one's wedding in an orderly manner as many adjustments have to be made. If one has made wedding preparations beforehand, know the rescheduling and cancellation policies needed to be handled before making rearrangements for a new wedding. This also includes checking one's finances and budgeting expenses wisely in relation to the new logistics, decorations, catering, etc. Creating a wedding checklist is highly recommended to know which factors you should prioritize first. Remember that one is not alone in this predicament. It takes two to dance; couples should work closely together and always communicate in order to organize their smaller yet more intimate special day in the new normal.
2. Find your A-Team to help you Plan the Wedding
As much as one's wedding plans or preparations have now been downsized, organizing a wedding definitely is too big for a couple to handle, especially if they are no experts in that aspect. Hiring a team of individuals who have expertise in wedding planning and event hosting would greatly help support the success of one's wedding. This includes finding coordinators for the venue, food, clothes, ceremony proper, etc. Couples are encouraged to work closely with their wedding team to help them still incorporate their wants and needs for their special day in the planning process. Make sure to include health and safety protocols in the planning of the wedding to ensure that no one is put in danger.
3. Don't forget to Invite your Family and Close Friends
One should not forget to invite their family and close friends to their special day to witness the act of matrimony. These are the people who have spent years creating memories with you, therefore, they should be present on your special day. But, of course, for health and safety reasons, the number of guests one should invite should have a limited capacity. It is advisable to invite as few people as possible. Invite those people who are most important to both you and your future spouse. Communication with one's guests should be done constantly especially regarding the health and safety measures they would have to do before attending. Advise everyone to wear face masks before, during, and after the ceremony.
4. Keep the Ceremony Short
Your traditional wedding usually lasts for hours counting from open house to the ceremony proper and eventually to the reception. Everyone wants to spend a lot of time together as they celebrate the union between two lovers in matrimony. Knowing the risks of the COVID-19 virus should inevitably make one want to decrease the length of the event to avoid the risk of exposure to the virus. It's better to be safe than sorry.
5. Maintain Social Distancing
Carefully, plan out how one would carry out the needed parts of the event properly while observing proper physical distancing. For example, during the reception where people would have to sit down together and eat, place markings on specific chairs far apart from each other to indicate where the guests should sit down. Encourage guests to avoid constantly touching each other as well as gathering too long together in areas such as the restrooms, entrances, and exits.
Planning a wedding amidst the new normal is definitely a challenge that various couples are facing today. But, love can never be canceled even by the COVID-19 pandemic. Love continues to grow and flourish. So to those couples who want to tie the knot, but are afraid or confused as to how to start your wedding planning process, these tips will greatly get you a headstart on your special journey.
Bria Homes is a subsidiary of GOLDEN MV Holdings, Inc., one of the largest real estate companies in the country. Bria Homes is primed to bring quality and affordable house and lotpackages and condominium units closer to ordinary Filipino families. This is the goal that drives every single employee in the company, for which the ultimate fulfillment is seeing a client happily moving into Bria's homes.
To know more, visit their website at www.bria.com.ph, like and follow "Bria Homes, Inc." on Facebook, Twitter, Instagram, YouTube, Pinterest, Spotify, Viber Community, Telegram Channel, Kakao Talk, LINE and WhatsApp, or call 0966-277-5944.
Written by Kyra Matela