You know your house needs to be cleaned thoroughly, but you're unsure where to begin. If you remain focused and accomplish activities in a specific order, you can clean your entire house in a single day.
Although it sometimes feels like an uphill struggle, maintaining a clean home doesn't have to be. There are some quick and simple ways to help you organize your house clean (and your life) and ensure that cleaning your home becomes a daily or weekly habit, even though it can feel overwhelming to manage everything on your plate at times. Continue reading to learn all there is to know about maintaining a clean house.
Why is keeping your house clean important?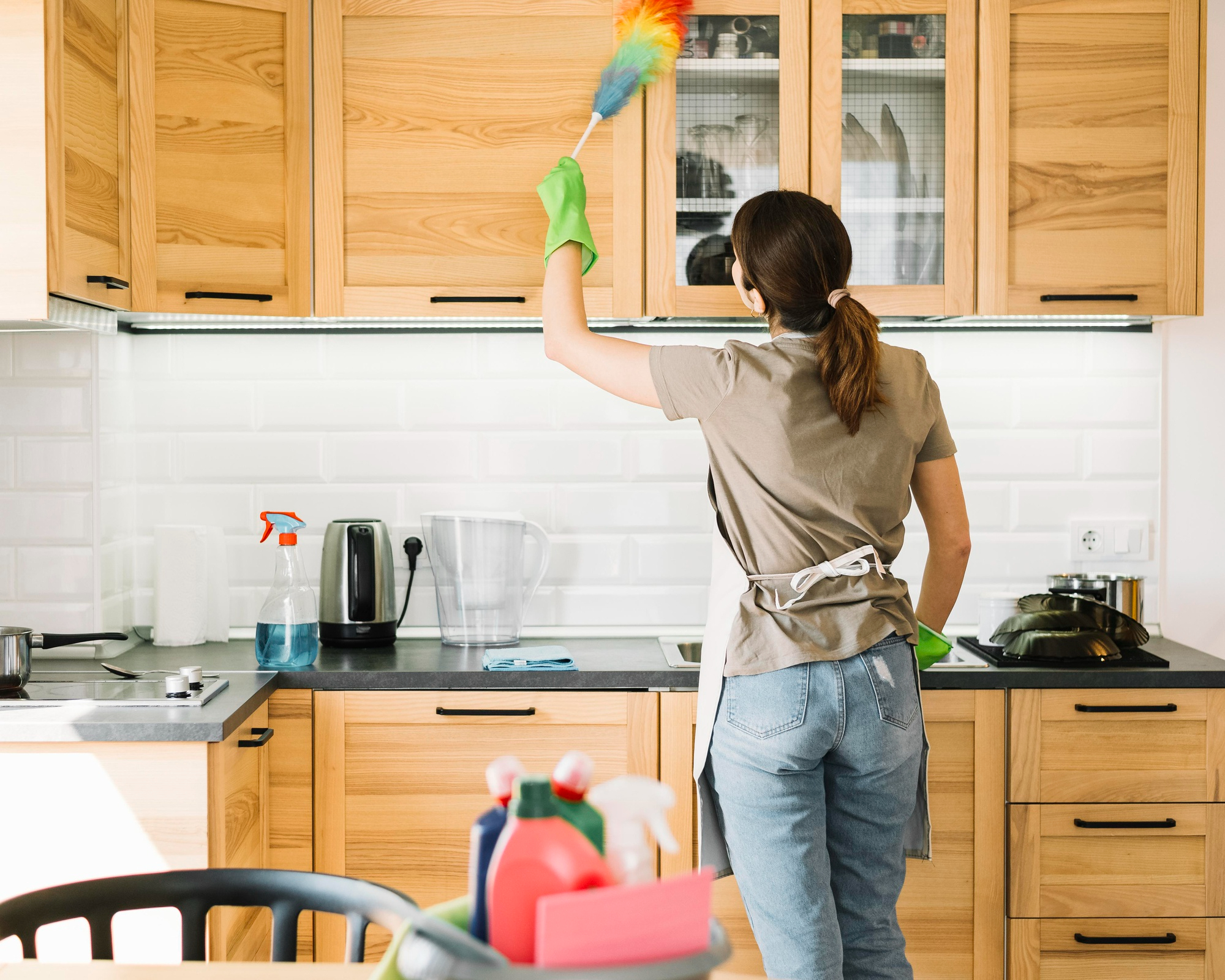 Keep your home tidy and organized to reduce stress, foster a safe space and a peaceful gathering spot for friends and family, as well as to simplify your daily life.
Here are some simple ideas to help you keep your home tidy and organized.
1. After usage, put everything away
Although it may seem obvious, neglecting to put your stuff away is the main contributor to unkemptness. Always return items to their proper locations after use. Otherwise, clutter will start to build up around your home, making cleaning more difficult and time-consuming.
Read Also: The Art of Decluttering: Why it Matters and How to Do It Right
Look around as you pass from one room to another to see if there is anything you can take with you. Make a special effort to ensure that everything you wear, use, or move lands in the proper location or with storage space. It's simple to put off doing the dishes until tomorrow, leaving a pair of shoes by the front door, and leaving a few shirts on your bed. But keep in mind, those minor mistakes can balloon into major ones very soon.
Think about using tension rods and shower curtain hooks for DIY closet organization if you're short on space. Your bedrooms, bathrooms, and hall closets can all benefit from additional space thanks to over-the-door organizers. Use beautiful baskets to contain your smaller possessions, and a mail sorter to classify your paper goods. Keep in mind, too, that putting your stuff away each time will take far less time than scrambling to find them when you need them again.
2. After every meal, clean your kitchen
Cleaning as you go is so easy, it will save you time, and it's an excellent way to stay on top of mess. You will likely adopt the same positive attitude toward other elements of your life if you take responsibility for the spills and dirty dishes after each meal.
So, once you've finished preparing your food and it's either in the oven or on the stove, wash up those peelers, spoons you used for tasting, jugs you used for measuring, and knives you used for chopping and mop sweep your kitchen floor. Then, once your meal is ready, you'll only have to wash up a few things rather than a large pile that might not fit on the drainer.
How to routinely maintain your kitchen spotless:
Always keep the sink empty and put the dishes away!
Clean and sanitize counters
Put your pantry and refrigerator in order.
Mop and sweep the floor.
Dining table
When cleaning appliances made of steel,
Using the 20-minute rule for your cleaning routine in the kitchen can help you stay on track. If you take a few extra minutes to clean up after each meal, you'll never have to deal with a major mess in one of your home's most critical rooms.
3. Maintain a routine for cleaning
Giving each space a thorough cleaning once in a while is one thing, but how can you ensure that your home is clutter-free seven days a week? Consider putting in place a cleaning schedule! While there isn't a single "best" time to clean your home, you can come up with a cleaning strategy that fits your family's particular schedule the best.
How to create a schedule for cleaning your house:
To keep you and your household organized, make a list of key tasks to keep near your workspace, on your desk, or your refrigerator. Along with what has to be done, your cleaning schedule should specify when it needs to be done.
You can maintain your house immaculate all year long if you divide your modest domestic chores into daily, weekly, and even monthly cleaning routines.
1. Bathroom
The bathroom will always experience a range of messes during the week because we use it so frequently each day, from toothpaste dribbles and mirror stains to wet floors and shower grime. It's simpler to tidy up after oneself than to wait a few weeks for a greater mess.
How to routinely maintain your bathroom clean:
Clean the sink.
Clean the bathroom's toilet, tub, and shower with regular cleaning supplies.
Delete any mirror smudges
Clean the floors, paying particular attention to the corners.
Clean any other flat surfaces and dust the shelves
Use paper towels
2. Living Room
The living room frequently sees the most foot activity inside the home. If you're not cautious, it can quickly fill up with a variety of common goods including books, games, bags, dishes, and other stuff that clutter up your home. Once you're through using something, put it back where it belongs so that your living room may stay organized and make a wonderful first impression on guests.
How to routinely keep your living room tidy:
Remove any clutter from the room (books, games, toys).
Fold blankets and throws and fluff cushions.
Mantel, coffee tables, end tables, and trinkets should all be dusted and disinfected.
Floors and couches should be vacuumed, especially if you have dogs.
Wash blankets frequently to keep them clean.
Clean tv screens with microfiber cloths.
3. Bedroom
Storage solutions are the key to keeping bedrooms tidy. Your bedroom will be less cluttered overall and you'll be more inclined to maintain your area neat if you have designated places for all of your clothing and accessories.
You could wish to spend money on storage bins or baskets that fit under your bed if you've observed that you don't appear to have enough room. It is simpler to change your linens while your other set is being washed if you keep a fresh set under your bed.
You can keep your room more organized by choosing the correct nightstand. To lessen visible clutter, keep your books, periodicals, and journals in the drawers rather than on top of the nightstand. Your nightstand might be able to serve as a desk if it is spacious enough.
Ongoing cleaning tips for your bedroom:
Get into bed.
Fold blankets and blankets.
Remove dirty bed sheets
Remove debris from the proper places.
Cleanse and disinfect nightstands, dining room table, and shelves.
Sweep the floor and any area rugs.
Regularly washing your bedding will keep it fresh
4. Weekly vacuuming
Dirt can gather on your carpet and your wooden floors whether you live alone, with friends, pets, or the whole family. Since the floor is not something that springs to mind while thinking about organization, it is simple to miss it. Skin fragments, hair, dust, and dirt from the outside can become a breeding ground for bacteria just because they do not immediately reduce clutter and make your home look dreary and unclean as well.
With a weekly cleaning schedule, you can keep your wooden floors and carpets clean and maintain the luster of your home.
6 Tips for Refreshing Your Home
There is a home renovation trick that you can use to spruce up your house and enhance your mood, whether you have 15 minutes to spare or a full day free.
Here are six great tips for refreshing your home:
1. New and fresh
A clean environment always feels more modern. A home is much more pleasant to live in and relax in when the corners are immaculate and the floors are free of dust.
You need to tidy your room before performing any cleaning, no matter how tiny. It's time to store away out-of-season items like trinkets and clothing, restore items that were accidentally misplaced in equally haphazard catchalls to their proper locations, and get rid of emotional items you haven't utilized in any capacity in more than two years.
You can start cleaning after you've finished that and spent some time rearranging some of the stuff on your shelves and cupboards. While regular quick cleans are simple and may be done for an immediate cure of a specific area in your home, deep cleanings are exhausting to perform but rewarding to observe.
2. Newly painted
A new coat of paint might work wonders if you have some free time and a decent landlord. Paint is inexpensive, simple, and transforming. The appropriate hue may work wonders in achieving the right aesthetic and feel for your space because paint covers a significant portion of what you can see in a room (i.e., the walls). Classic interior design color schemes are neutral, and visually striking maximalist homes benefit from vivid hues.
And a fresh coat of paint doesn't necessarily mean choosing new hues and samples, by sticking with your previous wall color scheme, you can make sure that your existing furniture will complement your new walls. All you're doing is covering up wall flaws and cracks, which can occasionally make a home appear dirty and neglected.
3. A new scent
It's little wonder that aromatherapy is so popular. The appropriate scents have the power to do everything you want them to: they can hide unpleasantness, bring you healing and peace, take you to another world, etc.
The freedom to stay inside has given many people the creative freedom to spruce up their homes in unique ways that appeal to all of their senses. Aromas are fantastic because, when utilized properly, they're creative, intriguing, and, if you gather the essential oils yourself, quite affordable. We suggest lemon, jasmine, and sea breeze as your first three fresh scents.
Furthermore, let's face it: nobody would dislike a room that smells amazing.
4. New foliage
By adding hydrated greenery and freshly cut flora, you are essentially giving a space a new lease on life. Since they emit oxygen, plants are a great addition to a home because they not only appear physically beautiful (due to their evergreen hues) but are also good for your health. They are also credited for contributing to a sense of tranquility in a house by bringing a touch of nature into otherwise sterile rooms.
5. New fabrics
By allowing you to use colors or patterns in both tiny and large doses (such as table runners or floor-length drapes), textiles are a quick and affordable method to alter your home's interior design. In minimalist style spaces, textiles contribute to the visual intrigue. While heavier house textiles might work in more dramatic settings, natural materials like crisp cotton go well with raw wood for that undone feel.
Select linens that seem new and complement your general interior design aesthetic to spruce up your home. This can entail utilizing the same fabric type in a new design, shade, or texture.
In the tropical Philippines, bedding and window coverings made of fresh linen are very popular. If you want lightweight window treatments, use white linen or simple canvas over dark shades and drapes. They prolong sunny days and make spaces more cheerful.
6. New harvest
Due to the pandemic's forced confinement indoors, many people have changed their eating habits so that they now spend much of their time in the convenience of their kitchens and dining areas. Learning how to cook and bake has become trendy again, which has helped people to eat better, more healthful meals at home.
A terrific approach to making cooking easier and eating a lot more enjoyable is by utilizing fresh, high-quality products. Cooking is a breeze when you place the focus on the freshness of the ingredients and their natural flavors. Buying fresh vegetables and making them into fresh salads tend to be cheaper than what you can pick up from your local salad bar, plus you know everything that's going into your meal. You can even elect to plant your herbs and small veggies if you chance to have a green thumb!
Here, we outline the supplies you need to keep your home tidy
Cleaning the house can appear to be a difficult undertaking. Every space calls for a particular cleaning technique, and every surface calls for a different set of cleaning supplies.
1. A Reliable Multipurpose Cleaner
With a damp microfiber cloth and an effective all-purpose cleaner like Domex, you can do the majority of household cleaning tasks. Use on various household surfaces and objects after diluting with water by the product's instructions.
2. A bathroom and toilet cleaner using bleach
To get rid of the most difficult stains on your toilet or bathroom floors, you need a stronger substance that deep cleaning the dirt. When you flush your toilet, the stain will disappear once you apply the toilet bowl cleaning immediately on it.
3. Baking Soda
When attempting to eliminate unpleasant odors and clean surfaces, baking soda is a fantastic solution to employ. It has the benefit of effectively dissolving virtually any dirt. Additionally, it's an excellent cleaning tool for bathrooms and kitchens.
• Combine with warm water to make a solution that may be used to clean the oven and the refrigerator.
• To eliminate scents: Place a small dish of baking soda in your refrigerator to block out any unwelcome odors. To maintain your fridge smelling clean and fresh, swap out this dish once a month.
4. Lime Juice
Baking soda and lemon juice can both be used for a variety of things. The fact that they can remove soap scum and other bothersome alkaline deposits despite being both natural cleaning agents has a distinct advantage. Using equal parts lemon juice and water, you may make a powerful cleaning solution for drain deodorization. Pour the mixture straight down the drain pipe.
5. Leather gloves
It shouldn't take too long to describe this item! When cleaning your home, rubber gloves are a great tool to keep your hands from becoming too messy and to keep you from getting any cleaning products on your skin. Burns from chemicals can be harmful and leave scars that never fade. For cleaning the kitchen and the bathroom, it is preferable to have separate pairs of gloves; consider obtaining them in different colors to prevent mixing them up!
6. Household Cleaner
The materials or cleaning tools used to make floors might be delicate. Floors can occasionally develop white patches from the use of abrasive cleaners. Furthermore, if you have kids, it's not a good idea to use harsh cleansers on your floors because they frequently play with their toys while sitting on the ground. As a result, we advise looking for a floor cleaner that is safe for the material of your floor while yet being able to remove dirt and destroy germs.
Bria Homes
BRIA Homes are the mass homebuilder in the Philippines with the quickest rate of expansion. Housing from Bria Homes is available to Filipinos on a budget but with high-quality construction. Bria places a strong emphasis on developing charming neighborhoods with inexpensive houses and lot bundles where people can live comfortably with their families. Bria Homes are the ideal choice for OFWs and regular Filipino employees who wish to invest in a high-end, well-regarded home that is also fairly priced.
Written by Janine Nato