There is no better spot to go anywhere than the Philippines, with its many megadiverse ecosystems including active volcanoes, underground rivers, coral atolls, and white sand beaches. Now is the ideal moment to arrange activities that will allow you to explore this incredible islands and leave no trace of your footprints as the nation moves toward a more environmentally responsible future.
A growing number of eco-friendly travel locations are being established and supported in the Philippines as we progress toward a more sustainable future. These locations provide not only an opportunity for adventures but also the chance to truly connect with environment and ecosystems, as well as a method to support local communities.
The Philippines is a wonderful place to travel if you're a real adventure fanatic. In the Philippines, you may go diving, going snorkeling, and climbing. The nation is a popular travel destination for thrill seekers due to its wide variety of natural attractions. The top ecotourism spots in the Philippines are listed here for simplicity's sake.
Top 8 Ecotourism Sites in the Philippines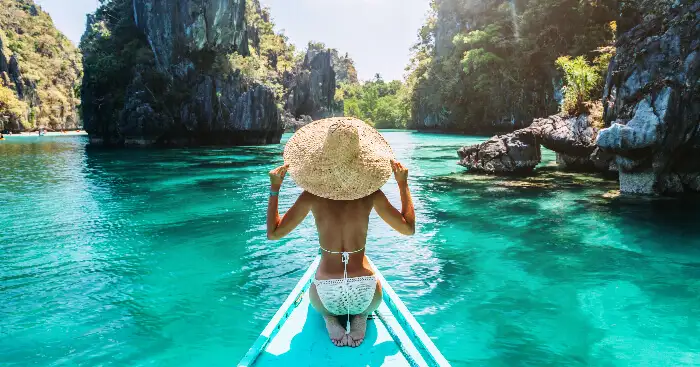 Every single island in the Philippines is endowed with abundant natural beauty, and many of the country's tourist destinations promote peaceful and responsible interaction with the environment. In this section ecotourism adventures range from encountering amazing wildlife to discovering vibrant marine environments. Welcome to the Philippines' unadulterated natural beauty.
When visiting the Philippines, it's important to follow sustainable travel habits in order to protect the splendor of the country's ecosystems. Additionally, by promoting ecotourism in the Philippines, visitors can save the nation's natural wonders and the communities who look after them.
There are many activities available in the Philippines, regardless of your preference for outdoor adventures on land, in the water, or in the air. If you want to know more keep reading:
1. Tubbataha Reefs Natural Park
The archipelago of Palawan is home to the protected Tubbataha Reefs, which are located in the midst of the Sulu Sea.
It is a UNESCO World Heritage Site and one of the world's best diving locations. It has a diverse marine life, including 13 species of whales and dolphins, 600 kinds of aquatic creatures, 300+ species of coral, and 11 species of sharks. There are also green and hawksbill sea turtles in this area.
Only a liveaboard boat is capable of visiting the Tubbataha Reefs national park. It is a favorite with local and international divers.
2. Puerto Princesa Underground River
As it is home to a large variety of birds, fish, bats, and other creatures, the Puerto Princesa Underground River is one of the best ecotourism sites in the Philippines and around the world. One of the nicest places to visit in Palawan is Puerto Princesa, where this natural sanctuary is hidden among the trees in a jungle. It has also been added to the list of the New 7 Wonders of Nature in honor of the region's robust mountain-to-sea ecology and has been designated a UNESCO World Heritage Site.
One of the most magnificent cave systems in the world is traversed by a river on a tour of the Puerto Princesa Underground River. You'll find intriguing limestone formations and bat colonies inside. Groups of birds, animals, and reptiles are still thriving in the forest that abuts the river. There are 15 indigenous bird species among them.
One of the most popular family activities in Puerto Princesa is a river tour, which is open to visitors of all ages. However, only a certain number of visitors are permitted to the river each day, so be sure to reserve your excursion in advance. The majority of excursions to the Puerto Princesa Underground River do not include flights to the Philippines or hotel accommodations, so you will need to book these separately.
This park protects the entire habitat of a subterranean river that flows beneath limestone karst mountains and into the sea; its lower extent is tidal. With a large percentage of its flora and fauna having native or closely connected to those of Borneo, the region possesses among of the healthiest forest floras in Asia. It is also very biodiverse.
3. Masungi Georeserve
The Masungi Georeserve is a popular destination for Filipinos who like to venture forth. It is a rock garden and conservation area that can be found in the Baras, Rizal, rainforest. Its name derives from "masungki" or "spiked," which alludes to the local limestone features.
Visitors have a variety of adventure opportunities to pick from. The Adventure Trail, which has winding routes, rope courses, and other interesting stops, is the most well-known. All activities provide visitors the chance to enjoy themselves while also learning about the region's karst landscape and getting up close to diverse animal and plant species.
4. Sohoton Cave
Sohoton Cove is one of the Philippines' most stunning locations and is frequently referred to as an unearthly area in addition to being an eco-friendly tourism destination.
An exquisite setting may be found in Bucas Grande, Surigao del Norte, in Sohoton Cove. There are 13 inland lakes there, and 3 of them are open to the public. The Reserved Landscapes and Seascape fiat applies to it. As a result, indigenous plants and animals are present, including stingless jellyfish, green ocean turtles and tarsiers, eagles, and hornbills (kalaw).
Boat tours are permitted inside this aquatic rainforest, where visitors may take in the lush vegetation and the pristine water. Additionally, they can go to Tojoman Lagoon or the well-known Jellyfish Lagoon, where stingless jellyfish surface during the mating season.
5. Palaui Island
The island of Palaui is located in the northeastern tip of Luzon. It's most famous for its unadulterated beauty. It was ranked 25th in CNN's list of the top resorts in the world in 2012, but the following year it moved up to the 10th position.
Its official name is Protected Landscapes and Seascape of Palaui Island. The ocean surrounding the island is a national underwater reserve and is home to a variety of marine life, including 20 commercial fish species and unaltered corals.
6. Apo island
A small volcanic island called Apo Island is situated in Dauin, Negros Oriental. It is mostly recognized as a premier diving location. It is also regarded as an effective ecotourism tale. In the past, the island was damaged by destructive fishing methods used by the people. Years of sluggish rehabilitation have resulted in a marine reserve filled with robust corals and marine life.
The Coral Triangle, a region of the globe with the greatest marine biodiversity, is where Apo Island is situated.
Visitors to Apo Island go swimming and snorkeling there so they can see wildlife in the wild, like sea turtles. Others come to dive here.
7. Lake Holon
South Cotabato is home to the alpine lake known as Lake Holon. The Crown Jewel of the southern region is what it's known as. It is the T'boli tribe's ecotourism logo and a stop on the region's ecotourism circuit, along with Lamhaku Hot Spring, Hidak Falls, and Hikong Kemebel.
Lake Holon was created in accordance with community-based ecotourism ideals, which include protecting the environment and empowering the regional indigenous population.
Visitors can engage in educational activities with the T'boli tribe here. They can engage in a wide range of activities, such as hiking, camping, and lake activities like swimming and fish spa.
8. Biri Larosa
The Balicuatro Islands, including Biri Island, and the coastal regions of neighboring towns are all included in the protected area known as Biri Larosa Protected Landscape and Seascape in Northern Samar.
Famous features of this region include the sea grass beds, coral reefs, mangrove forests, and beaches.
Biri Island is the most well-known destination in the Biri Larosa region. Here, visitors may explore the extraordinary rock formations the outcome of thousands of centuries of shifting tectonic plates and sea waves and take a dip in any one of the island's many natural ponds.
Read also: 22 of the Best Spots for Island Hopping in the Philippines
The Bottom Line
Outdoor and adventure fans will find the Philippines to be a veritable paradise. From its quiet islands and beachside retreats to its breathtaking terrain and extensive wildlife sanctuaries. No matter what level of expertise you are at exploration, the nation has plenty to offer you!
The perfect scenario is to have a cozy, economical house wherever you travel. One of the greatest real estate developers in the country, BRIA Homes, is working to expand the number of modest house and lot packages that are available to typical Filipino families. BRIA Homes enjoys seeing its business expand so quickly. For additional information, please visit our website.
Written by Mat Balbin