Compassion, devotion, and careful attention to detail are three qualities that are essential for providing care for a disabled person. These are the three abilities that rank highest in importance. If a member of your family is affected by a physical disability, one of the most beneficial choices you can make for them is to uproot and look for a new house in a different part of the country that features more mentally engaging environments. When looking for a site that is accessible to people with disabilities (PWD), the first thing that needs to be examined is the type of living space that would provide these individuals with the highest level of convenience that is reasonably attainable. People with disabilities require particular home qualities to assist them in living comfortably and to make it easier for them to complete their day-to-day chores. It would be easier to put such features into the house if it was planned with them in mind from the beginning.
If you are considering making an investment in a new home, one piece of advice that can help you make the right decision is to look for a home that has a sizeable amount of livable space. The bungalow, the single-detached house, the semi-detached house, and the mansion are all types of homes that fall into the category of having a significant amount of room in their interiors. It is of the utmost importance to give some thought to the provision of access for the individual with a disability to a secure outside environment where they can participate in a variety of activities that take place outside. This is because it is important for the individual to be able to enjoy the outdoors.
Home design for disabled with natural light and peaceful space, Inclusive Living Spaces specially for wheelchair user.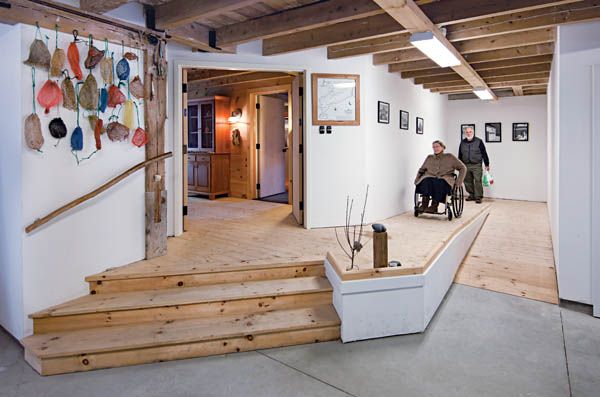 It is of the utmost importance for you to select a house that gives a generous amount of room in order for you to be able to alter the interior to meet the demands of a disabled member of your family. You can read more about this topic in the following section. When purchasing large properties, purchasers have the opportunity to include a variety of facilities that are particularly customized to fit the requirements of the tenants of the home. This allows the buyers to make the property more appealing to prospective renters.
If you already have a residential property in mind and are in the process of developing the inside of your home so that it is accessible to people with disabilities, the following are some home characteristics that you should consider including so that you may make the surrounding environment more pleasant for people with disabilities:
1. Lever Handle Door Locks
Door handle lever that was developed specifically for use by people who have difficulties holding objects or who have other upper extremity limitations. The device is designed to be installed over standard round door knobs in order to produce a lever handle. It also has a hole in it so that full key access can be gained.
When installing door locks, it is advised that lever handles be used instead of doorknobs since lever handles are easier to grasp than doorknobs, particularly for those with disabilities. Lever handles are also more secure than doorknobs. The operation of lever handles has been streamlined, making them less difficult to use for individuals who may have difficulties with dexterity or vision.
2. Wider Doorways
When choosing doors, it is vitally necessary to take into consideration the size of the crane, wheelchair, or any other piece of mobility aid equipment that will be used. This is true regardless of whether the equipment will be used for lifting or pushing or pulling. Because this will make it easier for the individual with a disability to move around, which in turn will lower the probability of them being wounded in an accident, it is essential to leave more space than is strictly required for the piece of equipment. Strong walls should also be used.
3. Ways of Travel That Are Generously Widened and Only Slightly Steep
Wide routes are essential for individuals with disabilities who require mobility and equipment because it will make it simpler for them to approach the outdoor area without requiring the assistance of another person. This is because it will make it easier for them to maneuver their wheelchairs and other mobility aids. This is due to the fact that people with impairments have specific movement and equipment needs. PWDs have the same expectations as other individuals when it comes to having their own personal space; hence, it is essential to create a home that will enable them to move around freely with either minimal or no assistance from another person.
4. Numerous, Spacious Windows are Present to have natural light
People who are deaf, mute, or both can reap the benefits of having large windows put in their accessible houses since they rely largely on visual information. These people can benefit from having large windows installed in their accessible homes. They will have an unobstructed view of the exterior space as a result of the huge windows, which will make it simpler for them to see any guests and identify any potential threats that may occur.
5. Personalized Aspects of Safety and Protection
For the deaf and dumb, there are additional security elements that rely on sight, while for the blind, there are additional security features that rely on sound. In addition to the conventional safety measures that have previously been implemented, they are being added as well. If the PWD has made an investment in a bespoke security feature in order to be ready for any kind of disaster, then they will have the ability to respond rapidly to any kind of scenario.
6. Bar Handles
Handles on bars are a vital requirement for individuals with impairments who struggle to maneuver about their surroundings. Handles on bar stools can serve as a type of support, which is especially important in potentially hazardous places of the home such as the restroom.
7. Open Spaces
When making selections about the arrangement of furniture sets, it is imperative to give open regions first importance. PWDs will be encouraged to accomplish their daily activities independently if a variety of open locations and paths that are less obstructed are made available to them. PWDs will be able to move around the house and carry out their daily tasks with greater confidence if there are more open places. This will reduce the likelihood of accidents occurring.
When it comes to the adaptable design of a home that is accessible to individuals with disabilities, it is essential to put an emphasis on both comfort and practicality. This will make it much easier for you to assess which accessible home amenities you are still missing, and it will prevent you from providing an atmosphere that is less than ideal for your family member or friend who has a disability.
If you are intending to become a homeowner despite the fact that you have a disability, you should make sure that you choose a property that is intended for your disability and has larger hallways, good concrete walls, balconies, studios, and other features that will allow you to move around easily despite the fact that you have a disability. Pick a house that is situated in the neighbourhood that most closely matches your ideal lifestyle.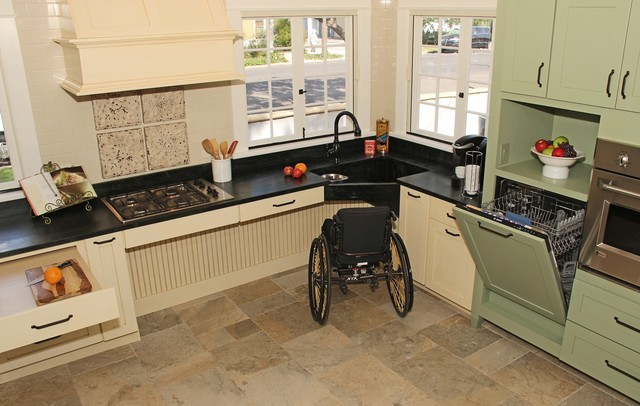 Are individuals with disabilities afforded the opportunity to purchase their own homes in the Philippines?
People with disabilities who have a reliable source of income, such as a regular work or income from self-employment, may qualify for bank loans and Pag-IBIG house loans. PWDs only need to produce the proper papers, such as proof of income, in order to be considered for a mortgage loan and receive the appropriate funding.
People who have a mental disability such as mental retardation are also entitled to apply for and get home loans, as well as purchase real estate on their own or with the assistance of a family member or friend. According to the explanation that was provided by the court in the matter of People vs. Espinosa, General Rule No. 212201, which was ruled on June 28, 2017, people who have mental retardation must be distinguished from people who are mentally incompetent. This decision was made on June 28, 2017.
The vast majority of persons who have mental retardation do not suffer from a lack of ability to reason but rather from having a younger mental age, which enables them to be capable of giving consent depending on their mental age. This is because having a younger mental age correlates to having a younger physical age. People with mental retardation enjoy the same rights as children do in these kinds of circumstances, including the right to have their best interests represented by their legal guardians.
persons who are disabled are eligible for a number of advantages, including tax exemptions and discounts on a variety of goods and services. This is done in an effort to increase the level of involvement of persons who have disabilities.
PWDs are eligible for a 5% property tax discount, making it simpler for them to pay property taxes and encouraging them to acquire more properties according to their financial capabilities. This discount makes it possible for PWDs to pay less in property taxes. In the field of real estate, this concession is one of the options accessible. By getting a PWD card, a person with a disability is able to exercise the rights described above.
Why It Is So Crucial To Include Individuals Who Suffer From Disabilities In The Real Estate Industry
The most recent census in the Philippines, which was carried out by the Philippine Statistics Authority, revealed that out of 92,1 million families, 1.57 percent had at least one member who had a disability. Given this percentage, people with disabilities are a significant contributor to the real estate sector. Alongside the development of new technologies comes the unique needs from organizations that advocate for the rights of people with disabilities for an increase in the number of homes and buildings that are accessible to those individuals. According to information provided by the United Architects of the Philippines (UAP), 15 out of every 50 of the people an architect encounters on a daily basis are either senior citizens or people with disabilities. As a result of this, it is absolutely necessary to install elements that are accessible to people with disabilities in order to improve the mobility of people with disabilities. According to the findings of the examination conducted by the UAP, compliance with the Magna Carta for the Disabled in a variety of buildings runs anywhere from 20% to 60%.
Many organizations and companies, notably in the real estate business, have taken the initiative to encourage the inclusion of persons with disabilities as the economy of the nation has been improving. This is especially true in the housing market. Because of this, it is extremely important for people who are looking for property to also be aware of the steps they may take to make the environment more comfortable for persons who have disabilities. The positive reception that a great number of recently opened hotels and recreational facilities that are accessible to people with disabilities have received has led to an increase in the number of customers and investors in the hospitality industry. As a result of the numerous programs for people with disabilities (PWD) that have been developed by government agencies like the Department of Labor and Employment, an increasing number of PWDs are being encouraged to participate in a variety of fields, including the field of real estate. This has led to an increase in the number of PWDs currently working in these fields. As a result of this, it is vital to encourage their participation, most notably in the procedure of purchasing real estate.