The Philippines has a wide variety of kid-friendly vacation spots that are guaranteed to make memories that will last a lifetime for both kids and parents. This archipelago nation has something to offer every family looking for adventure and relaxation, from pristine beaches with crystal-clear waters to enchanting natural treasures and dynamic cultural activities. In this post, we will examine some of the Philippines' most alluring and kid-friendly vacation spots, giving you insightful information and planning advice for your upcoming family vacation.
In the following sections, we will explore the delights of Boracay, an island known for its beautiful white sand beaches and fascinating water sports activities for kids of all ages. We'll also visit the lush landscapes of Bohol, where families may interact with charming tarsiers and marvel at the Chocolate Hills' distinctive geological formations. And also, the Puerto Princesa Underground River promises an extraordinary experience for families seeking adventure and a chance to connect with the natural wonders of the world. Finally, we will explore Manila, the bustling capital city, where we will immerse ourselves in culture with trips to interactive museums, vivid marketplaces, and historic sites. Join us as we explore the hidden jewels and must-see attractions in these family friendly destinations in the Philippines.
So, whether you're looking for sun-soaked adventures, nature-filled explorations, or cultural discoveries, the Philippines has it all. Prepare to embark on an extraordinary journey with your children, discovering the country's natural beauty, rich history, and kind friendliness. Pack your bags, gather your loved ones, and prepare to make lifelong memories as we lead you through the top kid-friendly travel spots in the Philippines.
5 Travel Guidelines for Families with Kids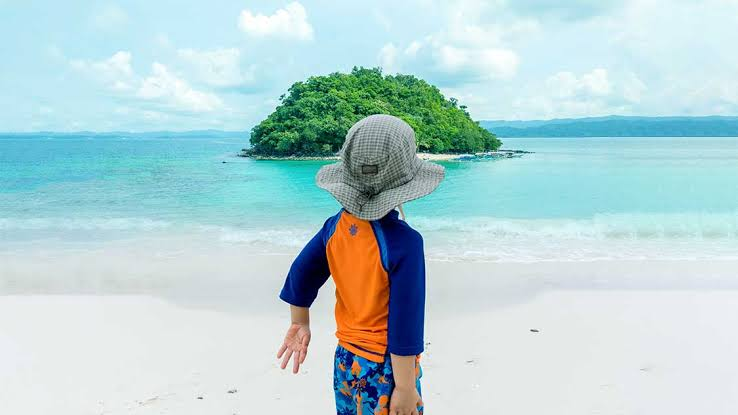 Traveling with kids can be a thrilling and gratifying experience, generating lifelong memories and instilling a sense of adventure. Here are some important travel rules to bear in mind to ensure a smooth and pleasurable journey for your family:
1. Pack Wisely
Pack essentials for your children, such as clothing, prescriptions, and personal care products. Bring their favorite toys, books, or technological devices to keep them engaged during the trip. Pack snacks and beverages to keep hunger at bay, as well as any specific dietary products your child may require.
2. Prioritize Safety
Keep a watchful eye on your children throughout the journey, especially in crowded areas, to ensure their safety. Consider employing child-friendly safety equipment such as backpack harnesses or contact information wristbands. Learn the emergency phone numbers and medical facilities in the area you will be visiting. When traveling abroad, find out if any immunizations or additional health measures are required.
3. Keep your schedule flexible
Keep in mind that kids energy levels and attention spans may differ from those of adults. To avoid weariness or meltdowns, schedule breaks and downtime throughout the day. Plan activities in the morning or early afternoon, when kids are more active. Be flexible with your itinerary and be ready to adapt to your children's demands and emotions.
4. Establish a routine
Children thrive on routine, so attempt to establish one while traveling. To maintain their sense of security, stick to regular eating and sleeping habits as much as possible. Comfort items, such as a favorite blanket or stuffed toy, can also create a sense of familiarity and security.
5. Maintain communication and have fun together.
Screens may easily distract us in this day and age. During the vacation, make an attempt to unplug and spend quality time with your family. Play games, share stories, or go outside together. Enjoy these moments of connection as a family and make lifelong memories.
Kid-friendly Travel Destinations
1. Puerto Princesa Underground River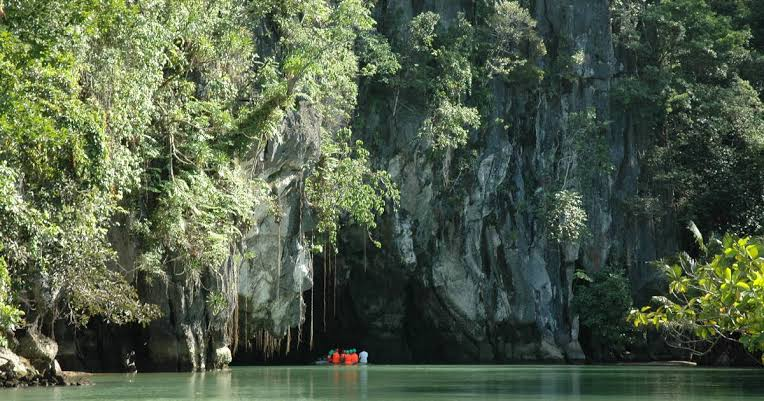 When it comes to kid-friendly vacation spots in the Philippines, the Puerto Princesa Underground River, a UNESCO World Heritage Site, stands out as an incredible adventure that will capture the imaginations of young adventurers. This natural wonder, located in Palawan, provides a one-of-a-kind experience for children to explore the depths of an underground river and marvel at the delights that lay inside. In this section, we will discuss why the Puerto Princesa is a great location for family trip, delivering a wonderful and instructive adventure for entire family.
First and foremost, the Puerto Princesa Underground River is a natural wonder that will astound children. On a guided boat excursion along the river, kids may see towering limestone structures, ancient rock formations, and spectacular stalactites and stalagmites. The unique geological wonders allow children to learn about natural forces in an engaging and interactive way.
Furthermore, the underground river is filled with diversified wildlife, making it an educational experience for children. Kids can see different bat species hanging from the cave ceilings, swiftlets dashing through the chambers, and even unusual marine critters that live in the river. This allows students to learn about different ecosystems, biodiversity, and the need to maintain nature.
Moreover, the Underground River provides a secure and well-organized experience for families. The trips are given by knowledgeable tour guides who safeguard the safety and well-being of all visitors, including kids. The boat tour are kid-friendly, with shorter durations to meet their attention spans and manageable lengths to avoid weariness.
2. Panglao Island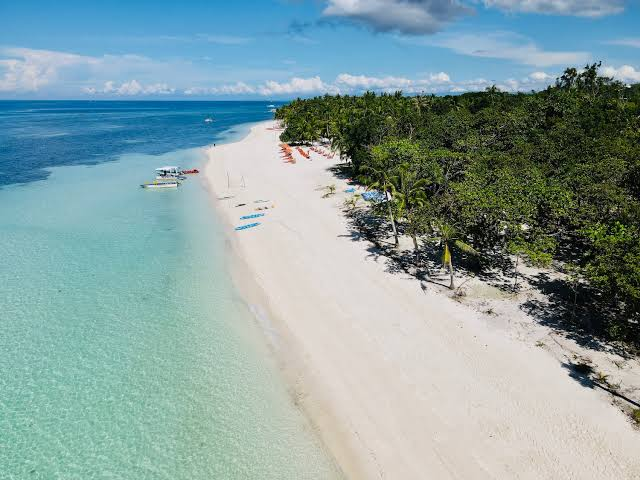 Panglao Island in the Philippines is an excellent family vacation spot. The island, located in the province of Bohol, has gorgeous beaches, rich marine life, natural attractions, and a variety of activities that will keep children occupied and happy. In this section, we will discuss why Panglao is an excellent choice for families with children, offering a harmonic blend of natural beauty, water activities, and leisure.
The island is famous for its white beach with crystal-clear waters and smooth white sand, which provide a playground for children to splash in the moderate waves and construct sandcastles. The calm and shallow waters make swimming and playing safe for kids of all ages. Families may spend valuable time together while basking in the sun and admiring the beauty of the island's shoreline.
For families looking for adventure, the Island provides fascinating snorkeling sites for children of all ages. Snorkeling is a popular activity that allows children to explore the beautiful marine life just meters from the shore. Colorful fish, gorgeous coral reefs, and even sea turtles can be seen by children. Snorkeling trips and guides are offered to guarantee that the entire family has a safe and fun experience.
Hinagdanan Cave, a magnificent underground cavern with a natural pool of blue water, is also located on the Island. Children may explore the cave chambers, marvel at the fascinating rock formations, and even cool down in the pool. It's an adventure that combines discovery with awe.
In addition, the island has family-friendly resorts and hotels with kid-friendly features. Some resorts include designated play spaces, swimming pools, and even organized kids' clubs that provide interesting activities and entertainment for children. These facilities provide families with a comfortable and convenient stay, allowing both parents and children to rest and enjoy their trip.
3. Chocolate Hills Adventure Park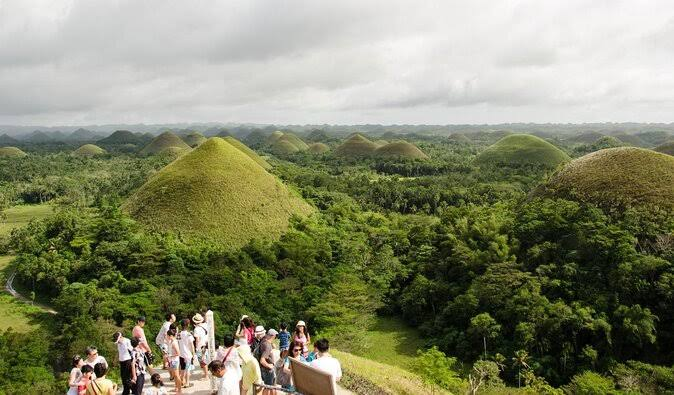 The Chocolate Hills Adventure Park in Bohol, Philippines, is a perfect place for whole family seeking adventurous outdoor experiences and magnificent natural beauties. This adventure park, located in the famed Chocolate Hills, offers a variety of exciting activities that will keep young adventurers thrilled and create unforgettable experiences. In this section, we will discuss why the Adventure Park is a must-see location for families with children, as it offers a unique combination of adventure, education, and natural beauty.
One of the highlights of the Adventure Park is the thrilling zip line experience. Kids can soar above the rolling hills, feeling the rush of adrenaline as they take in the panoramic views of the picturesque landscape. The zip line is designed with safety measures in place, ensuring a fun and secure experience for children of different ages.
Aside from the zip line, the park has a variety of kid-friendly activities and attractions. Kids can test their strength on the hanging bridge, their agility on the rope course, or have a good time on the bungee trampoline. These exercises encourage not only physical activity but also coordination, balance, and problem-solving abilities.
The Adventure Park also has an interactive butterfly dome for a unique and educational experience. Children can learn about the life cycle of butterflies, view them up close, and even release a butterfly back into its natural environment. It's an exciting opportunity for children to learn about nature's beauties and the necessity of conservation.
Moreover, the park offers a secure and family-friendly setting. Trained personnel are on hand to aid and guide children during their trip, assuring their safety and happiness. The facilities are well-kept, and amenities such as restrooms, picnic spots, and refreshment booths are available to meet the needs of families.
4. Burnham Park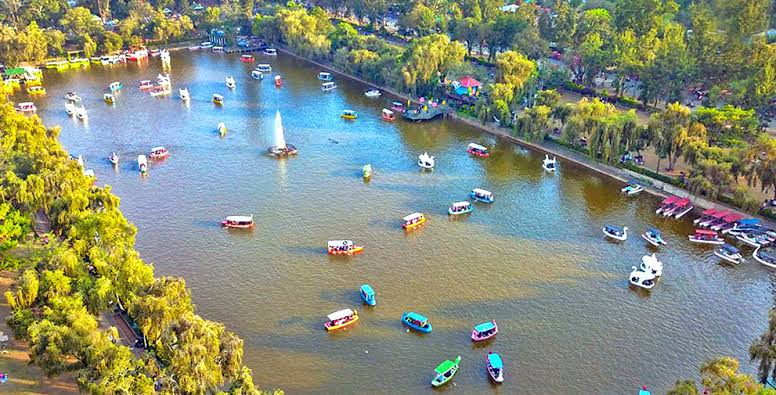 Burnham Park is located in Baguio City, a few hours from Metro Manila, is a family dream vacation destination with a variety of activities for families to enjoy. This park, named after the American architect Daniel Burnham, is a refuge of greenery, tranquil lakes, and exciting recreational opportunities. In this section, we will discuss why Burnham Park is an excellent destination for families with children, offering a unique combination of natural beauty, recreational opportunities, and a vibrant atmosphere.
The man-made lake in Burnham Park is one of the park's greatest attractions, where family member may rent colorful swan boats and pedal their way over the tranquil waters. As they explore the lake, children will love driving the boats and enjoying the pleasant breeze. It's a terrific opportunity for kids to participate in outdoor activities while taking in the scenery.
Burnham Park also has a variety of recreational activities that cater to the interests and energy levels of children. The park has a large playground with slides, swings, and climbing structures that provide limitless fun for children to let loose and burn off some energy. There are also open places for sports like basketball, soccer, and biking, allowing kids to engage in active play.
For a more relaxing experience, families can take a leisurely stroll or picnic on Burnham Park's well-kept lawns and cool weather. Parents may unwind as their children run around, play games, or fly kites in the open spaces. The quiet ambience created by the park's peaceful setting and magnificent flower beds is ideal for meaningful family time.
Furthermore, Burnham Park is a hive of fun activities, particularly on weekends and holidays. Families can eat wonderful street food from local sellers, peruse the souvenir stalls, listen to live music, and watch performances in the park. This lively setting adds an extra element of excitement and amusement for children, as well as an insight into local culture.
5. Manila Ocean Park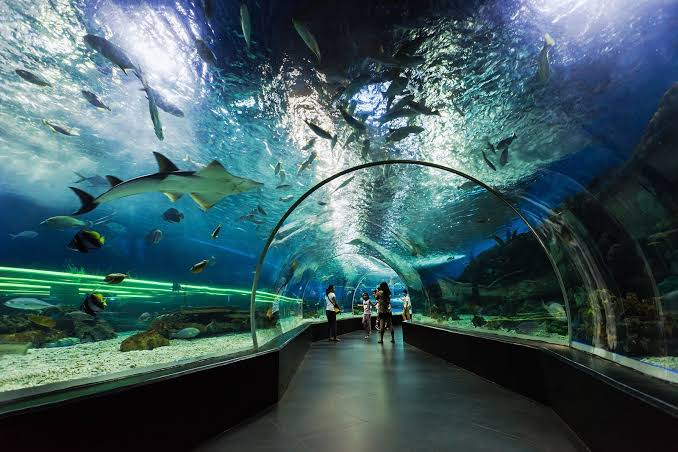 Manila Ocean Park is a top-notch family friendly destination in the heart of Manila, Philippines, for families looking for an immersive and informative experience with marine life. This oceanarium offers a captivating trip that will leave kids in awe with its numerous marine exhibits, interactive displays, and spectacular shows. In this section, we will discuss why Manila Ocean Park is an excellent choice for families with children, offering a unique combination of entertainment, education, and marine conservation.
The Oceanarium, a gigantic walk-through aquarium featuring a broad range of marine species, is one of the main attractions in Manila Ocean Park. As they pass through a tunnel surrounded by water, children can marvel at the colorful tropical fish, graceful rays, and awe-inspiring sharks. This interactive experience allows kids to get up close and personal with marine life while learning about different ecosystems.
Manila Ocean Park also has interactive displays and informative programs for children to enjoy. Under the supervision of professional experts, children can gently touch and engage with marine creatures such as starfish and sea cucumbers in touch pools. Furthermore, educational performances and feedings provide vital insights into the behaviors and characteristics of numerous marine species.
Families can enjoy the "Symphony Evening Show" at Manila Ocean Park for an added dose of excitement. This breathtaking multimedia production blends music, lights, and projections to create a magnificent spectacle that highlights the beauty and diversity of aquatic life. The fascinating performances and visual splendor that emerge in front of their eyes will captivate children.
Moreover, Manila Ocean Park promotes the need for marine conservation and environmental awareness. Through its displays and educational programs, children can learn about the risks to our oceans and the steps we can take to safeguard marine ecosystems. The park strives to inculcate in young minds a sense of responsibility and appreciation for the natural world.
In Closing
There's nothing like returning to the comfort of your own house and lot after a thrilling and action-packed family vacation. As the sun sets on a long but productive day, you may finally relax and recharge in the shelter of your own home. Sinking into a soft sofa or relaxing in a nice bedroom offers a sense of relief and satisfaction.
Bria Homes recognizes the significance of providing a pleasant and caring atmosphere for you and your family, ensuring that every day seems like a well-deserved respite. Bria Homes aims to provide Filipino families with affordable and high-quality house and lot options.